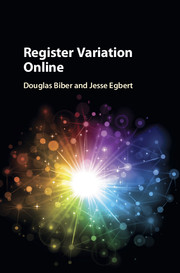 Coming soon

Expected online publication date:

August 2018

Print publication:

31 August 2018

While other books focus on special internet registers, like tweets or texting, no previous study describes the full range of everyday registers found on the searchable web. These are the documents that readers encounter every time they do a Google search, from registers like news reports, product reviews, travel blogs, discussion forums, FAQs, etc. Based on analysis of a large, near-random corpus of web documents, this monograph provides comprehensive situational, lexical, and grammatical descriptions of those registers. Beginning with a coding of each document in the corpus, the description identifies the registers that are especially common on the searchable web versus those that are less commonly found. Multi-dimensional analysis is used to describe the overall patterns of linguistic variation among web registers, while the second half of the book provides an in-depth description of each individual register, including analyses of situational contexts and communicative purposes, together with the typical lexical and grammatical characteristics associated with those contexts.
---
---
Journal: Language Variation and Change / Volume 28 / Issue 1 / March 2016
Published online:

23 February 2016

, pp. 1-29

Print publication:

March 2016

Whereas the alternation between the s-genitive (the New Year's message) and the of-genitive (the message of the New Year) is well documented, our study offers a more accountable analysis of genitive variation by including noun-noun (NN)-genitives (the New Year message). We consider four different variable contexts (s versus of, NN versus of, NN versus s, and NN versus s versus of ), which we analyze using regression analysis. The dataset consists of 10,054 variable genitives drawn from the Representative Corpus of Historical English Registers. The material covers the period between 1650 and 2000, thus enabling us to track the evolution of variable genitive grammar in real time. We report that there is an overall drift toward the NN-genitive, which is preferred over other variants when constituent noun phrases are short, possessor constituents are inanimate, and possessum constituents are thematic. In addition to these substantive contributions, we showcase methods of dealing with a complex dataset covering nonbinary grammatical variation.
---