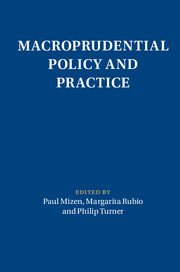 Coming soon

Expected online publication date:

June 2018

Print publication:

30 June 2018

Macroprudential policy is perhaps the most important new development in central bank policymaking circles since the global financial crisis, and reliance on such policies has continued to spread. The crisis, which showed the limits of conventional monetary policy as a tool to deal with financial stability, forced a wide-ranging rethink of economic policies, their interactions and their repercussions. It has led to new forms of intervention, of regulation and of supervisory practice. Macroprudential regulation is now one of the most important topics in modern macroeconomics, because it concerns measures put in place to reduce the risks and costs of the instability caused by financial crises. Written by senior figures from the worlds of academia and banking, this volume combines theoretical approaches with hard evidence of the policy's achievements in many countries. It is the first in-depth analysis of macroprudential instruments for policymakers, banks and economists.
---
Journal: Macroeconomic Dynamics , First View
Published online:

22 June 2017

, pp. 1-38

In this paper, I analyze the ability of monetary policy to stabilize both the macroeconomy and financial markets under two different scenarios: fixed- and variable-rate mortgages. I develop and solve a new Keynesian dynamic stochastic general equilibrium model (DSGE) that features a housing market and a group of constrained individuals who need housing collateral to obtain loans. A given share of constrained households borrows at a variable rate, whereas the rest borrow at a fixed rate. I consider two alternative ways of introducing a macroprudential approach to enhancing financial stability: one in which monetary policy, using the interest rate as an instrument, responds to credit growth; and a second one in which the macroprudential instrument is instead the loan-to-value ratio (LTV). The results show that when rates are variable, a countercyclical LTV rule performs better in stabilizing financial markets than monetary policy. However, when rates are fixed, even though monetary policy is less effective in stabilizing the macroeconomy, it does a good job in promoting financial stability.
---