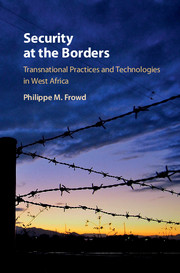 Transnational Practices and Technologies in West Africa

Coming soon

Expected online publication date:

June 2018

Print publication:

31 July 2018

Borders are not just lines in the sand, but increasingly globalised spaces of practice. This is the case in West Africa, where a growing range of local and international officials are brought together by ambitious security projects around common anxieties. These projects include efforts to stop irregular migration by sea through international police cooperation, reinforcing infrastructures at border posts, and the application of new digital identification tools to identify and track increasingly mobile citizens. These interventions are driven by global and local security agendas, by biometric passport rules as much as competition between local security agencies. This book draws on the author's multi-sited ethnography in Mauritania and Senegal, showing how border security practices and technologies operate to build state security capacity, transform how state agencies work, and produce new forms of authority and expertise.
---
Journal: African Studies Review / Volume 59 / Issue 2 / September 2016
Published online:

30 August 2016

, pp. 31-37

Print publication:

September 2016
---