3

results

in The Cambridge World History of Slavery
---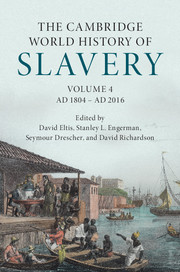 Volume 4, AD 1804–AD 2016
Published online:

20 April 2017

Print publication:

24 April 2017

Slavery and coerced labor have been among the most ubiquitous of human institutions both in time - from ancient times to the present - and in place, having existed in virtually all geographic areas and societies. This volume covers the period from the independence of Haiti to modern perceptions of slavery by assembling twenty-eight original essays, each written by scholars acknowledged as leaders in their respective fields. Issues discussed include the sources of slaves, the slave trade, the social and economic functioning of slave societies, the responses of slaves to enslavement, efforts to abolish slavery continuing to the present day, the flow of contract labor and other forms of labor control in the aftermath of abolition, and the various forms of coerced labor that emerged in the twentieth century under totalitarian regimes and colonialism.
---
Volume 3, AD 1420–AD 1804
Published online:

28 September 2011

Print publication:

25 July 2011

Volume 3 of The Cambridge World History of Slavery is a collection of essays exploring the various manifestations of coerced labor in Africa, Asia and the Americas between the opening up of the Atlantic world and the formal creation of the new nation of Haiti. The authors, well-known authorities in their respective fields, place slavery in the foreground of the collection but also examine other types of coerced labor. Essays are organized both nationally and thematically and cover the major empires, coerced migration, slave resistance, gender, demography, law and the economic significance of coerced labor. Non-scholars will also find this volume accessible.
---
Volume 1, The Ancient Mediterranean World
Published online:

28 September 2011

Print publication:

07 March 2011

Volume 1 in the new Cambridge World History of Slavery surveys the history of slavery in the ancient Mediterranean world. Although chapters are devoted to the ancient Near East and the Jews, its principal concern is with the societies of ancient Greece and Rome. These are often considered as the first examples in world history of genuine slave societies because of the widespread prevalence of chattel slavery, which is argued to have been a cultural manifestation of the ubiquitous violence in societies typified by incessant warfare. There was never any sustained opposition to slavery, and the new religion of Christianity probably reinforced rather than challenged its existence. In twenty-two chapters, leading scholars explore the centrality of slavery in ancient Mediterranean life using a wide range of textual and material evidence. Non-specialist readers in particular will find the volume an accessible account of the early history of this crucial phenomenon.
---