26
results
in Law and Christianity
---
---
Published online:

05 May 2016

Print publication:

29 September 2016

This timely book offers a theistic approach to secular legal systems and demonstrates that these systems are neither agnostic nor atheist. Critical but succinct in its approach, this book focuses on an extensive range of liberal legal approaches to religious and moral issues, and subjects them to critical scrutiny from a secular perspective. Expertly written by a leading scholar, the author offers a rare combination of profundity of ideas and simplicity of expression. It is a ringing defense of the theistic conception of secular legal systems and an uncompromising attack on the agnostic and atheist conception.
---
Volume 1, Historical Perspectives
Published online:

05 May 2016

Print publication:

26 April 2016

In Volume 1 of Christianity and Freedom, leading historians uncover the unappreciated role of Christianity in the development of basic human rights and freedoms from antiquity through today. These include radical notions of dignity and equality, religious freedom, liberty of conscience, limited government, consent of the governed, economic liberty, autonomous civil society, and church-state separation, as well as more recent advances in democracy, human rights, and human development. Acknowledging that the record is mixed, scholars document how the seeds of freedom in Christianity antedate and ultimately undermine later Christian justifications and practices of persecution. Drawing from history, political science, and sociology, this volume will become a standard reference work for historians, political scientists, theologians, students, journalists, business leaders, opinion shapers, and policymakers.
---
Volume 2, Contemporary Perspectives
Published online:

05 February 2016

Print publication:

15 February 2016

Volume 2 of Christianity and Freedom illuminates how Christian minorities and transnational Christian networks contribute to the freedom and flourishing of societies across the globe, even amidst pressure and violent persecution. Featuring unprecedented field research by some of the world's most distinguished scholars, it documents the outsized role of Christians in promoting human rights and religious freedom; fighting injustice; stimulating economic equality; providing education, social services, and health care; and nurturing democratic civil society. Readers will come away surprised and sobered to learn how this very Christian link to freedom often invites persecution. What are the dimensions of persecution and how are Christians responding to that pressure? What resources - theological, social, or transnational - do they marshal in leavening their societies? What will be lost if the Christian presence is marginalized? The answers to these questions are of crucial relevance in a world awash with religious extremism and deepening instability.
---
Rethinking Religion Clause Jurisprudence
Published online:

05 August 2015

Print publication:

23 July 2015

In recent decades, religion's traditional distinctiveness under the First Amendment has been challenged by courts and scholars. As America grows more secular and as religious and nonreligious convictions are increasingly seen as interchangeable, many have questioned whether special treatment is still fair. In its recent decisions, the Supreme Court has made clear that religion will continue to be treated differently, but we lack a persuasive account of religion's uniqueness that can justify this difference. This book aims to develop such an account. Drawing on founding era thought illumined by theology, philosophy of religion, and comparative religion, it describes what is at stake in our tradition of religious freedom in a way that can be appreciated by the religious and nonreligious alike. From this account, it develops a new framework for religion clause decision making and explains the implications of this framework for current controversies regarding protections for religious conscience.
---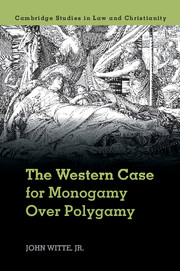 Published online:

05 May 2015

Print publication:

30 April 2015

For more than 2,500 years, the Western tradition has embraced monogamous marriage as an essential institution for the flourishing of men and women, parents and children, society and the state. At the same time, polygamy has been considered a serious crime that harms wives and children, correlates with sundry other crimes and abuses, and threatens good citizenship and political stability. The West has thus long punished all manner of plural marriages and denounced the polygamous teachings of selected Jews, Muslims, Anabaptists, Mormons, and others. John Witte, Jr carefully documents the Western case for monogamy over polygamy from antiquity until today. He analyzes the historical claims that polygamy is biblical, natural, and useful alongside modern claims that anti-polygamy laws violate personal and religious freedom. While giving the pro and con arguments a full hearing, Witte concludes that the Western historical case against polygamy remains compelling and urges Western nations to hold the line on monogamy.
---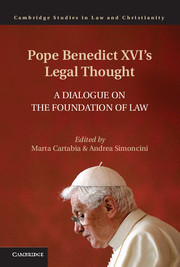 A Dialogue on the Foundation of Law
Published online:

05 February 2015

Print publication:

05 March 2015

Throughout Pope Emeritus Benedict XVI's pontificate he spoke to a range of political, civil, academic, and other cultural authorities. These speeches reveal a striking sensitivity to the fundamental problems of law, justice, and democracy. He often presented a call for Christians to address issues of public ethics such as life, death, and family from what they have in common with other fellow citizens: reason. This book discusses the speeches in which the Pope Emeritus reflected most explicitly on this issue, along with commentary from distinguished legal scholars. It responds to Benedict's invitation to engage in public discussion on the limits of positivist reason in the domain of law from his address to the Bundestag. Although the topics of each address vary, they are joined by a series of core ideas whereby Benedict sketches, unpacks, and develops an organic and coherent way to formulate a 'public teaching' on justice and law.
---
---