Viewpoint Online Course
Fully flexible learning – 100% print, 100% online, or anywhere in-between
Viewpoint Online Course is a two-level online course for higher level students which follows on from Touchstone. It is available on the Cambridge Learning Management System (CLMS) platform.
The rich and immersive online environment provides complete instruction and practice that will motivate and engage students.
Choose the ideal blended course for you and your students. With fully-flexible blended learning you can choose the best way to deliver the course to your students: print, online, or a blend of the two. The Online Course can be used in combination with the Student's Book so study can be done online before, during and after class backed up by further practice online. Or it can be used as a standalone 100% print or online course.
Please speak to your local Cambridge representative to ask for access to a demonstration of the Online Course.
The Touchstone Online Course interactive video can be found on the <Touchstone Online Course page.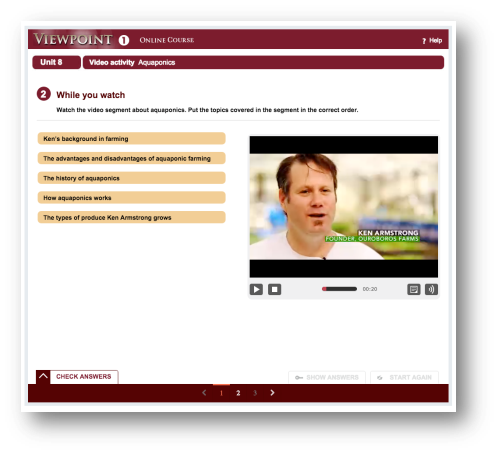 Authentic video material - The Online Course has high interest, engaging authentic topic based videos from Bloomberg – perfect for higher-level learners.

Course Content
1. Challenges for higher-level learners
Activities tackle key vocabulary and grammar for higher-level learners.

2. Authentic video material
The Online Course has high interest, engaging authentic topic based videos from Bloomberg.

3. Specially-designed writing syllabus
Writing lessons focus on the key processes, language, and text organization skills that are essential for academic writing, especially in examinations.

4. Interactive language presentations
Students can read and listen to presentations at their own pace by clicking through a series of slides with lots of example sentences. Grammar presentations include a "Grammar check" section to check students' understanding.

5. Comprehensive testing package
Like Touchstone, Viewpoint has tests and speaking tests for every unit, as well as tests for Units 1-6, Units 7-12, and Units 1-12. However, Viewpoint also has writing tests too.

6. Great student support
Students are really encouraged to take control of their own learning through tips and strategies, and other support:
Study tips highlight useful language learning strategies for students to try
Exam tips provide useful hints for taking on similar questions in exams
Vocabulary notebook presents and practices effective strategies for learning new words
Portfolio tasks encourage students to check their own work (through "Check!" checklists)
Additional panels provide useful information to support learning: reading tips, writing tips, cultural notes, language notes, notes about differences between written and spoken English, and notes on common errors to avoid.
7. Great teacher support
The resources area of the course includes a 'Teacher's Guide to Blended Learning' with general guidance on delivering blended learning, and lesson-by-lesson guides explaining what students can do online and how teachers can go over this in class.
Cambridge CLMS
The Viewpoint and Touchstone online components are accessed through the Cambridge Learning Management System (CLMS) which is an exclusive platform created specifically for Cambridge English Language Teaching materials.
Thank you for your feedback which will help us improve our service.
If you requested a response, we will make sure to get back to you shortly.
×
Please fill in the required fields in your feedback submission.
×