We know that many students measure their progress in language learning through their confidence to speak spontaneously in 'real world' situations, but how do teachers feel about teaching speaking? Over 700 teachers gave us their views on how they approach teaching speaking skills and how important they think it is. Here is what teachers around the world are saying.
The ability to speak confidently and authentically is an essential life skill and a very clear way of measuring your ability in a foreign language. So, it comes as no surprise that the vast majority of the 730 educators who responded to our survey believe speaking is the most important skill for their students to focus on, in comparison to reading, writing and listening which were each rated as the most important skill by only 10% or under.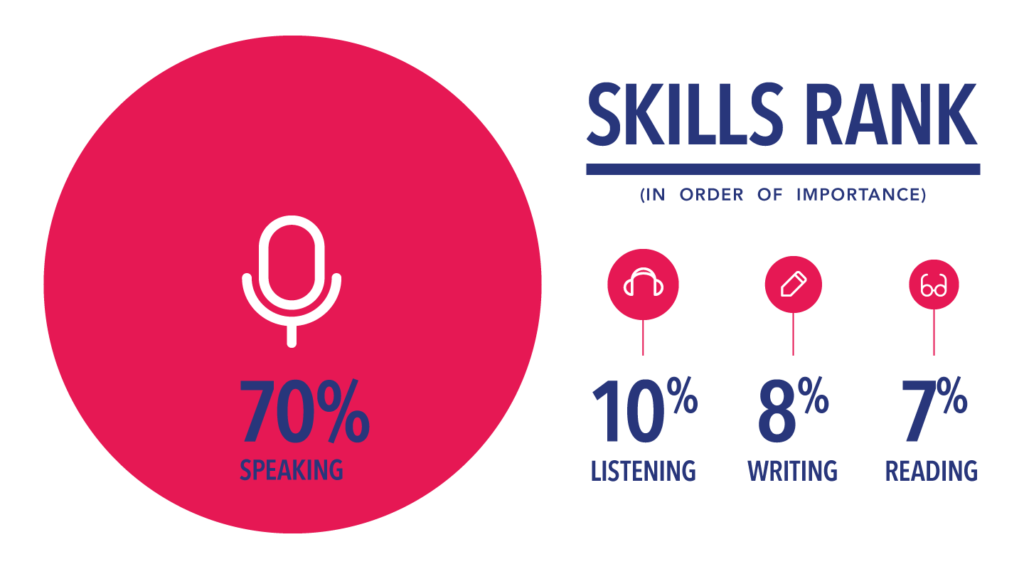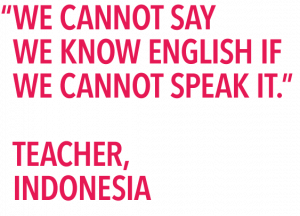 As several survey respondents pointed out, speaking and self-confidence are interrelated. Speaking in front of an audience in your L1 can be scary enough as I, for one, can testify. Nausea, sweaty palms and an uncontrollable desire to tell everyone I meet how nervous I am for 3 days prior to a public speaking event, is how the fear of public speaking affects me. I don't think I am alone (although others probably hide it more successfully!). Fear of public speaking has probably affected all of us to some degree at some point in our lives so, naturally, speaking up in the L2 can be even more intimidating. My L2 is French, which I've been speaking relatively fluently for (well) over 20 years now. However, even in the least threatening environment you could imagine – a family party with my in-laws – I clam up and whisper my contributions to the discussion to my nearest neighbour (usually my husband) due to fear of speaking out in front of everyone and making mistakes or having a noticeable accent. It takes self-confidence to push through this fear.
Therefore, despite the huge importance placed on speaking practice, only 50% of teachers feel confident that their students could cope well in an unplanned conversation in English and many find it difficult to achieve full engagement from the class with speaking activities. This raises questions about whether we are doing enough to help students develop their speaking, especially if you also consider that students measure their own progress by their ability to cope in spontaneous situations where English is required.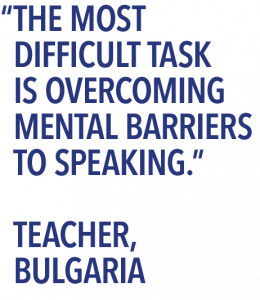 According to the results from our survey, shyness and/or embarrassment are the biggest barriers to students participating fully in speaking activities and practice. For many students, the fear of making mistakes holds them back and dampens their motivation, affecting performance. This is further fuelled by other challenges that teachers face, such as:
Little or no opportunity for students to practise outside of the classroom.
Not enough time dedicated to speaking in the curriculum and strict curriculum to cover.
Speaking practice with large classes (the logistics and practical arrangements) can be challenging.
Managing speaking practice with multi-level classes.
Finding the topics which will engage students in speaking practice.
View and download the full results of the survey:


So, what can we do about these things?
Watch the recording of our discussion with ELT experts, where we unpack the challenges around teaching speaking, presenting research and potential solutions for you to try out.

Browse our collection of research papers in ELT – commissioned and collated by our research team, written by ELT specialists in the field.
We hope that these white papers and our events will give you ideas to take away and try out, and food for thought and discussion!