What do you usually do when your students are getting tired towards the end of class? Or if you have a few keen students who finish their work quicker than the rest? One option is to ask them to sit quietly! There is a fun alternative. You can ask them to get their phones out and have a go at some language practice in the form of a game. This might get their interest.
The Quiz your English app from Cambridge has been developed for students to practise their English in a fun way. The content is topic based where players can select from three CEFR levels: A1/A2, B1/B1+, and B2/C1. It covers grammar, vocabulary, and functional language. There is also course specific content for Cambridge English Empower users.
Ellen Cristina Vieira Alves is a teacher from Brazil. She writes about her experience using the app in her classroom
I have worked as an English teacher since 1998 in a language school in Cuiabá called Instituto da Lingua Inglesa. We have been working with Empower for almost 4 years.
Quiz your English is a great tool and also an excellent app to practice your English. You can choose a topic, find a player to play against you or the app finds a player for you, and they could be from anywhere in the world. Testing your English against the clock gives my students an extra challenge.
I have challenged myself a few times for fun and also to improve my English because once you know how the app works, it becomes easier to inspire the students to use it. They can practice the language and have fun at the same time. I believe that learning a language is a process that has its difficulties but when this process is fun, the learning itself becomes a pleasure and not an obligation.
What does the Quiz your English app do?
After signing up, choose your level of Empower and find a competitor to play against. You can challenge a friend who has the app or let the app find one for you from learners all over the world. Once an opponent has been found the quiz will begin! The game will then take you through a series of timed multiple choice questions.
If you get a question wrong the app will show you the correct answer, helping you to learn from your mistakes. When you have completed the quiz you will be shown your final score. Once your opponent finishes, you will find out who they are and most importantly, who won!
                                                            
How did Ellen Cristina's students respond to the app?
The first time I used the app was as a warmer in the classroom with my A2 level students. They were really excited about it, because they were playing a game and also using their phones in the classroom. As soon as I told them that the app was free, they were even more excited. The first time they used it, they played against each other in the classroom. Nowadays, they don't want to play with their friends anymore, they enjoy the possibility of challenging people from other countries.
"I really recommend the app to everybody, because it is easy, fun, free and you can see how your English is improving at the same time"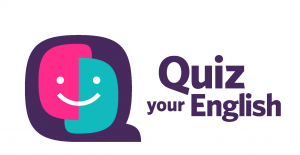 If you want to give the app a go in your classroom, download the Quiz Your English user guide to help you get started.
The Quiz Your English app is available on the iOS App store and the Google Play store.
If using phones in the classroom is new to you, why not read Nik Peachey's blog post on helping students control their mobile devices.