When students reach secondary school, we expect them to start taking more and more responsibility for their own learning. Once they reach school leaving age, they should have acquired the ability to learn independently. The rapid rate of technological advance means that many jobs in the near future may become automated. To give the next generation the best chance of success, they need to be able to acquire new skills and knowledge throughout their lives, making them adaptable to whatever the future holds. So, how can you help encourage learner autonomy in class?
Turn mistakes into learning objectives
Encouraging learners to take risks and offering them constructive feedback is invaluable in the classroom. Create a structure in which learners can follow this cycle: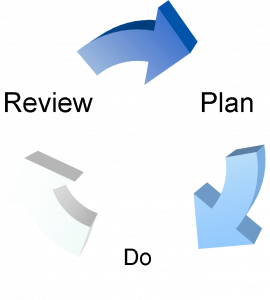 Ken Robinson's TED talk on creativity in schools reminds us that children have the innate gift of trying things without fear of failure. By teaching techniques to help learners develop through their mistakes through their teenage years, we can harness that gift.
Vary note-taking styles
You only need to type the words 'note-taking methods' into a search engine to find a multitude of different ways students can take notes. However, what is equally as important is to vary those techniques.
'The mind's storage capacity for visual information exceeds its capacity for verbal material' (Oxford, 1990, Language Learning Strategies). Therefore, if what we teach our learners is to stand the test of time, then we should encourage them not only to take notes, but to vary those notes aesthetically, using not just one or two of those methods, but many of them.
Student A might feel that one particular method works for her, e.g. three columns headed 'Word', 'Meaning', 'Example sentence'. But if she were to continue with this, she might find that some words get lost in due to her long-term memory struggling to differentiate between the hundreds of words that have amassed into that table over time. You could ask her to colour-code that table, use capitals on one line then lower-case on the next, or even engage her creativity by asking her to think of 3 alternate ways that information could be displayed. Whatever your students do, don't just stick with one method, mix it up!
For more ideas on developing independence in learners, why not register for our webinar on Encouraging Learner Autonomy in the Classroom with teacher trainer and author Samantha Lewis on Wednesday 28th August 2019 at 2pm (GMT). In the webinar, Samantha will offer ways to develop good classroom habits, adapt activities, use what learners already know to aid learning, encourage learners to learn from each other, and plenty more.