Published 28 November 2019
In our next Meet the Teacher interview, we chat to Patrícia Marques, an English language teacher from São Paulo, Brazil. We talk about her methods of teaching, favourite classroom activities and what experiences are with successful lessons.
Please tell us a little about who you are, where you live and work, and what you do.
I am the Director of Treasure Language Club, a private language institution in São Paulo, Brazil where I've been teaching English for 25 years and running the school for the past 15. My teachers use Interchange and Touchstone.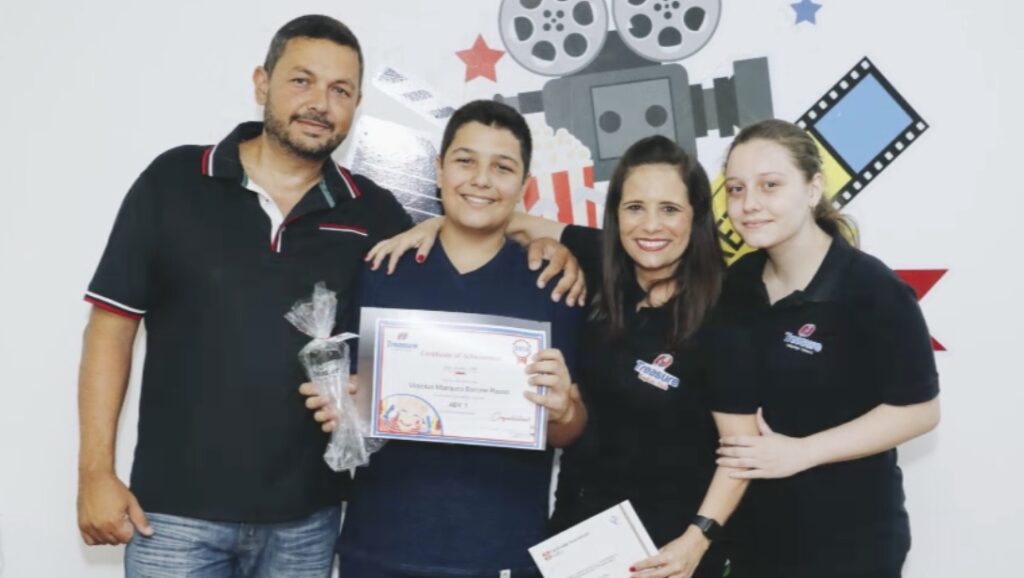 How did you get into teaching English?
Well, my first experience teaching English was at home! My brother Fernando and some friends were studying for a test and asked me for help. By that time I was 17 years old and had already been learning it for more than 6 years. English has always been very dear to my heart so I fell in love with the experience and was glad to help them.
What's one book about teaching that really affected you?
Definitely 'Thinking outside the box: How to grab your students by their brains' by LouAnne Johnson.
How would your students or colleagues describe you?
I love my job! People say I am always excited about my classes and I can tell you the classroom is my place in the world. It's where I teach, learn, make friends, exchange experiences, encourage and inspire people to communicate with my passionate and funny way of making the language possible for everyone!
Can you describe your personal teaching methodology?
Sure! I believe learning by living experiences and having fun is the key to success. I usually start my classes with practical activities, such as games and warm up challenges in order to get students engaged in the topic and make it meaningful.
My goal is to create a dynamic, immersive environment, making sure to include the development of different skills in our classes like cooking, technology, drama, sports, acting out movie scenes, singing songs, telling stories, solving problems, playing videos, using apps and taking students on field trips where we can use English naturally.
How does teaching make you feel?
It makes me feel alive and really happy to help people!
What's one warm up activity that never fails you?
One of my favorite warm up activities is Word Chain. Teachers should divide students into two or three teams and have them form lines facing the board. There should be at least 2m space between the first student of each team and the board. Give the first student of each team a board marker and let the fun begin by letting them brainstorm words and expressions related to the content you are teaching.
What's your definition of a great lesson?
For me, a great lesson happens when you make things easy and enjoyable. When you feel your students are excited about the topic and contributing with ideas, then they leave school with self-confidence and are ready to use what they learned in class.
What course books do you use, and why do you use them?
Here at Treasure English Club we use Interchange with our teens and Touchstone with the adults because these books have many extra resources, updated content, practical speaking activities as well as well-structured and easy to understand writing, reading and listening exercises.
How or when did you start using digital in the classroom?
I am the kind of person who uses all the tools the materials provide and some extra on my own, so since blended learning was available I embraced it with love and respect!
Do you have any advice for teachers who want to incorporate digital into their teaching practice?
Teachers don't need anything special or expensive to get students' attention as long as they show they are 100% in the classroom and how amazing communication in English is!
I would say start small by letting them use their cell phones in class. People love taking pictures and recording videos, so I guess by doing it in English they would love the results and lots of improvement comes from a single picture. Besides, there are amazing apps to be explored. After that, I would say digital workbooks on an LMS are fantastic for focused practice and their use should be mandatory. Finally, encourage students to look for topics they love and learn more about it by using the flipped classroom approach.
Technology is part of everything we do so keeping it away from the classroom is definitely a waste of opportunities and will impact people's engagement in the learning process.
What challenges do you think learners face today?
I think the biggest challenge here in Brazil is our students' mindset. Unfortunately, our educational system has lots of problems and it leads to a lack of interest in becoming better learners and improving their skills. Also, not many people have access to good quality classes because most teachers didn't have access to these in the past either.
Nowadays we have a wonderful world of possibilities for language learning so I believe all the challenges we face today will be overcome in the near future because people are learning to share ideas, respect and help each other.
Stay tuned for our next Meet The Teacher interview, coming soon. In the meantime, you can read our other teacher interviews from this series: Clare Prado, Raquel Ribeiro and Peace from Thailand.