Published 10 February 2020
In part three of this series on CLIL, Ana Paula Reis shares ideas for classroom activities on different subjects that can be taught in English. CLIL (Content and Language Integrated Learning) can often be a daunting task for many teachers because of the requirement for both language and subject knowledge, but with the right classroom activity, it can be an enjoyable lesson for all.
Ana Paula Reis graduated in English Language, Literature and Pedagogy and has a post-graduate qualification in Language Teaching Methodologies. She is a Cambridge TKT: CLIL and Young Learners certificated teacher and has experience in teaching English as a foreign language and as a medium of instruction in bilingual schools.
The following CLIL activity, designing a TV show, aims to teach students about the Solar System and the planets helping them to understand the conditions that make life on the planets possible or not. The activity helps to develop reading, writing and oral skills, to apply math by learning to organize data in a scaled picture graph, and encourages collaboration through working cooperatively and creatively with others in order to make observations and collect data that can be used to make comparisons, and to produce a script in shared writing.
Materials you will need:
Informative texts about the Solar System and its planets
Paper, color pens and pencils
Poster boards
Computers with access to online resources
Cloth, toys, chairs and any other material which can be used to design the TV show scenario.
Abilities developed through the activity
The following are examples of what you can ask your students to do, in order to strengthen some of the following skills:
Reading – Identify the main topic and key details in a text by asking and answering such questions as who, what, where, when, why and how, to understand and describe the connections between a series of ideas. Compare and contrast the most important aspects and key details presented in different texts about the same subject matter. Determine the meaning of general academic and domain-specific words and phrases in a text relevant to a topic or subject area.
Writing – Bring back information gathered from print or digital resources and with guidance and support from adults, develop and strengthen writing cooperatively as needed by planning, revising, and editing.
Maths/Technology – With guidance and support from adults and classmates, use the appropriate technology to find information, and produce a piece of written text (using their computer skills). Students could also advance beyond this and draw a scaled picture graph aiming to show data.
Environmental Literacy – Demonstrate knowledge and understanding of the characteristics observed in the natural world and the cause and effect relationships which can be observed.
The activity
1. Provide your students with some informational texts about the Solar System and the Earth for them to learn through reading, analysing and discussing in order to build background knowledge. Students will work on reading comprehension activities in which they will have to determine the main idea of the texts, retell the key details and report them with appropriate facts written and orally, at an understandable pace using the appropriate vocabulary. Here are some suggested sites where you can find interesting and challenging samples to explore: NASA, Solar System scope, The nine planets.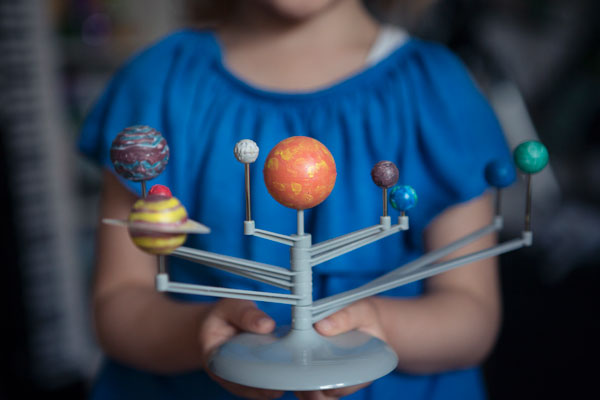 The students will develop their lexical acquisition by learning words such as asteroid, probe, constellation, dwarf planets, orbit, revolve, rotate, and phases – as well as others that are related to specific patterns related to the planets and the solar system. In addition to this, it will encourage your students to learn to consult reference materials to check the words' meaning and spelling. You could also use resources on the site Kahoot to create quizzes on vocabulary and reading comprehension.
2. Based on the previous activities, help your students to use the information gathered about the planets to make a picture graph comparing their sizes. These can be made into posters or online resources using the google presentation tool online, then a classroom board could be created to combine all the students´ graphs.
3. Ask your students to write a script for a TV show in which they will describe their findings, supporting their speech with the information learnt in their reading activities. It is suggested that students reflect on what they have learnt, considering the following essential question: What makes life possible or not on the planets studied? Why?
They can organize their scripts in slides or on paper, from three to four slides or paragraphs. In the end of their script, they should include the group's reflection about the questions previously proposed that can be answered in their shows. Next, they will practice their script; making sure the information is appropriate, relevant, and that the speech is clear and comprehensible.
4. Next, your students will prepare and get ready to show their work. Using their negotiating and creativity skills, they will discuss what can be used to build their group's scenario. They can then decide whether the programs will be presented live, or recorded with a camera and shared on a special day.
Results
This CLIL-based activity will give students the opportunity to apply Science and Math content and they will improve their English language reading, writing, vocabulary, pronunciation and speaking skills.
They will have the opportunity to demonstrate their understanding of what they learnt about the Solar System and the planets, including how they can make the presence of living things possible or not in each of the planets. This will showcase their ability to observe and describe characteristics of the natural world.
In addition, there will be the possibility to acquire the skills of developing and communicating ideas using appropriate scientific language at an understandable pace.
To deepen the discussion, you can encourage students to reflect about Earth´s conditions in the solar system and what must be done in order to keep making life possible on our planet. A whole class script can be created with ideas to preserve Earth and then, if possible, a special program edition can be presented or recorded.
---
If you are interested in learning more about CLIL and classroom activities, you can read Ana's previous two posts on teaching English through different subjects [Part 1] and [Part 2].