In previous blog posts we have looked at how to ensure your students can learn by distance. How can you check that they have actually learned what you intended them to? In this blog post, Anne Fox will look at two easy alternatives for checking your students learning through quizzes and other formative assessment online.
There is ample scope for your students to show their understanding through any number of learning activities. But one of the mainstays of checking for understanding will be various types of quizzes.
Quiz tools
If you are familiar with some of these tools from your normal face-to-face teaching, then the best advice is to stick with what you and your students already know or what is already included in your institution's Learning Management System if it has one. Now is not the time for experimentation. You may also want to avoid forcing your students to sign up to third party tools, so the suggestions that follow only require the teacher to sign up. Now may also be the time to check that you know how to construct high-quality multiple-choice questions by taking a look at one of Donald Clark's posts on the topic.
As a teacher you will want to know how your students did, so the tools suggested here collect that information for you. That means that you need to have an account. This article is going to cover two quiz tools that you most likely have very easy access to because you already have either a Google account or a Microsoft account.
Google Forms
Step 1: Access Google Forms
You may have already used Google Forms to create surveys, but a simple click on the settings icon will enable you to create a quiz with several question type options. If you already have a Google account, for example because you have Gmail email, then you can access Forms through Google Drive by clicking on the square of nine dots in the top right hand corner of your Gmail (see below).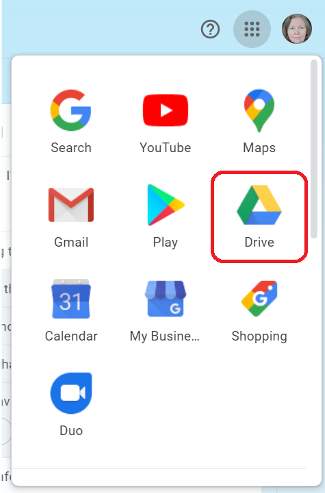 Once in Google Drive, in the top left-hand section, click on New and More which will reveal an additional set of choices including Google Forms.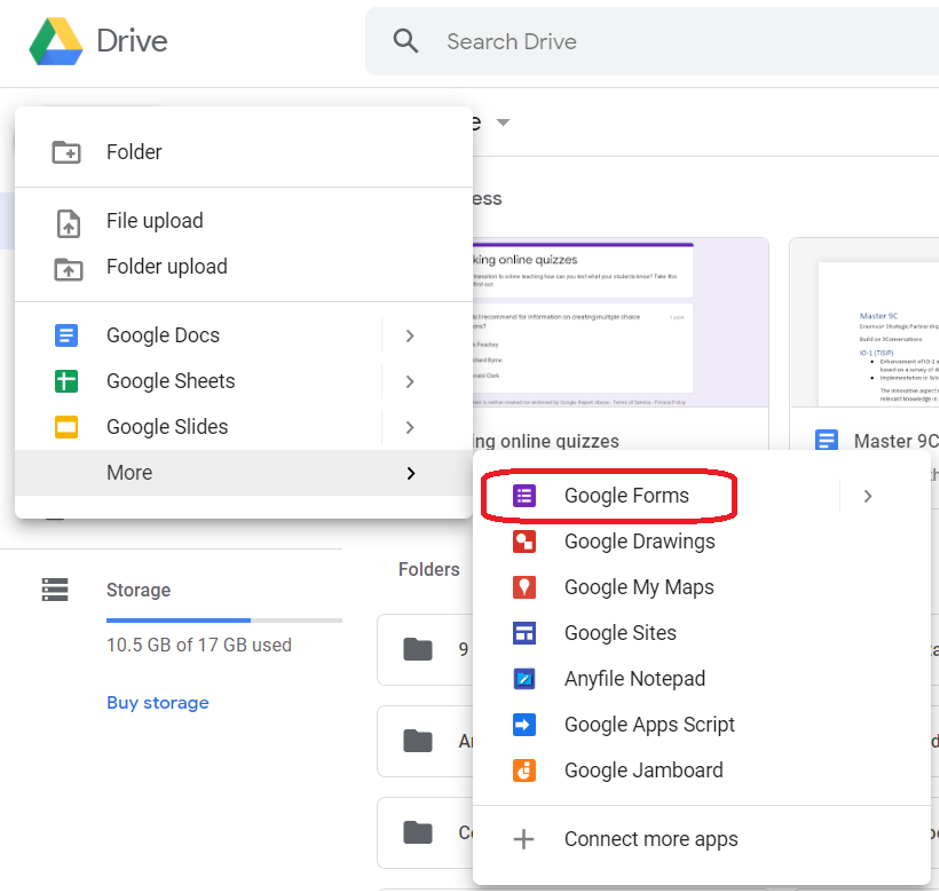 Step 2: Make the form into a quiz
The default setting for Google Forms is to make a survey which will collect the answers but is not designed to give points or feedback. Therefore, you need to click on the Settings icon when you open a new form and check the quiz option to reveal the options shown below.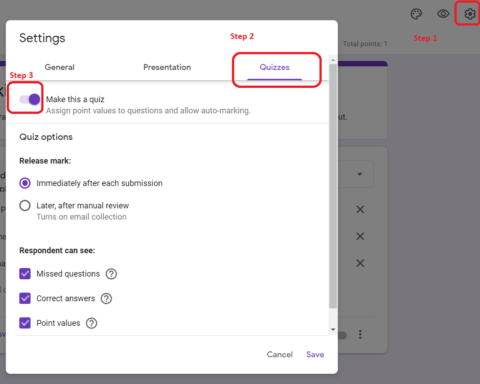 You may also get a pop-up invitation to take a tour of Google Quizzes as you make that switch from Forms to Quizzes. That may be a good idea to take advantage of.
Step 3: Add your questions
You are now ready to add your questions. The first question appears automatically but you do not need to accept the suggested question type. Click on the + sign on the right to add another question and click on the question type (here, multiple choice) to choose a different type of question.

There are at least eight other different question types to choose from. This includes short answer, paragraph, multiple choice grid and check boxes. As you can see from the right-hand column in the previous screenshot, it is possible to add an image or video to your question too. Note also from the last screenshot that you can choose which questions are required at the bottom right.
By clicking on Answer key at the bottom left-hand corner, you can insert feedback for correct and incorrect answers as well as allocating points as shown in the screenshot below. Note the file icon and video play icon. These show so you can add a document for students to look at depending on their response; or get them to watch a video, perhaps one that contains the required information.

Don't forget to add a question that requires the name of the person taking the quiz so that you can check who did what.
Click on Send (top right) to get a link to send to your students.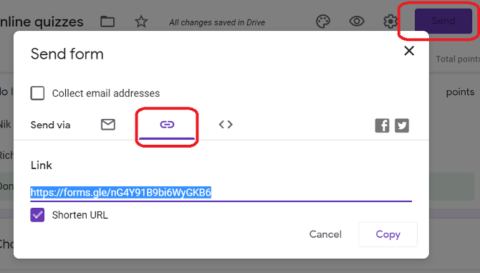 When everyone has finished or the deadline is passed, click on Responses at the top of your quiz to see the results.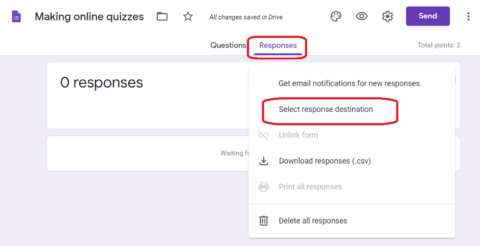 Microsoft forms
If you are already a Microsoft subscriber then you have access to the Microsoft Forms app. This will allow you to create a quiz in much the same way as I have just described for Google Forms. You will be able to see the similarities when watching this short video about how to use Microsoft Forms to make a quiz. And the results can go straight to an Excel file of course.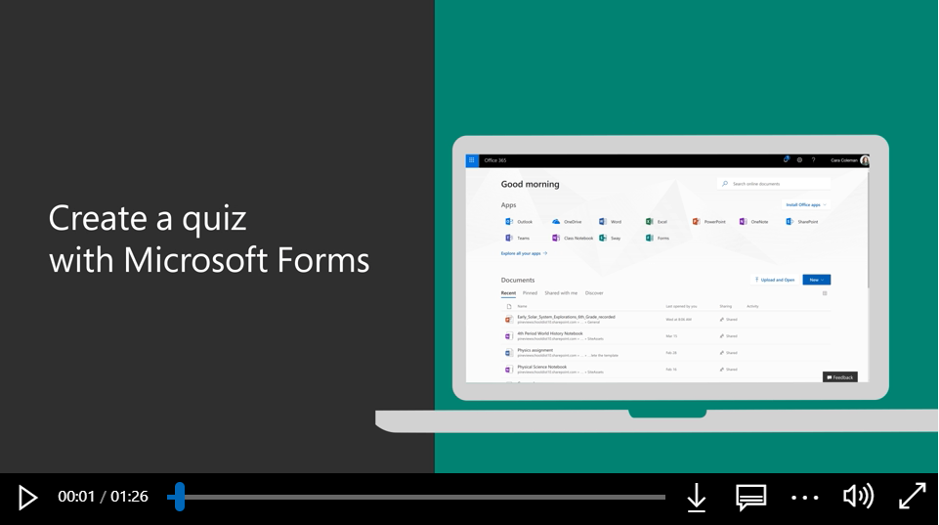 So there you have it, two powerful quiz tools that you are probably already signed up to.
Test yourself
So how much have you learned about checking students learning by creating online quizzes? Test yourself with this quiz based on the content of this article!
If you are already teaching online, or preparing to start teaching online soon, please use the comments to ask for more information or to share your experiences.
---
If you would like to read more blog articles from the Supporting Every Teacher series, click here.