Are you a primary English teacher who is about to teach online for the first time? Or, are you a primary teacher facing the dual challenge of teaching children online and preparing them for English exams? Or, maybe you already teach English online and are looking for extra ready-to-use ideas to engage and motivate children? David Valente shares advice on ways of teaching children online, keeping them engaged and focused on the task in hand.
When primary teachers start teaching English online, they can sometimes go too far down the entertainment route with the aim of keeping children engaged. At the other extreme, some primary teachers seem to leave their best practice toolkits back in the physical classroom and online lessons unfortunately become passive with a lack of interaction and variety. In this post, I share some simple but effective tips to help primary English teachers maintain a focus on purposeful online learning. The ideas are also all child-friendly and help make the online learning English experience enjoyable for children and teachers alike.
Tip 1: Plant seeds of early independence
Enable primary-aged children to do things for themselves during online lessons, give them choices in each lesson and ask questions such as: Do you want to draw or write your answers? Do you want to sing or rap the song?  Think about how you could use or adapt these early independence ideas online:
Idea 1: Sticky note feedback
Children hold up drawings of their answers / ideas on a sticky note or a homemade, re-usable mini whiteboard (= a clear plastic A4 pocket with a sheet of paper inside to draw on with a marker which children can easily erase) to the webcam. You could also hold up an answer key on a mini board on the webcam and have children check their answers. This encourages independence and avoids laborious eliciting, which can really disengage and slow down the online lesson pace.
Idea 2: Group singing / rapping
During an online class, have groups of children take turns to sing or rap each verse of a song. For example, imagine you are using this song with a group of 6 year olds preparing for Pre A1 Starters, Listening Part 4:

This extract was taken from page 52 of Fun Skills Student's Book 1, CUP 2020. Download the full page here: Pre A1 Starters Level 1.
First, ask the children to choose whether they want to rap or sing. Next, allocate four groups using the animals and rooms vocabulary sets from the song: a bee in the bathroom (sing), a snake in the bedroom (rap), a tiger in the kitchen (sing), a lizard in the living room (rap). Then, give these instructions:
Group A turn on their mics to sing the bathroom verse, then mute their mics
Group B turn on their mics to rap the bedroom verse, then mute their mics
Group C turn on their mics to sing about the kitchen, then mute their mics
Group D turn on their mics to rap about the living room

Before the children sing, you should demonstrate by singing and rapping one or two of the verses. If you sing and rap with great gusto online, children will be much more likely to do the same! Having the children sing or rap in groups in an online lesson provides an element of choice, makes the activity less daunting than asking individual learners to sing and is highly engaging. The first time you use group singing or rapping in an online lesson, have a quick rehearsal until the children are confident muting and unmuting their mics at the right times.
Tip 2: Focus attention using WALTs
Give children a sense of purpose and accomplishment during online lessons using a menu slide at the start and outlining the WALT = 'We Are Learning To…'
Use the slide to tell, or even better elicit the WALT, for example, 'In this lesson, we are learning to say / write / read / listen to…'  Return to the menu slide at the end of the lesson to review their learning and ask questions such as, 'What did we do today?' and 'Did you enjoy it?'
When outlining your WALT slide, set or elicit goals using language suitable for the children's English levels. For example, when teaching A1 Movers level, you could say, 'Your job today is to listen to the story and then sing the song'. This also provides children with a concrete outcome for each online lesson.
Idea 3: Sample WALTs
Here are three lesson slides with WALTs for different ages and levels. As you read each one, think about these questions:
    1. Which age groups could you use each slide with?
    2. Which language level is each slide most suitable for?
    3. Which goals would you set for each menu?
    4. How could you use the WALTs to review learning?
WALT Menu 1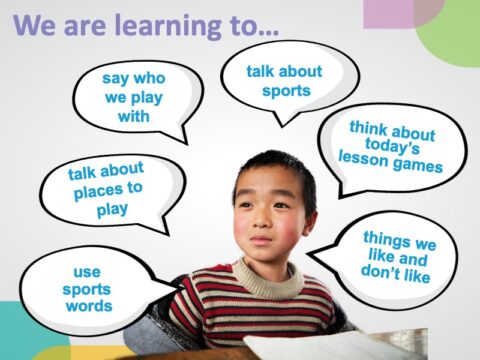 WALT Menu 2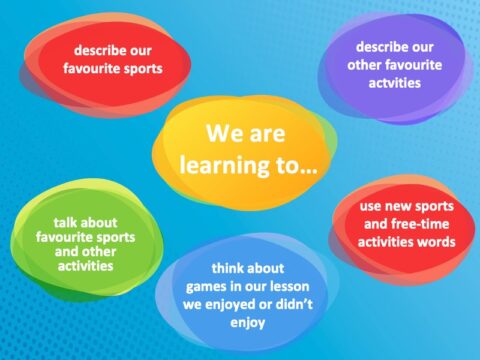 WALT Menu 3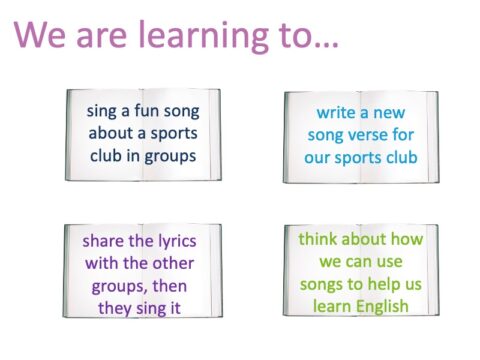 Download the PowerPoint slides of the Lesson Menus here.
Listen to my suggestions for each WALT slide and compare your ideas:
Tip 3: Incorporate playful personalised practice
Make frequent links to children's lives outside of online lessons and use these as contexts for practice activities. This provides an even greater element of choice as well as ensures online practice is creative and enjoyable. Think about the potential 'tweaks' you could make to well-used pair speaking activities in classroom-based lessons to make them both doable and more engaging online.
See the ideas below for some inspiration with your playful tweaks:
Idea 4: Truth or lie?!

Imagine that you are preparing 9 year old learners for A1 Movers, Speaking Part 4 using the topic of school. If the children already know each other well from school, a personalised 'tweak' of this pair activity is to play it online as a 'Truth or lie?' game with the whole group: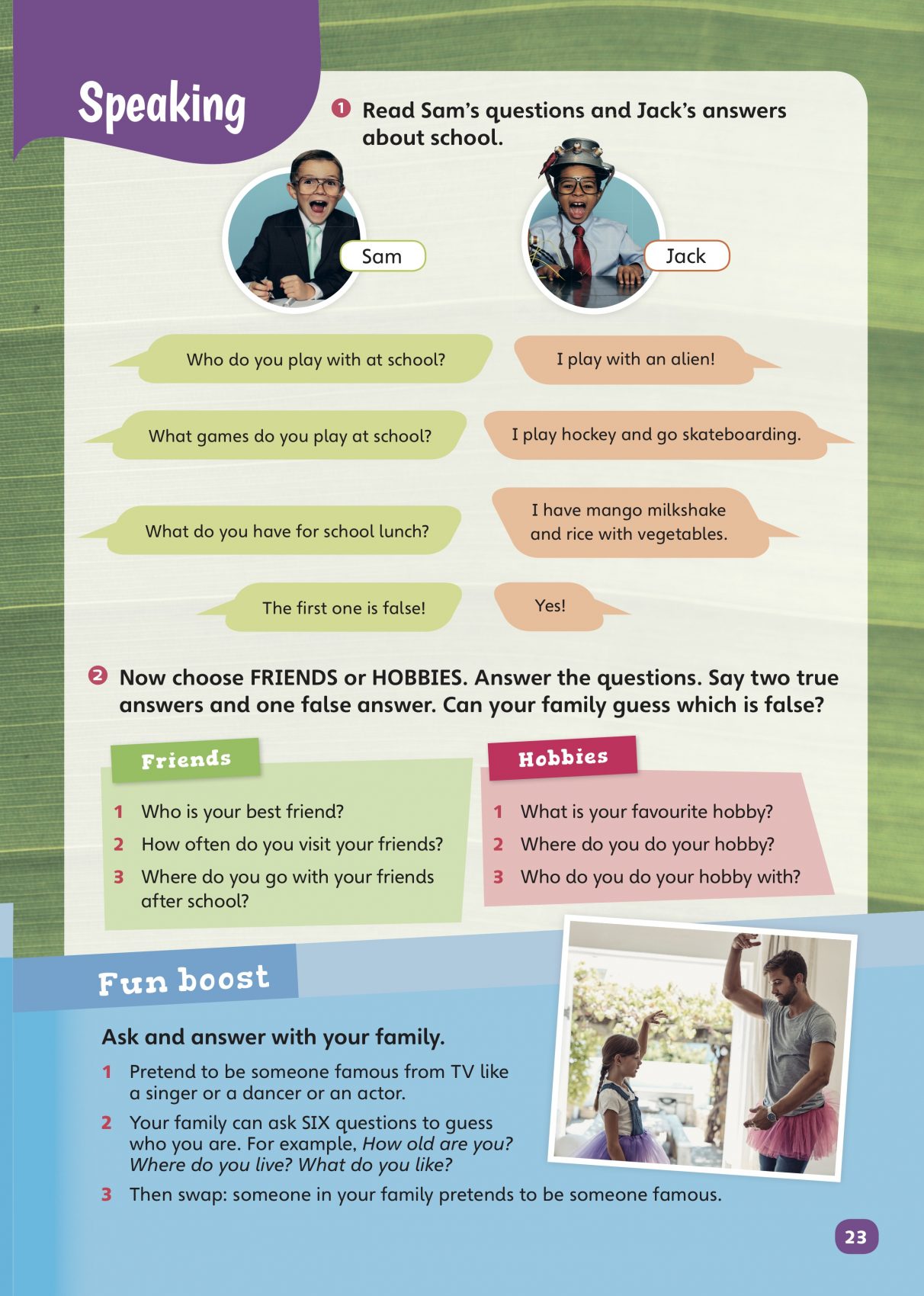 Download FUN Skills Home Booklet 4, page 23, ex 1 activity Fun Skills activity here.
Here is an example online lesson sequence of the tweaks in action:
Introduce Sam and Jack using the photos and display their dialogue on a slide
Children read the dialogue quickly and say 3 things the boys are talking about (answers: school friends, games at school, lunch at school)
Children decide which is TRUE and which is a LIE
Children think of their own answers to the 3 questions: 2 TRUE things and 1 LIE
Model the dialogue using a football wave drill – wave your arms in front of the webcam on the stressed parts of the sentence as you drill, then the children repeat and wave their arms in front of their cams
Volunteers take turns to ask and answer the 3 questions and the rest of the group listen carefully and say: Yes, it's true! or No, it's a lie!
By introducing an 'untrue' element, the children can be creative in a very personalised way which appeals to their love of make-believe and gives them a reason to listen to each other online. Think about how you could use the lesson procedure above with a topic you are teaching online.
Idea 5: Who am I?

Another great speaking activity for online personalisation is a tweaked version of the guessing game Who am I? You can display a slide with several photographs of the children's favourite personalities such as singers, dancers and actors. Have the children choose one of the photographs as their new identity and keep it a secret.
They take turns to ask 6 questions about their classmates' hidden identities, for example; How old are you? Where do you live? What free-time activities do you like? Again, this gives children a reason to listen carefully to their classmates online and adds a playful element to the common primary English About Me topic.
To sum up
I hope these teaching children online ideas have sparked many more for your own online repertoire. Also to help you maintain a learning focus during primary English lessons. Most importantly, I hope this post shows simply how not to lose that 'fizz' when transitioning from the primary classroom to teaching children online.
David Valente is the Coordinator of the IATEFL Young Learners and Teenagers Special Interest Group. He works as a PhD Research Fellow in English Language and Literature Subject Pedagogy at Nord University, Norway, where he teaches on the 5-year Masters in Primary Education. He is also Reviews Editor for the Children's Literature in English Language Education (CLELE) Journal.
If you would like to read more blog articles from the Supporting Every Teacher series, click here. 
---
Do you want to learn more about teaching English online?
Cambridge Assessment English has a free online course: Teaching English Online which helps both experienced and recently qualified teachers around the world to adapt their skills and teach English in an online environment. Find out more and join now: camengli.sh/33805I6