Coping with the health, emotional, social, and financial impact of the Covid-19 outbreak is challenging for everyone, including children who are out of school. In many countries, school work has suddenly shifted to distance formats. In other places there is no formal education provided, even in online modes.
Learning a language online, however, can still be fun. There are a lot of language learning tasks that help students deal with social isolation, and offer great opportunities for language development. Judit Kormos, a Professor in Second Language Acquisition at Lancaster University, has collected a list of creative ideas to share.
I will only give some brief descriptions of the tasks. I am convinced that teachers and parents can easily adapt these tasks to their own context and for their own learners.[1]
These 'skeleton' ideas can be expanded or simplified depending on the level of proficiency and abilities of the students. A simple version of a task can, for example, be just posting a photo with a sentence or two. A more complex version can be writing a short story or a poem. Teachers might also encourage students to use their first language or home languages as a resource. Tasks can be completed in multiple languages or by mixing languages. This can have an empowering feeling, particularly for students whose home language is a minority language. If possible, you should give students a choice about the modality in which they perform the task. The final outcome could be a video, a voice recording, a written text, photos with caption, etc., or any mix of these. Giving learners autonomy over the choice of medium for the task and the level of difficulty or challenge, can increase motivation and engagement with these activities. [2]
1. Build something from recycled material
Students can build or create something from recycled material. They can then share their 'artwork' with a description of what it is and how they made it.
2. Organise a package holiday in your house
One can also have an imaginary holiday at home! Encourage learners to be creative and transform their homes into a holiday hotspot. Get them to think about places to visit; the bathroom can be transformed into a beach, pictures on the wall can be a gallery. Create activities to do; climbing stairs and admiring the view. What food to eat; secret family recipes. This task can be adapted in other creative ways, and students can open a virtual restaurant, a hospital for teddies, etc.
3. Rewrite or translate a song from the Quarantine playlist on Spotify
Students can rewrite a song of their own choice from the playlist or translate it into their own language. They can also write and perform a song they compose.
4. New sports at home
Ask students to think of new types of sports that can be done at home. An example is 'carpet tennis', which is played on the balcony by hanging the carpets and beating them with a carpet beater. You can even ask students to compare the new or modified sport to the real sport and discuss the advantages and disadvantages of the new or modified version of the sport. You can use this task to practice comparative constructions.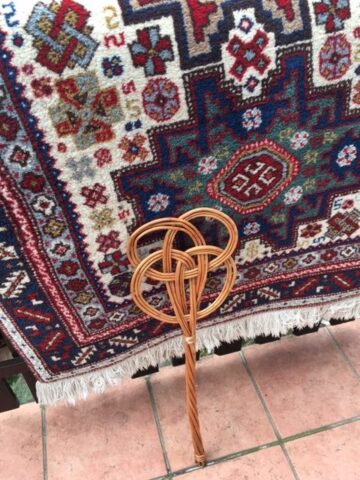 A new sport: 'carpet tennis'
5. Put on a show using telecommunication tools
Students can work in groups and put on a short show or perform a song they wrote about any assigned topic or their experiences in social isolation using collaborative tools such as Microsoft Teams, Zoom, Skype, etc. They can write the script collaboratively (e.g. in Google Docs). Then, either each of them can record their own part, or they can set up a meeting (e.g. in Microsoft Teams) and video record their joint performance using a screencast software.
Part II…
In the follow up to this blog, I will outline some further ideas for language learning tasks that can help students cope with social isolation. I will also give tips on how to create a meaningful context and a real audience for these online language learning tasks. Read part two here.
[1] A short self-study teacher training module on project work is available on the website of the ENGaGE project.
[2] Further ideas for individual and group language learning projects for students aged 10-14, A1-A2 level can be found on the ENGaGE project website.
---
If you would like to read more blog articles from the Supporting Every Teacher series, click here.