Apart from being a great go-to word reference, Cambridge Dictionary can be used as a rich resource for bite-sized activities, self-study and community learning. We've compiled some tips and ideas for teaching remotely with dictionary materials during this period of social distancing and quarantine.
As many of us are currently working and teaching online, availability of trustworthy and easy-to-access digital resources is more important than ever. While our students may not have the same attention span as when they were in a physical classroom and the constant flow of social media news doesn't help with concentration, it may be a good time to try some shorter activities and elements of independent study to boost their motivation and encourage autonomous learning.
New vocabulary
Learning a new word every day is a popular self-study technique aimed at expanding learners' vocabulary range. Cambridge Dictionary features a 'Word of the Day' each day on its website and Instagram.

It's crucial to always present the word in context, with examples, as it's proven to help retention. In addition to looking up the meaning of a word, learners can also listen to its pronunciation in British and American English, explore example sentences, review related words and check the translation of the word in their first language.
Looking at new words that have entered the lexicon can be an interesting flipped classroom activity, where students are encouraged to read an article about new words at home (see this example from the About Words blog) and consider whether the words should be added to the dictionary. For teachers using Skype, Zoom, Teams or a similar communication tool for online tuition, this could be followed up by a group discussion and voting using the in-built poll within the article. As homework, students can write a paragraph explaining why they think a particular new word should be added to the dictionary.
Tip: invite your students to follow the Cambridge Dictionary Word of the Day on Instagram and challenge them to learn a new vocabulary item daily. Check their understanding by presenting the image for that word on your screen and ask them to use the word in a sentence.
Word lists and quizzes
Word lists provide a systematic way of grouping and consolidating vocabulary on a given topic. They are traditionally used for self-study (for example when revising for a test or an exam) and use the power of spaced repetition to increase the rate of learning. Cambridge Dictionary +Plus takes this teaching tool even further by adding a community aspect to the mix.
Teachers who are currently teaching online can create and share digital (and also printable) word lists with their students using the sharing tool of their choice, for example WhatsApp, Facebook or WeChat. They can also use one of the ready-made community word lists or graded word lists from Cambridge (available for free after registration). For a more gamified experience, each word list can be easily turned into a sharable quiz. Cambridge also offers a number of ready-made image quizzes graded as easy, not so easy, tricky and challenging, which can be used as a great activity to break up a longer online session.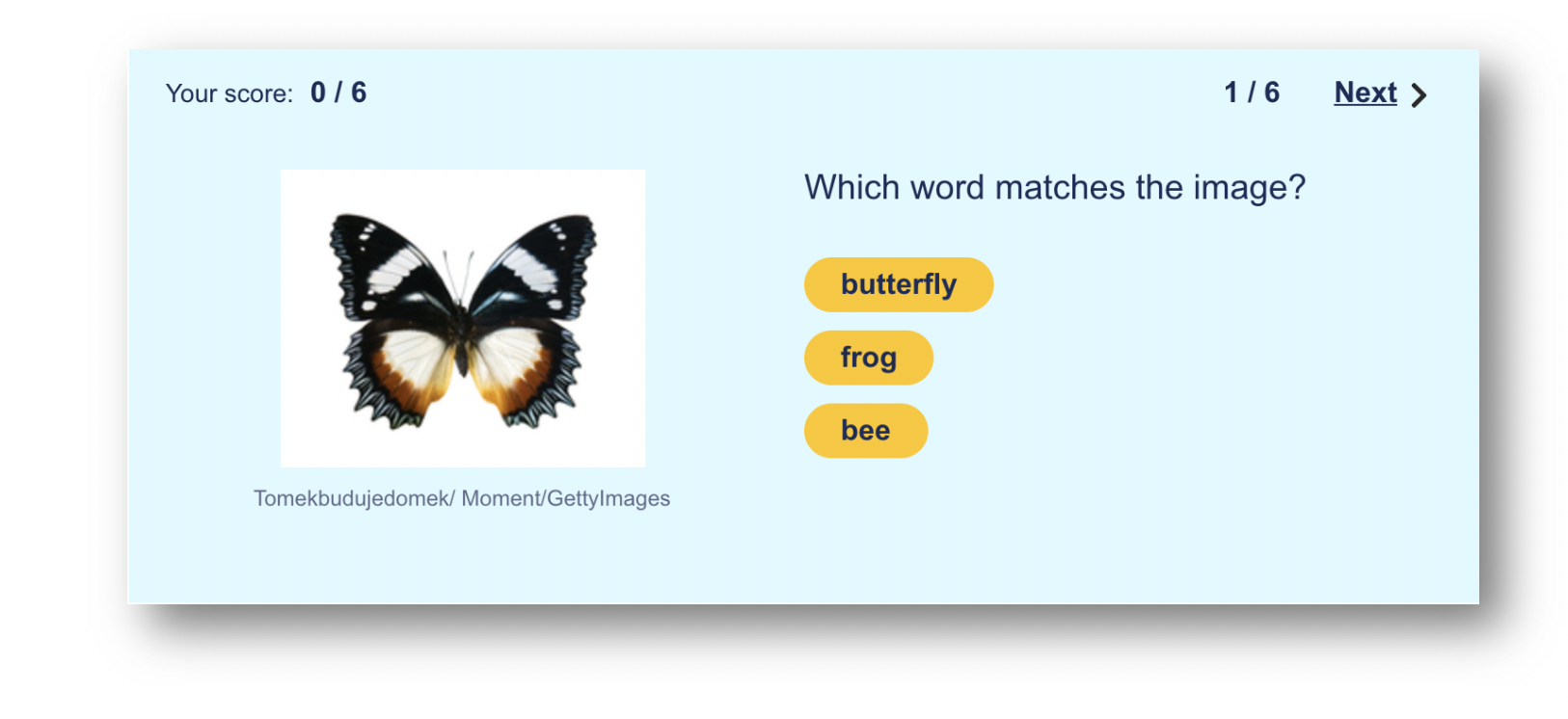 Tip: get creative using word lists and quizzes as homework or bite-sized activities. This Teacher's Toolkit includes some good reasons for teaching with word lists and will help you kickstart some ideas for using them in your virtual or physical classroom. 
Reading and speaking
Both receptive and productive skills can be successfully taught in an online context. When doing so, it's important to give learners a scaffolded learning experience so that they feel supported and gain the confidence to use their new skills independently. The Cambridge Dictionary blog, About Words, has an array of articles that can be used for pre-class activities. Key words and phrases are hyperlinked within the text enabling students to easily look up definitions of unfamiliar words and add them to a word list for later use.
In a flipped model, a predefined reading task can facilitate an online communicative activity giving students the vocabulary they need to actively participate in a group discussion. As a stretch activity or an assignment, students could record themselves giving a 2-minute presentation on a given topic (for example, "my favourite proverb in English") using an audio recorder on their mobile phone.
Tip: select an article on a topic your students will engage with from the About Words blog and draft a few true/false statements and questions based on the text. Then, ask students to practise in individual chat rooms or, if working in a large group, ask students to nominate one another to answer the questions.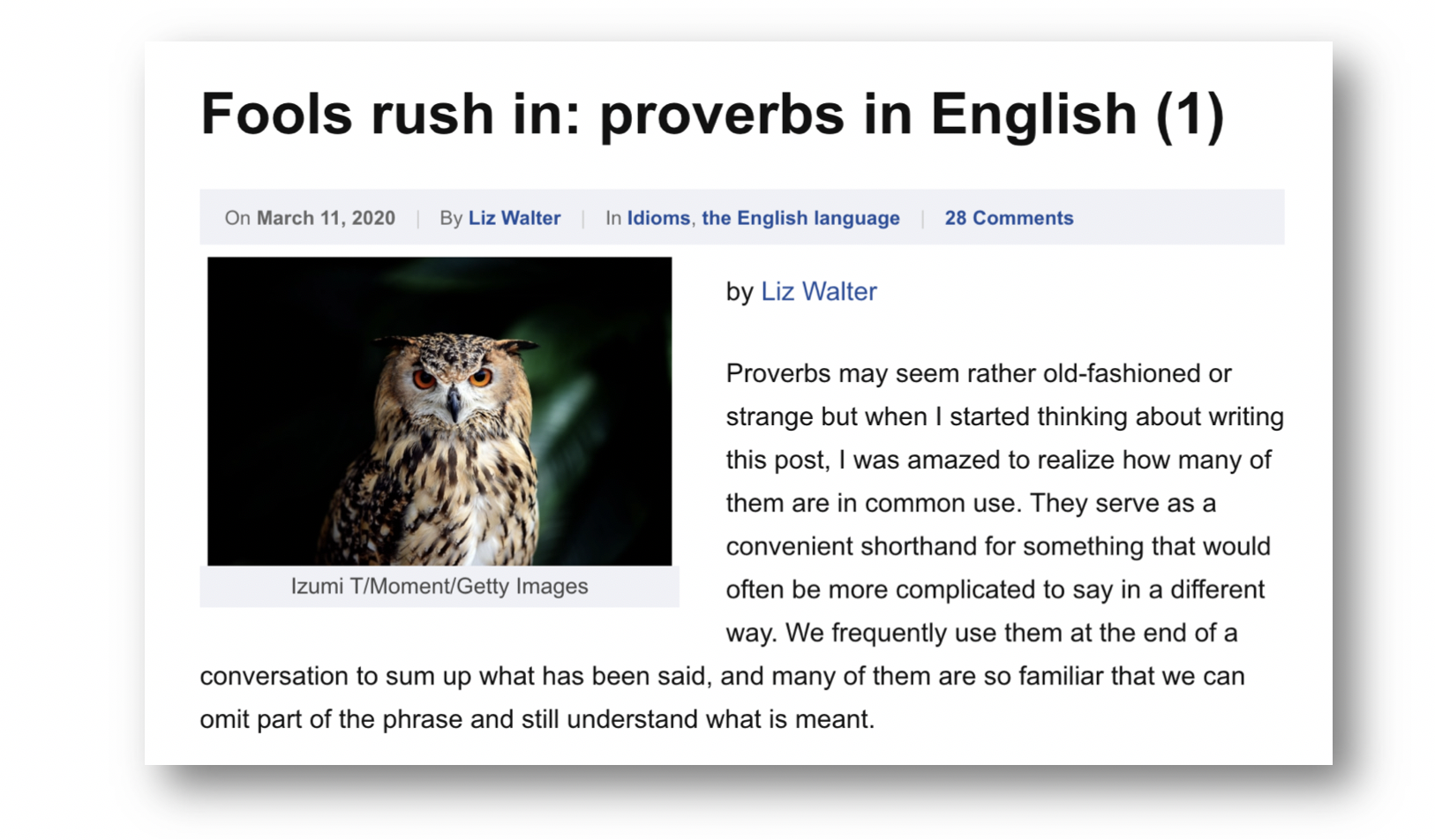 Grammar and reading
An online grammar lesson can take several forms. Some teachers may opt for a traditional approach, where they explain a grammar point using a physical whiteboard or even a sheet of paper held to the computer camera. Others might prefer sharing their screen with a PowerPoint presentation or using an interactive whiteboard feature built into many platforms. Whichever the method, the key point is to teach grammar in context.
Cambridge Dictionary has a dedicated grammar section with hundreds of examples of how grammar is used in natural written and spoken language. This section lends itself well to lesson preparation, helping teachers source relevant examples, and demonstration. For an extra bit of context, our recommendation is to pair a specific grammar point with a reading activity, where students work to identify the uses of a given grammar point (for example passive voice, relative clauses or phrasal verbs) in action.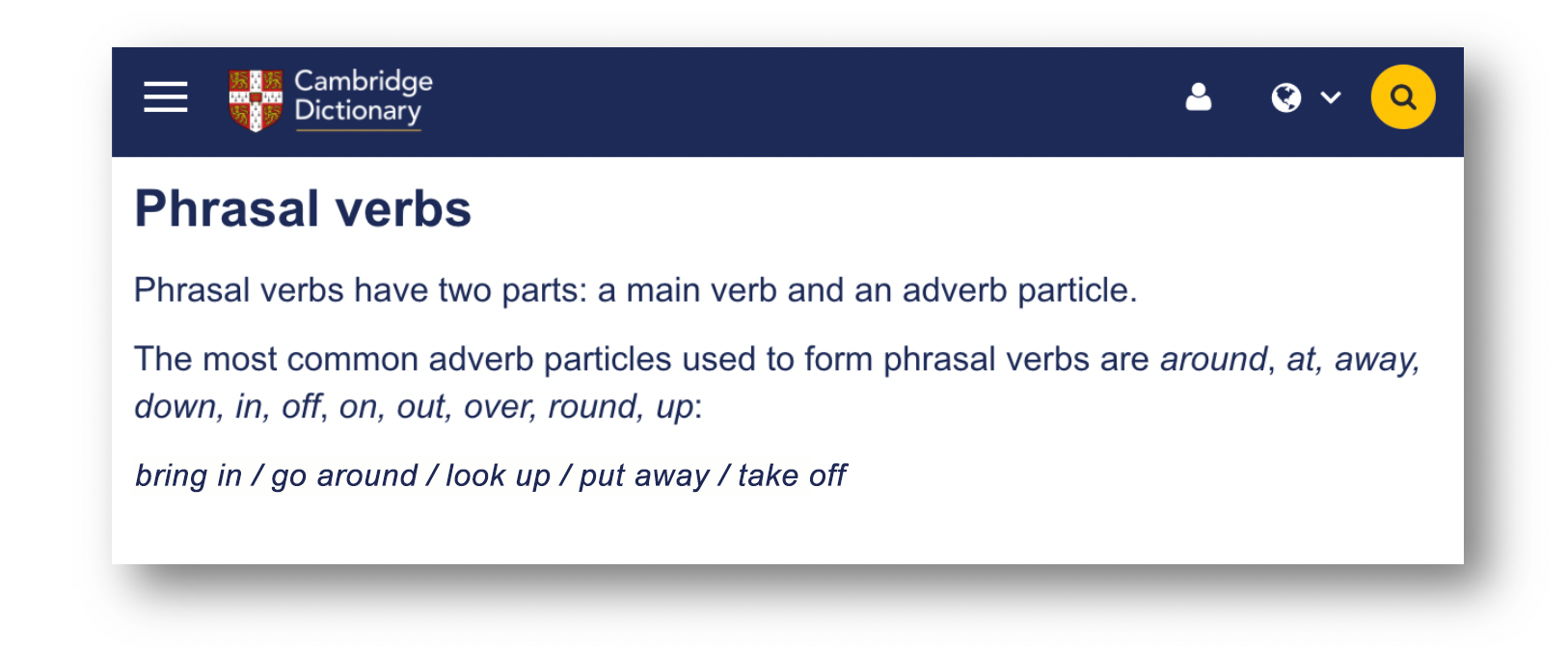 Tip: use the Cambridge Dictionary grammar section to explain a specific learning point you're working on, for example, phrasal verbs. For extra benefit, combine it with a reading exercise where students scan a related blog post and identify uses of phrasal verbs in context.
---
We'll be continuing to share advice, tips and tools to help you adapt to teaching in new environments. If you would like to read more blog articles from the Supporting Every Teacher series, click here.