As those who celebrate prepare for an unusual Christmas and New Year, many will rely on the internet more than ever to keep in touch. In this blog post, language researcher Robbie Love explores the online language of the festive period in present day English.
Celebrating Christmas online
It's hard to imagine that, only one year ago, many families and friends were preparing to spend the holiday season together, with no restrictions on social distancing or support bubbles. Indeed, in my last blog about Christmas, I described some of the common ways people would discuss Christmas in face-to-face conversation.
Of course, this year is very different for a lot of us. More than ever we have relied on the internet to keep in touch with loved ones. So, let's explore some of the most useful words and phrases for navigating an online Christmas. To do this, I examined a corpus of recent online articles about Christmas.
Getting into the festive spirit
One of the most prominent phrases in recent online discourse about Christmas is festive spirit. No, this doesn't refer to ghosts and ghouls with a penchant for Christmas (so you can relax, Scrooge). This is a useful phrase to describe the general feelings of love, goodwill and celebration that are said to overcome us during this time, for example:
5 virtual Christmas events to get you in the festive spirit from home.
Other nouns modified by the adjective festive include mood, cheer, season, atmosphere, occasion, decoration, treat, celebration, attire and fun. Overall, festive occurs 16 times per million in recent online English.
Teacher tip: You could ask your students to think about what some of these words have in common, and to think of other words that could be modified by festive. Interested in vocabulary related to festive? Check out this 'celebrations, parties & special occasions' vocabulary cloud on Cambridge Dictionary!
Christmas trees: don't mention the fake fir!
One tried and tested method for getting into the festive spirit is to put up a Christmas tree – another very common Christmas phrase. With tree being the most likely word to follow Christmas, other than Eve! Useful vocabulary emerges from online discourse about Christmas trees, but how useful that vocabulary is depends on what type of tree you get – a real one or a fake one?
Real trees are modified by adjectives like fresh-cut, living, fresh, real and actual. Fake trees are described as pre-lit, LED, artificial and faux. Interestingly, the adjective fake itself is less commonly used, possibly because it has negative connotations. In online communication, fake is typically used to describe attempts at deceit, modifying nouns like ID, email, document and, most recently, news. So it might be best to avoid complimenting your friend's fake tree!
There are plenty of great looking artificial Christmas trees in a range of sizes and prices that you can choose from.
More Christmas collocations
Other common words to proceed Christmas in recent online English include (of course) Day as well as lights, decorations, holidays, gifts, dinner, movies, and don't forget the all-important Christmas shopping.
Teacher tip: Christmas trees are famous for their beautiful decorations. If you teach young learners, you could ask your students to list all the words for decorations they can think of (e.g. lights, baubles, tinsel) and label a picture or drawing of a Christmas tree with the words.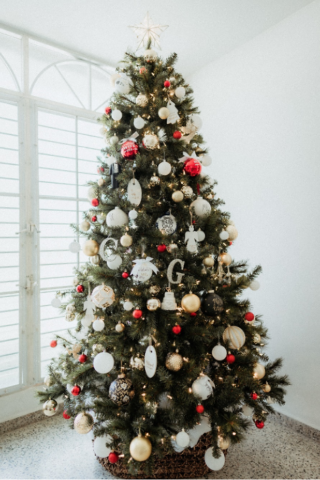 Christmas shopping
As mentioned, another very common topic in festive online discussion is Christmas shopping. This year, more than ever, people are turning to the internet to do their Christmas shopping, and this is reflected in recent online discourse.
More people than ever are planning to do their Christmas shopping online
But how do people feel about Christmas shopping? There is a range of interesting vocabulary to discuss this, including some simple verbs which take Christmas shopping as direct object: plan, start, begin, finish and complete. People who plan their Christmas shopping are probably more likely to do it early, which is a common adjective that emerges in this context. On the other hand, some may leave their shopping to the last minute, and end up doing it late-night or in a panic.
Teacher tip: Ask your students to produce a Christmas shopping list, using as much descriptive language as possible. Young learners could write a Christmas wish-list for Santa! Alternatively, you could ask students to make a list of things they might buy for other festivals or celebrations.
---
Dr Robbie Love is a Lecturer in English Language at the School of Social Sciences and Humanities at Aston University, UK. He conducts research and teaches in a range of topics in linguistics including: corpus linguistics, discourse analysis and language education. Robbie holds a PhD in linguistics from Lancaster University.
Interested in how Christmas is used in casual conversation? Check out Robbie's blog "Do you hear what I hear? How the language of the festive period has changed".