Cambridge English Language Teaching
Cambridge English Language Teaching is one of the world's leading providers of learning materials and services for teachers and students of the English language. Working closely with Cambridge Assessment English, the University's English testing experts, we develop courses used by schools, universities and governments around the globe to deliver proficiency in the English language.
Cambridge English Language Teaching enjoyed a year of strong growth and rapid innovation as we responded to the fast-changing needs of our customers and to the world's ever-increasing enthusiasm and need to learn English.
Reinforcing our position as one of the foremost English language teaching publishers, we recorded a healthy increase in sales and profitability, despite adverse foreign exchange movements. The results underscored the strength of our products, the positive effects of operational changes made over the past several years, and the focus on specific markets and customer types in our products and presence in our markets.
We enjoyed particularly strong growth in Italy with our publishing for the secondary market. In Turkey an excellent performance was driven by our product breadth and followed significant investment in our local operation to reach more customers and serve them better. Expansion in Mexico was driven by the schools market, and that in India by exams.
North America returned to growth, but remains challenging for all publishers because of shifts in the market, particularly a move to second-hand book use and digital alternatives. More difficult markets included Brazil, where a challenging macro-economic environment saw a continued marked decline in the adult sector, not yet fully offset by strong growth in schools, and Spain, where the market is undergoing an adjustment after years of relative stability and steady growth.
We saw double-digit expansion in both primary and secondary, and continued good growth in exams. Adult learners' publishing across the industry is now flat, as the growth in English classes at a young age means more and more people leave school with proficiency in the language, changing the nature of the demand in adults.
Despite that, one particularly pleasing achievement was the continued strength of our In Use series, long established and known all over the world. Sales continued to grow in 2017–18, thanks to superb publishing aimed at keeping our products fresh and relevant. Our English for Academic Purposes publishing continued to grow, reflecting the increasing need for academic skills in English.
The growth of English as the world's most shared tongue means that governments, schools and parents want their children to become increasingly proficient in the language…"
A good year was also enjoyed by our increasingly important Learning Solutions business which serves our largest customers, such as governments and chains of schools, with customised learning and teaching materials and a range of support services.
The success of Learning Solutions highlights some of the important changes taking place in the demand for English language learning, and why Cambridge is so well placed to meet these needs.
The growth of English as the world's most shared tongue means that governments, schools and parents want their children to become increasingly proficient in the language, and to do so from a younger age. They also want a high degree of formative assessment integrated into products, so students' knowledge can be tested at different points in a course, helping them decide what they should study next. In some cases, schools want to embed English as the medium of study for other subjects, such as sciences. There is also increasing demand for local publishing, reflecting national cultures. These complex trends create new opportunities not only for publishing but also for the provision of holistic packages to meet the needs of our customers.
Our Learning Solutions business provides these integrated services, including curriculum and syllabus design, assessment tools, teacher development and a range of other services alongside the supply of customised teaching materials. We achieved significant growth this year across many countries including China, Saudi Arabia and Turkey.
We use technology to provide the best teaching and learning environment for customers. The increasing sophistication of digital communications provides exciting opportunities for innovative, interactive teaching methods..."
We are particularly well placed to meet demand for these complex packages because of the depth of our accumulated knowledge of teaching the English language and our strong partnership with other University of Cambridge departments. We work particularly closely with Cambridge Assessment, with whom we publish exam preparation material and courseware, as well as with the academic University to bring the best research to the service of effective learning.
During the year, the Press and Cambridge Assessment joined forces on numerous programmes, including curriculum and course development, online testing, shared projects and further refinements to Cambridge English Empower, an innovative and well-received general course for adults. It combines content from the Press with validated formative testing from Cambridge Assessment. During the year we reported the results of a two-year study into customer attitudes to Empower. The study showed that students and teachers had extremely positive experiences with its coursebook and online materials and services, and the Empower approach helped ensure high levels of student motivation.
We increased integration of offerings across the Press and Cambridge Exams Publishing, our joint venture with Cambridge Assessment English, and have been working with the University's Faculty of Education on research around oracy.
Central to our strategy is the use of technology to provide the best teaching and learning environment for customers. The increasing sophistication of digital communications provides exciting opportunities for innovative, interactive teaching methods.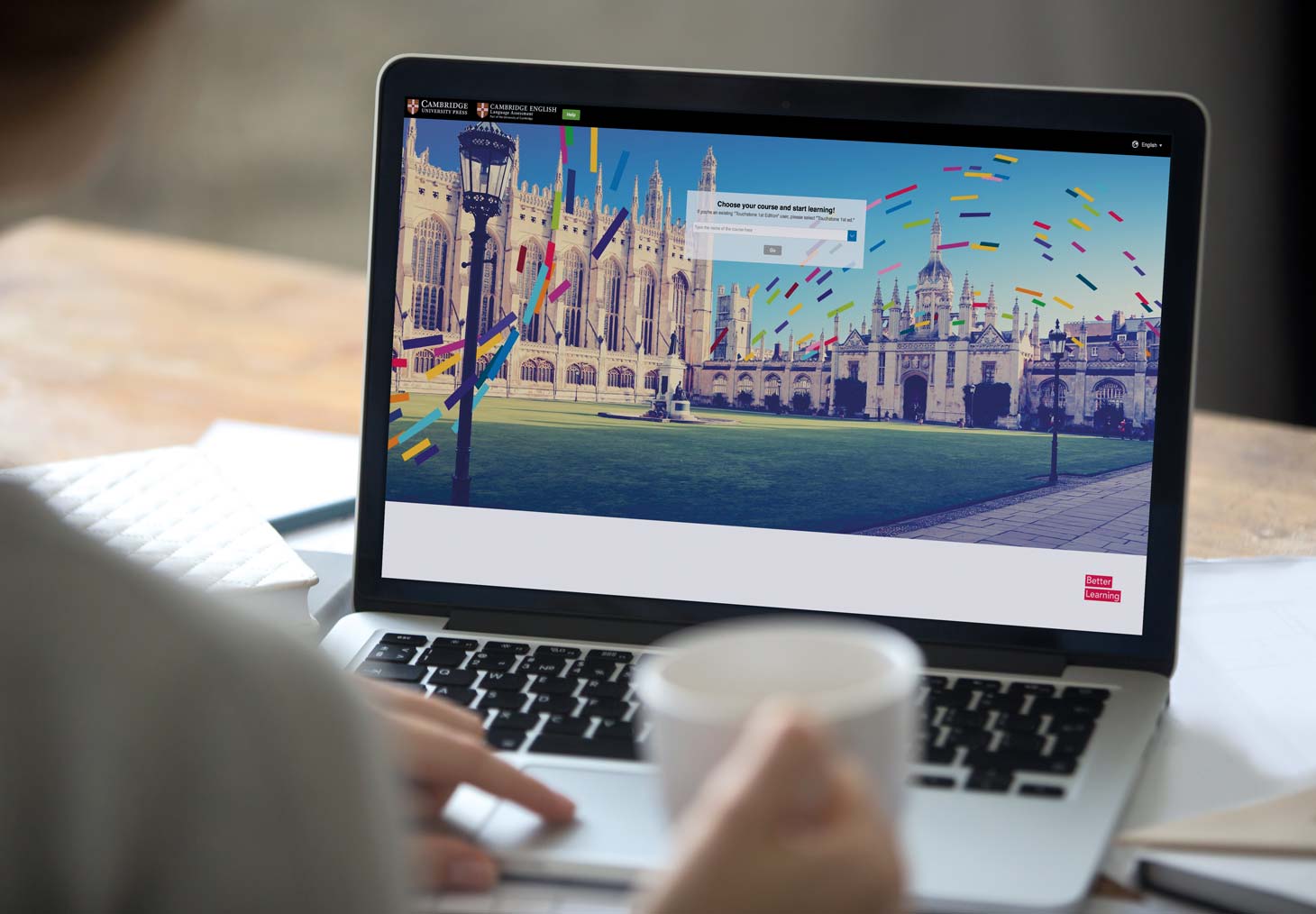 At the heart of our digital operation is the Cambridge Learning Management System (CLMS), the platform we use to deliver many of our digital products. During the year we made significant technology investments for the delivery of future digital products and services. At the year-end our platform had 1.3 million active users, hosted 554 live products and was used in some 75 countries around the world.
The smart phone has become the preferred device for self-study among adult learners, and mobile-first is becoming the norm across segments and markets at very different stages of economic development. We launched an app to go with the fifth and latest edition of our successful Interchange course for adult learners. The app is designed for classroom use and helps teachers use students' mobile devices alongside the books to boost engagement and improve speaking. It keeps a proven flagship title current with the digital classroom and digital teaching.
We continue to develop the use of artificial intelligence and large data sets to provide a better learning experience for students and teachers – for example, to test a smart phone user on their proficiency in spoken English.
Significant new products were introduced in 2017–18, including Life Adventures, a general primary young learners course with validated exam materials, developed initially for the Spanish market, and supported by content and language integrated learning materials. Our first Turkey-specific title, Think Turkiye, got off to a strong start in the secondary market.
Overall, our success over the past year places us in a strong position to continue to invest in new digital products and services. These, together with further digital innovations focused on data and an ever deeper partnership with Cambridge Assessment, will help our customers around the world gain mastery of the English language more efficiently and confidently.
Cambridge Dictionary Online
The Cambridge Dictionary Online had an exceptional year. Since the last new print editions of Cambridge Dictionary titles were published in 2013 we have focused on expanding and developing the online dictionary, giving it greater breadth and depth of content. In 2017–18 we looked at ways to speed up the addition of more example sentences for definitions from a broader range of sources, and we built an interface to allow users to give feedback on new content – and for editors to respond. More than 11,000 new words and meanings, and hundreds of thousands of additional examples, were added. Updates to the site improved the mobile experience, and more than half of all users now access the dictionary from a mobile device rather than desktop.
All this fed through to a great expansion in traffic: by December the site ranked sixth globally among online dictionaries. By April there were more than 52 million sessions a month. More than 80 per cent of all visitors to the cambridge.org domain globally visit the online dictionary, making the site an important aspect of how Cambridge is perceived.