Products and services

Products and services

Our innovative products and services for learners, authors and customers are based on world-class research and are relevant, exciting and inspiring.

About us

About us

We unlock the potential of millions of people worldwide. Our assessments, publications and research spread knowledge, spark enquiry and aid understanding around the world.
About the Book
The deep oceans and global seafloor are truly Earth's last frontier. This magnificent, full-color volume transports you to bizarre landscapes hosting exotic life forms that rival the most imaginative science fiction. This indispensable reference and visually stunning resource will enlighten and intrigue oceanographers and enthusiasts alike.
Features:

Provides a comprehensive, up-to-date view of the oceanic crust, seafloor features, and seafloor volcanism, uniting studies of related phenomena in a single volume
Presents the latest perspectives and unique visual images of regions along the global mid-ocean ridge, providing context to understand diverse features, rock types, vent ecology and chemistry
Contains extraordinary images of the seafloor and representative geological, geochemical and biological features, combined with accompanying online visual and teaching materials to provide a unique resource
Video Gallery
Exclusive deep-sea footage takes you on a dive into the abyss
Download more resources from Discovering the Deep¸ including a PowerPoint designed by the authors, here
Meet the Authors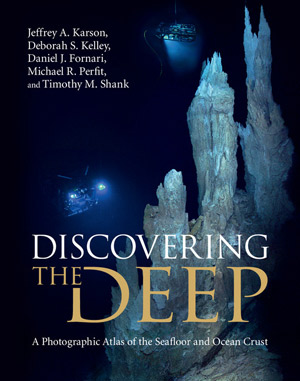 Discovering the Deep: A Photographic Atlas of the Seafloor and Ocean Crust
Product details
Format: Hardback
ISBN: 9780521857185
Dimensions: 276 x 219 mm
Contains: 24 b/w illus, 506 colour illus, 7 tables
£60.00 / $99.99
"This is the book I wish I'd had on my eight deep ocean expeditions, to better understand the wonders I was gazing upon. A must-own for anyone in the ocean sciences, and for those simply curious about what lies down there in the most remote realm on our planet."
James Cameron, explorer and film-maker

"Discovering the Deep will open your eyes to the largest and most unexplored region on Earth… this beautifully illustrated and comprehensive account shows how far we have come over the last forty years in our understanding of this fundamental tectonic feature of the Earth and the technology required to investigate it."
Robert D. Ballard, President of the Ocean Exploration Trust
Image Gallery
Explore the Mid-Ocean Ridge with hundreds of images
...