Cambridge University Press scoops two awards for International Excellence at London Book Fair 2015
16 April 2015
Cambridge University Press scoops two awards for International Excellence at London Book Fair 2015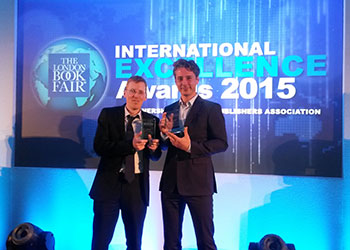 The winners of The London Book Fair International Excellence Awards, in association with The Publishers Association, were announced at a prestigious awards ceremony last night, held on the first day of The London Book Fair and Cambridge University Press was in the spotlight.
The Press won the inaugural Consortium Award for Accessible Publishing, a new award to recognise outstanding leadership or achievements in improving the accessibility of commercial e-books or other digital publications to persons with print disabilities, including visual impairments, learning disabilities, or physical disabilities that impede the ability to interact with a print book.
Other publishers shortlisted in the category were Elsevier, HarperCollins and SAGE. The judging panel made up of experts from the publishing industry and from organisations representing persons with print disabilities, said 'We were deeply impressed by the quality of CUP's applications. There is clearly much going on around the world to improve the accessibility of e-books and other digital publications and you have shown us the vanguard.' 
Also announced on the night was The Association for Publishing Education award for Best Dissertation by a Postgraduate, which was won by Nigel Graves, Assistant Digital Production Controller at Cambridge University Press for his thesis, Complex eBook Production: An Examination of digitising complex content for e-readers.
This year's awards were presented at the stunning new venue for The London Book Fair, London Olympia Conference Centre.
Jacks Thomas, Director, The London Book Fair, said:
"In the last few years, we have seen the rise and rise of international publishing and it is brilliant to see this celebrated at The London Book Fair International Excellence Awards. Each one of our winners brings something special to the industry. We are proud to give them the recognition they deserve as they are the people and organisations who make publishing the significant, powerful global industry it is today."
Richard Mollet, Chief Executive, The Publishers Association (UK), said:
"It is great to see publishing innovation and excellence receive such international recognition.  The sheer spread of countries whose publishing industries are recognised tonight demonstrates the continuing global relevance of our industry in the digital age.  Many congratulations to all the winners this evening."