27 March 2015
'It might be one of the most important books of our time.'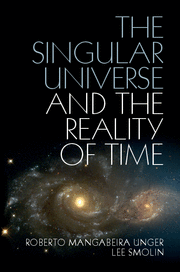 A new book which attacks prevailing theories about the universe and its history has been launched by Cambridge University Press to stunning critical acclaim in the Sunday Times.

The Singular Universe and the Reality of Time, by philosopher Roberto Mangabeira Unger and award-winning physicist Lee Smolin, both world-renowned for radical ideas in their fields, proposes a bold new approach to understanding key ideas about physics and argues for a revolution in cosmology, with huge implications for all science.

Reviewing the book in the Sunday Times, lead writer Bryan Appleyard wrote: 'Buy it, and even if you don't read it, look after it. This might be one of the most important books of our time.' He goes on to say, 'It might be so important because it is not just about physics or the arcana of cosmology. It is about the way we live now and the world view we have been sold as 'scientific'. Right or wrong, this book is an event.'

Unger and Smolin seek to overturn long-held ideas such as the notion of a multiverse and the dismissal or devaluation of the reality of time that are now ascendant in cosmology. They show the far-reaching implications of the reality of time for our views of nature, mathematics and ourselves and they explore how we need to think so as to understand a universe in which everything, including the structure and laws of nature, changes sooner or later.
You can hear Roberto Mangabeira Unger talking to the Guardian's Science Editor, Ian Sample, here.