27 February 2013
Lost Rudyard Kipling poems published for the first time by the Press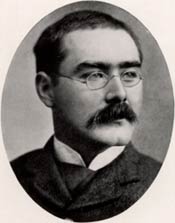 A collection of poems written by Rudyard Kipling are being published for the first time since they were discovered by an American scholar.
Several poems come from World War One, or reflect it, including an enigmatic poem beginning 'Never again in any port', as well as notes from a journal Kipling kept when touring the war graves of Belgium and France in 1924.
Other previously unseen work includes comic verse written on a ship sailing from Adelaide to Sri Lanka (and probably read aloud by Kipling to fellow passengers), a diatribe against media intrusion (one of Kipling's pet hates) called 'The Press', and 'Across Our Northern Uplands', a Christmas greeting to friends in New York which was written shortly after Kipling had settled in Vermont and was still full of enthusiasm about life in America.
The manuscripts were found in a variety of places including among the papers of Sir Percy Bates, former head of the Cunard Line, and in a house in Manhattan where a poem was found when the property was being  renovated. The collection also includes an 8-line verse written for a child aged 4 and now belonging to a woman whose mother had been Kipling's god-child.
In addition to 50 previously unpublished poems, the three-volume Cambridge Edition of the Poems of Rudyard Kipling, includes more than 500 uncollected poems and is the first ever complete edition of his verse.
Editor Thomas Pinney, Emeritus Professor of English at the University of California, said: 'Kipling has long been neglected by scholars probably for political reasons. His texts have never properly been studied but things are starting to change. There is a treasure trove of uncollected, unpublished and unidentified work out there. I discovered another unrecorded item only recently and that sort of thing will keep happening. It is a tremendously exciting time for scholars and for fans of Kipling.'
Linda Bree, Arts and Literature Editorial Director at Cambridge University Press, said: 'We are absolutely delighted to be able to bring forward Kipling's collected poetry for the first time, and it's particularly exciting that we can include verse that has never been published anywhere else before. Kipling's 'If' is one of the most popular poems in the English language, but this edition shows that he wrote much else to entertain, engage and challenge readers.' 
The Cambridge Edition of the Poems of Rudyard Kipling, edited by Thomas Pinney, is priced at £200.