01 June 2018
Nükhet Varlik awarded the George Rosen Prize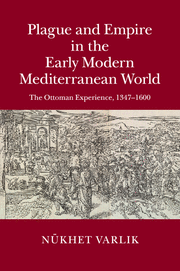 The American Association for the History of Medicine (AAHM) announced it has awarded the George Rosen Prize to Nükhet Varlik for her book, Plague and Empire in the Early Modern Mediterranean World: The Ottoman Experience, 1347-1600.
Founded in 1925, the AAHM is a professional association of historians, physicians, nurses, archivists, curators and librarians that seeks to encourage research, study, writing and interest in the history of medicine. The George Rosen Prize was established in 2014 to honor the author of a work of significant contribution to the history of public health or the history of social medicine.
The book has previously won the Middle East Studies Association Albert Hourani Book Award and the Ottoman and Turkish Studies Association Koprulu Prize, and the Society for the Medieval Mediterranean Dionisius A. Agius Prize.
This is the second year in a row a Cambridge University Press title has taken home the George Rosen Prize. In 2017, it was awarded to Marcos Cueto and Steven Palmer for their book, Medicine and Public Health in Latin America: A History.