Look Inside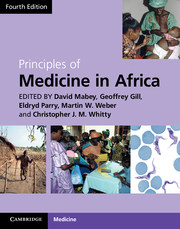 Principles of Medicine in Africa
4th Edition
Gail Davey, Eldryd Parry, Andrew Prentice, Chidi Nweneka, Michael D. E. Pelly, Timothy D. Healing, Heiner Grosskurth, Ruari Brugha, Benson Droti, Susan Foster, Richard Laing, Camilla Buchanan, Peter Olute Okoth, Amha Yigzaw, Giorgio Tamburlini, Fabio Uxa, Martin W. Weber, Ayo Palmer, E. Kim Mulholland, Sam Akech, Steve Collins, James Berkley, Melita Gordon, Hilton C. Whittle, Assan Jaye, Stephen Cose, Pontiano Kaleebu, Alison M. Elliott, David Mabey, Christopher J. M. Whitty, Andrew J. Hall, Evelyn K. Ansah, Alison Grant, Gisela Schneider, Gareth Tudor-Williams, Andrew Kumbugu, Anthony D. Harries, Rony Zachariah, Rhehab Chimzizi, Felix M. Salniponi, Stephen D. Lawn, J. Anthony G. Scott, Richard Adegbola, Stephen Gordon, Brian M. Greenwood, Philippe Mayaud, Francis J. Ndowa, John Richens, Nicholas Feasey, Oleg Mediannikov, Philippe Parola, Didier Raoult, Robin Bailey, Daniel Fekade, Charles R. Newton, Diana N. J. Lockwood, Saba M. Lambert, Stephen L. Walker, Jan ter Meulen, Benjamin Jeffs, Jeremy Farrah, Amadou Sall, M. J. Warrell, David A. Warrell, R. Bruce Aylward, Sam Okiror, Deo Nshirimimana, Philip Gothard, Ed E. Zijlstra, Ahmed M. Musa, August Stich, Paul Kelly, Issac Zulu, Michael Brown, Donald A. P. Bundy, Simon Brooker, Anthony E. Butterworth, John H. Ouma, Birgitte J. Vennervald, David W. Dunne, Camilla Rothe, Michele E. Murdoch, Ian E. Murdoch, Tom Doherty, Maria Vang Johansen, Helen Ayles, Anna Checkley, Sandy Cairncross, Rod J. Hay, Pat Lee, Geoffrey Gill, Jean-Claude Mbanya, Richard W. Walker, Richard Edward, Myles Connor, Alan Bryer, Martin C. Prevett, Charles R. Newton, Oye Gureje, Bibilola Oladeji, Duncan G. Fullerton, Kevin Mortimer, Chris Lavy, Janet Ajuluchukwu, Felix I. Anjorin, Jurergen Freers, Martin J. Boeree, Imelda Bates, Edeghonghon Olayemi, Edford Sinkala, Nimzing Ladep, Edemariam Tsega, Jacob Plange-Rhule, Gavin Dreyer, John Eastwood, Mohammed Tikly, Ade Adebajo, Paul E. McGill, Charles H. Todd, Kenneth Huddle, Peter Newman, Peter Cleland, Ben Naafs, John Masenga, Tjip S. ven der Werf, Allen Foster, Richard J. C. Bowman, Sam M. Mbulaiteye, John L. Ziegler, Edward Katangole-Mbidde, Karen L. Frame, Anne Merriman, Sari Soghoian
View all contributors
Date Published:

January 2013

availability:

In stock

format:

Hardback

isbn:

9781107002517
Add to wishlist
Other available formats:
eBook
---
Looking for an inspection copy?
This title is not currently available on inspection
Description
Product filter button
Principles of Medicine in Africa combines classical clinical medicine with a rich understanding of the major environmental and cultural influences on health and disease, providing comprehensive guidance for anyone intending to practise medicine in Africa. Disease is presented in the context of family and culture, and the effects of inequality and problems of limited resources are addressed. The authors have a wealth of experience in front line healthcare and provide practical, evidence-based management guidelines for all the common and less common conditions likely to be encountered. This fourth edition has been thoroughly updated to incorporate the latest research findings and management guidelines. It includes an expanded section on maternal and child health, but careful editing has generated a slimmer volume, whilst retaining all of the essential content. This is the one essential text for medical students and healthcare professionals wanting a complete and up-to-date reference book on medicine in Africa.

Focuses on how to cope without the resources taken for granted in other textbooks
Emphasises the authors' first hand front line experience which they pass on through essential relevant, practical information
Features many colour illustrations to aid understanding and the application of the clinical science presented

Read more

Reviews & endorsements

Review of the previous edition: 'This is a big book, physically and intellectually, and must rank among the very best on health care anywhere.' The Lancet

'… extremely student friendly … highly readable and well-edited, the textbook covers all aspects of diseases in the tropics … extremely practical … an up-to-date masterpiece …' Journal of the American Medical Association

'Unlike most conventional textbooks that take either a systemic or syndromic approach, this book provides a synthesis to address the major health concerns facing Africa's inhabitants … The book's contributors all write with an African audience in mind: management guidelines are pertinent and in keeping with the realities for physicians who practise in Africa - with material, financial, and workforce constraints … Principles of Medicine in Africa should not only appeal to physicians practising in Africa but also to anyone who has an interest in the practice of medicine in a challenging, resource-constrained environment.' The Lancet

See more reviews

Customer reviews

Not yet reviewed

Be the first to review

Review was not posted due to profanity

×

Product details

Edition:

4th Edition

Date Published:

January 2013

format:

Hardback

isbn:

9781107002517

length:

928

pages

dimensions:

283 x 223 x 45 mm

weight:

2.7kg

contains:

296 b/w illus. 440 colour illus.

availability:

In stock

Table of Contents

Preface
Part I. Health and Disease:
1. People and their environment
2. Food and nutrition
3. Refugees and disasters
4. Managing a health service
Part II. Mother and Child Health:
5. The pregnant patient
6. Neonatal care
7. The integrated management of childhood illness (IMCI)
8. Severe acute malnutrition in childhood
9. Diarrhoea
10. Pneumonia and acute lower respiratory tract infections in children
11. Measles
12. Pertussis
Part III. Infection: General Principles:
13. The immune response to infection
14. Approach to the febrile patient
15. The control and prevention of infection
Part IV. Major Common Infections:
16. Malaria
17. HIV/AIDS
18. Tuberculosis
19. Pneumonia in adults
20. Meningitis
21. Sexually transmitted infections
Part V. Bacterial Infections:
22. Typhoid, paratyphoid and non-typhoid salmonella infections
23. Streptococcus pyogenes and Staphylococcus aureus
24. Rickettsial infections
25. Brucellosis
26. Leptospirosis
27. Relapsing fever
28. Plague
29. Anthrax
30. Tetanus
31. Diphtheria
32. Leprosy
33. Cholera
Part VI. Viral Infections:
34. Viral haemorrhagic fevers: yellow fever, Lassa fever, Rift Valley fever, Ebola/Marburg fever and Crimean-Congo fever
35. Dengue
36. Rabies
37. Influenza
38. Poliomyelitis
39. Varicella (chicken pox), Herpes zoster and monkey pox
40. Rubella
41. Mumps
Part VII. Protozoal Infections:
42. Leishmaniasis
43. Human Africa trypanosomiasis
44. Amoebiasis
45. Intestinal protozoa
Part VIII. Helminth Infections:
46. Intestinal helminths
47. Schistosomiasis
48. Lymphatic filariasis and Loa Loa
49. Onchocerciasis
50. Cysticercosis
51. Hydatid disease
52. Paragonimiasis
53. Trichinosis
54. Guinea worm
Part IX. Fungal Infections:
55. Fungal infections
Part X. Non-Communicable Diseases:
56. Chronic and non-communicable disease in Africa
57. Chronic non-communicable disease in health care
58. Diabetes mellitus
59. Hypertension
60. Stroke
61. Epilepsy
62. Mental health
63. Asthma
64. The disabled patient
Part XI. Diseases of Body Systems:
65. The heart
66. The lung
67. Blood disorders
68. The gut
69. The liver
70. The kidney and body fluids
71. Bones and joints
72. Endocrinology
73. The nervous system
74. The skin
75. The eye
Part XII. Cancer and Palliative Care:
76. Cancers and lymphomas
77. Palliative care in Africa
Part XIII. Venoms and Poisons:
78. Venomous and other dangerous animals
79. Poisoning
Index.

Editors

David Mabey, London School of Hygiene and Tropical Medicine
David Mabey is Professor of Communicable Diseases at the London School of Hygiene and Tropical Medicine. He worked for eight years at the Medical Research Council Laboratories in Gambia, where he was in charge of clinical services.

Geoffrey Gill, University of Liverpool
Geoffrey Gill is Professor of International Medicine at the Liverpool School of Tropical Medicine. He has worked extensively in Africa (Zambia, Ethiopia and South Africa) and has published widely on chronic disease care in the tropics.

Eldryd Parry, Tropical Health Education Trust
Sir Eldryd Parry has unrivalled experience of medicine in Africa, having been Professor of Medicine in Ghana, Ethiopia and Nigeria. He founded the Tropical Health Education Trust (THET) and, in 2011, was knighted for services to healthcare development in Africa.

Martin W. Weber, World Health Organization, Jakarta
Martin Weber is a paediatrician working for the World Health Organization. He worked as a research clinician at the MRC Laboratories in Gambia for six years and has played a key role in the development and evaluation of treatment guidelines for children.

Christopher J. M. Whitty, London School of Hygiene and Tropical Medicine
Christopher Whitty is Professor of International Health at the London School of Hygiene and Tropical Medicine. He has worked as a clinician in Malawi and has led clinical research projects in Tanzania, Ghana and Uganda.

Contributors

Gail Davey, Eldryd Parry, Andrew Prentice, Chidi Nweneka, Michael D. E. Pelly, Timothy D. Healing, Heiner Grosskurth, Ruari Brugha, Benson Droti, Susan Foster, Richard Laing, Camilla Buchanan, Peter Olute Okoth, Amha Yigzaw, Giorgio Tamburlini, Fabio Uxa, Martin W. Weber, Ayo Palmer, E. Kim Mulholland, Sam Akech, Steve Collins, James Berkley, Melita Gordon, Hilton C. Whittle, Assan Jaye, Stephen Cose, Pontiano Kaleebu, Alison M. Elliott, David Mabey, Christopher J. M. Whitty, Andrew J. Hall, Evelyn K. Ansah, Alison Grant, Gisela Schneider, Gareth Tudor-Williams, Andrew Kumbugu, Anthony D. Harries, Rony Zachariah, Rhehab Chimzizi, Felix M. Salniponi, Stephen D. Lawn, J. Anthony G. Scott, Richard Adegbola, Stephen Gordon, Brian M. Greenwood, Philippe Mayaud, Francis J. Ndowa, John Richens, Nicholas Feasey, Oleg Mediannikov, Philippe Parola, Didier Raoult, Robin Bailey, Daniel Fekade, Charles R. Newton, Diana N. J. Lockwood, Saba M. Lambert, Stephen L. Walker, Jan ter Meulen, Benjamin Jeffs, Jeremy Farrah, Amadou Sall, M. J. Warrell, David A. Warrell, R. Bruce Aylward, Sam Okiror, Deo Nshirimimana, Philip Gothard, Ed E. Zijlstra, Ahmed M. Musa, August Stich, Paul Kelly, Issac Zulu, Michael Brown, Donald A. P. Bundy, Simon Brooker, Anthony E. Butterworth, John H. Ouma, Birgitte J. Vennervald, David W. Dunne, Camilla Rothe, Michele E. Murdoch, Ian E. Murdoch, Tom Doherty, Maria Vang Johansen, Helen Ayles, Anna Checkley, Sandy Cairncross, Rod J. Hay, Pat Lee, Geoffrey Gill, Jean-Claude Mbanya, Richard W. Walker, Richard Edward, Myles Connor, Alan Bryer, Martin C. Prevett, Charles R. Newton, Oye Gureje, Bibilola Oladeji, Duncan G. Fullerton, Kevin Mortimer, Chris Lavy, Janet Ajuluchukwu, Felix I. Anjorin, Jurergen Freers, Martin J. Boeree, Imelda Bates, Edeghonghon Olayemi, Edford Sinkala, Nimzing Ladep, Edemariam Tsega, Jacob Plange-Rhule, Gavin Dreyer, John Eastwood, Mohammed Tikly, Ade Adebajo, Paul E. McGill, Charles H. Todd, Kenneth Huddle, Peter Newman, Peter Cleland, Ben Naafs, John Masenga, Tjip S. ven der Werf, Allen Foster, Richard J. C. Bowman, Sam M. Mbulaiteye, John L. Ziegler, Edward Katangole-Mbidde, Karen L. Frame, Anne Merriman, Sari Soghoian
Please note that this file is password protected. You will be asked to input your password on the next screen.
»
Proceed
You are now leaving the Cambridge University Press website. Your eBook purchase and download will be completed by our partner www.ebooks.com. Please see the permission section of the www.ebooks.com catalogue page for details of the print & copy limits on our eBooks.
Continue
×