What is a chunk? How do you know a chunk when you see one?
News & events
25 SEPTEMBER 2019
What is a chunk? How do you know a chunk when you see one?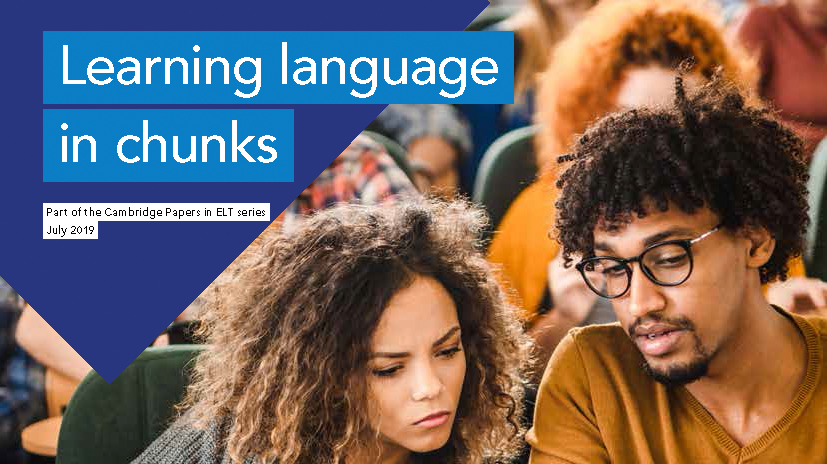 This Paper, written by Scott Thornbury, is all about learning language in chunks, and answers questions like 'what is a chunk?', 'why learn chunks?', and 'how can we learn chunks?'
Here's a sneak peek of what it's all about.
What is a chunk? How do you know a chunk when you see one?
By 'chunks', experts refer to:
• collocations (wrong way, give way, the way forward)
• fixed expressions (by the way, in the way)
• formulaic utterances (I'm on my way; no way!)
• sentence starters (I like the way…)
• verb patterns (to make/fight/elbow one's way…)
• idioms and catchphrases (the third way; way to go!)
… everything, in fact, that doesn't fit neatly into the categories of either grammar (as traditionally conceived) or single-word vocabulary.
Why learn language in chunks?
There are at least three reasons that have been put forward for prioritising the learning of lexical chunks:
• fluency
Various research studies have found that more fluent speakers are able to speak faster and with less hesitation due to the effective use of chunks.
• idiomaticity
The use of chunks can help students appear as idiomatic language users - by that we mean they can use expressions that are natural and correct.
• subsequent language development
Research suggests that it is possible that chunks support the acquisition process, though we shouldn't place reliance on the learning of chunks alone.
Thank you for your feedback which will help us improve our service.
If you requested a response, we will make sure to get back to you shortly.
×
Please fill in the required fields in your feedback submission.
×