Cart
Your Cart
×
You have 0 items in your cart.
01 September 2015
Sold out crowd watch Press authors at Edinburgh International Book Festival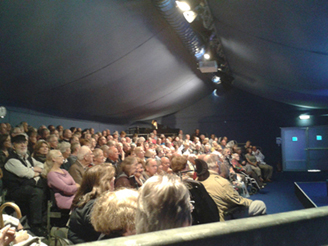 Edinburgh International Book Festival is a key part of the August Festival season, celebrated annually in Scotland's capital city. Global in outlook and eclectic in range, it features major names from world literature, stand-up comedians, actors, sports stars, poets and leading thinkers. The 2015 line up included Pat Barker, Irvine Welsh, Nicola Sturgeon, Tracy Chevalier, Louis de Bernieres, and Alex Salmond. Also on this year's bill were Cambridge University Press authors Franck Bechhofer and David McCrone who were in Edinburgh on August 26th to discuss their latest book, 'Understanding National Identity,' with BBC Scotland's political editor, Brian Taylor, who chaired the event. Tickets sold out weeks in advance and a packed house of 250 people heard the panel debate the difference between national identity and nationality, before a lively Q&A session rounded up proceedings.