Spotlight: Jocelyn Wyburd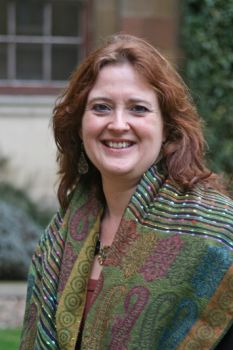 What are you currently working on?
Promoting opportunities for and access to language learning across the University. I am also involved in national organisations advocating the importance of languages and lobbying on behalf of languages disciplines in UK universities, as Chair of UCML and of the National Advisory Board for Routes Into Languages.
What's your background? 
I grew up partly in Italy and, having studied French, German and Latin at school, came to Cambridge to read Italian and French in the Faculty of Modern and Medieval Languages. I subsequently learnt Nepali while working on a women's education project for 2 years. I have worked in voluntary, corporate and education sectors and have been a university Language Centre Director (previously at Manchester, now at Cambridge) since 1999.
What were your favourite subjects at school? 
Languages, Maths and History.
How did your education lead to your current career?
A degree in languages was followed in due course by a PGCE as a MFL teacher (Italian, French and German) and subsequently an MA in Applied Linguistics and New Technologies.
Do you remember learning anything at school that you use in your career today?
Grammar teaching was fundamental to our language classes and remains the most important foundation for me linguistically, in relation to my use of English as well as my other languages. I use spreadsheets a lot, to process statistics and finances – the Maths I did at school has been invaluable ever since.
What advice would you offer school-age students who want to work in your area?
Keep up your language learning for as long as possible. Don't be an egotistical monolingual. And study subjects that you find intrinsically and intellectually interesting. You never know when that knowledge or brain training will come in useful.
Latest news
All news
06 December 2019
The Latin of 'the man on the street': exploring unfiltered Latin through Roman graffiti
Experienced Latin teacher Bill Geiger talks about how your students can get an insight into...
Are you sure you want to delete your account?
This cannot be undone.
Thank you for your feedback which will help us improve our service.
If you requested a response, we will make sure to get back to you shortly.
×
Please fill in the required fields in your feedback submission.
×