We're looking for YouTube presenters!
News & events
22 JULY 2020
We're looking for YouTube presenters!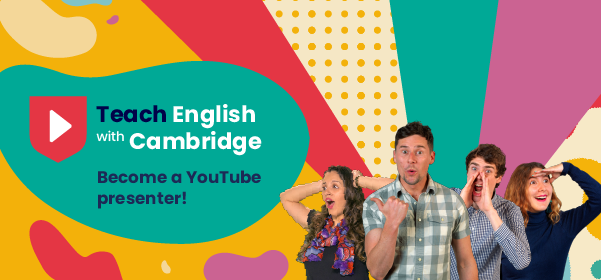 Could you teach a global classroom?
It's now more important than ever to have online teaching and learning skills. Since launching our Learn English with Cambridge YouTube channel last April, it has rapidly grown to over 46,000 followers. We have over 90 videos on the channel which have resulted in over 32,500 hours of viewing time and almost 1.5m views so far! 
We want to continue this momentum and are looking for new YouTube presenters to join the Learn English team and teach language students across the globe how they can use English in the real world. Check out George's video below to find out more...
What is Learn English with Cambridge?
The channel was created to support learners and teachers of English, and the video content is driven by the things they want to learn about. From new words to popular phrases used on holiday, or how to prepare for an interview to ordering food in a restaurant and preparing for exams, the videos are both fun and informative and show our viewers how to use English in real-life settings.
They are created and presented by ELT teachers around the world and we've also invited special guest presenters like Kanatip LoukGolf and Korean Billy to produce videos to increase the variety of content and global appeal of the channel.
How do I enter?
Create a video that's no more than 10 MB and no longer than 2 minutes
The video is your audition, so this is your chance to show what a great English teacher you are!
You will need to upload your video to YouTube and send us the link via our entry form by 21st September 2020.

What should I include in my video?

Do:
Record yourself as a presenter and face the camera.
Video yourself in whatever location you like.
Include in your video your first name, age and ELT experience and / or experience preparing students for Cambridge exams or IELTS.
Tell us what you love about ELT teaching.
Show us how you teach, e.g. how to order a coffee.
Make sure the audio is clear.
Showcase your personality!

Don't:
Make your video too long or too short. It must be no longer than 2 minutes and no shorter than 90 seconds.
Enter the competition unless you're confident that you will be able to commit to recording and editing one video per month.
Film anyone other than yourself.

What happens next?
A panel of ELT experts will review all of the submissions and select YouTube presenter winners, who will be notified by Cambridge via email.
These winners will be offered a one year contract with Cambridge University Press to publish videos for the Learn English with Cambridge YouTube channel.
The winners will need to be available to attend a one-day online video training programme (they will be given at least two month's notice of the training date).
You will need to be able to start recording your videos from November 2020.
Thank you for your feedback which will help us improve our service.
If you requested a response, we will make sure to get back to you shortly.
×
Please fill in the required fields in your feedback submission.
×