Quick-Start Guides
Quick-Start Guide for Students
Quick-Start Guide for Teachers
Quick-Start Guide for Administrators
Guides
Cambridge Elevate Guide to Account Types
---
Teacher and Administrator FAQs
Are you having problems accessing the system? 
---
Resetting Your Password
Reset your password here
*Admins can reset student and teacher passwords
---
Q. How do users access Cambridge Elevate after it's been purchased?
A. Please see the following downloads for guidance:
Quick-Start Guide for Students
Quick-Start Guide for Teachers
Quick-Start Guide for Administrators
Q. How do I reset/change my username or password?
A. To reset/change your password go to https://elevate.cambridge.org/elevate/common/forgotpassword.aspx target="_blank". Username cannot be changed.
Q. I'm having a problem accessing the system. Where can I get help?
A. In the first instance please contact your Teacher or Administrator. If you're unable to access the Cambridge Elevate site or there are technical problems, please contact PTsupport@cambridge.org.
Your Cambridge Elevate administrator will need to provide our Technical Support team with the following information:
-  Your school name
-  Your group name (if you have one)
-  A detailed description of the problem with screenshots
-  Your browser (and version number)
For orders, queries, and information contact educs@cambridge.org. 
Q. How do teachers and students send messages on Cambridge Elevate?
A. Click on the envelope icon at the top-right of your main dashboard page to access the message centre. From here you can either select students to send a new message to or select an existing message trail to continue a previous conversation. You can choose whether to send messages to an entire group or to an individual student.
Student-student communication is not possible within Cambridge Elevate. It is only possible to send and receive messages with your teacher.
Q. What are the differences between the web and app versions of Cambridge Elevate?
A. The main difference is that there is no access to add new books or manage your account on the mobile version. All content functions, enhancements, annotations and bookmarks function in the same way on both, and will be kept in sync with changes made on either.
---
Q. Do I need to create Teacher Access Codes?
Please see our Quick-Start Guide for Administrators for guidance on giving teachers access to purchased books.
Q. What training or expertise does the Administrator need?
A. The Administrator must have basic computing knowledge, but no other expertise is needed. User Guides are available on this FAQs page and at elevate.cambridge.org.
Q. How can I receive more licences?
A. Please contact your sales consultant or customer services at educs@cambridge.org
Q. Where can I find resources I've not yet purchased?
A. It isn't yet possible to search within Cambridge Elevate for titles that your institution hasn't purchased. Please contact your local sales consultant for information about additional Cambridge Elevate titles. Additionally, please see our website for pricing and order placement.
Q. I've just been granted admin rights but I can't see the admin tabs.
A: You will need to log out after being granted rights and then log back in for the changes to be registered. 
---
Teacher and Administrator FAQs
Q. Can I export student data from SIMS into Elevate?
A. You can export student data and bulk upload it in template form to provision student accounts in Cambridge Elevate.
Q. Can I import Cambridge Elevate student results data back into SIMS?
A. You can export student assessment results into Excel format for subsequent transfer into SIMS assessment (or other assessment systems).
Q. What does it mean if I see 'Coming Soon/New Book?'
A. This means that you have purchased a book that has not published yet. You can still create an access code for it but you will not be able to see the contents until it publishes.

Q. How do I reset/change the password of a teacher or student?
A. Under the Manage users tab, press the person button to see the user's details and Edit to change them.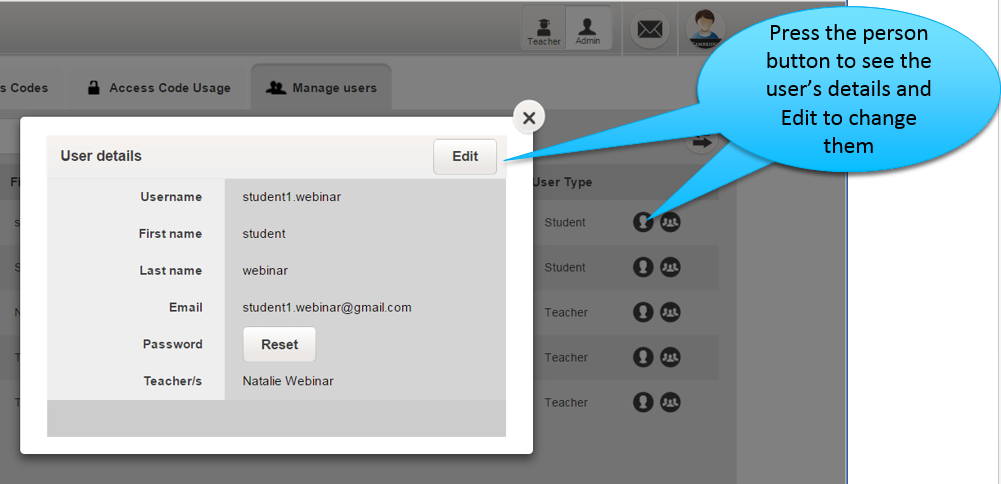 Admins can fix errors in names and email addresses as well as reset passwords.
Q. How can I delete groups and/or users?
A. Groups cannot be deleted once created. A student cannot be removed from the school, but can be removed from a group.
Q.  How are administrator privileges granted?
A. The main administrator is nominated by the school at time of order placement and set up by Customer Services. He or she will receive an email from PTAS (noreply@cambridge.org) with his/her username and password. The main administrator can give admin access to other teachers in the school under the Manage users tab by pressing the person button next to the relevant user to see their details and then pressing Edit grant admin rights.
Q. Can the administrator oversee student and teacher activity?
A. The administrator can see who has registered within the system, but cannot see login activity or any detailed information, such as account activity, annotations, or messages.
Q. Does the administrator have access to any "sensitive" information?
A. The administrator has access to name and email addresses, and can see details of the titles teachers and students are allocated to. They cannot see passwords, or any account activity. The administrator can change email addresses and reset passwords if needed.
Q. How do I give my students access to a title and create student groups?
A. Please download our Quick-Start Guide for Teachers for a step-by-step guide.    
Q. Are teachers able to remove a student from a group, or move students between groups?
A. To remove a student, click the 'Group details' tab and select the relevant group. All students within the group are displayed. Click the black box next to the student you wish to remove and then click 'Remove student(s) from this group'. If you'd like the student to join another group, you will need to give them the relevant code.
Q. Once a licence has been removed, what happens next?
A. Once a student has been removed, the licence will be credited straight away to your school's Cambridge Elevate account from which the Main Administrator is free to distribute as necessary.
Q. What is the gradebook?
A. The gradebook is a record of your students' scores for each assessment that they have taken - you can export the gradebook record against a combination of individual student through to a whole group, and a specific test through to all tests in an academic subject within Cambridge Elevate. They are expressed as a percentage. A subsidiary part of the gradebook export is the skills record, which allows you to keep track of your students' progression through Assessment Objectives, this records for each individual how they have progressed over time, against granular criteria of an Assessment Objective.
Q. How are scores calculated within the gradebook?
A. For automatically marked tests, this is a representation of correctly answered questions as a proportion of the total questions, expressed as a percentage. Partially scored questions will be assigned a mark out of available points by the teacher. All wholly subjectively marked assessments (for example where there is a long written answer, and a set of defined AO criteria available) will be graded by the teacher. Sliders to indicate skills progression do not affect the score that you give.
---
Q. What do I do with the Title Access Code / Book Code?
A: Please see the downloadable Quick-Start Student Guide.
Q: What do I do with my Student Group Code/ Group Code?
A: Please see the downloadable Quick-Start Student Guide.
Q. Can my teacher see the notes I add to my titles?
A. No, all the notes that you add to your titles are private. Only you can see them.
---
Q. The File download/link/hyperlink feature isn't working, what do I do?
A. Try to enable or allow pop-ups or check if there are any admin restrictions on your browser.
Q. What do I do if my code doesn't work?
A. Please contact your teacher or Cambridge Elevate Administrator to verify that the code is correct. It's possible all licences have been used. If this is the case, you will need to purchase access to additional licences through our website or your local sales consultant.
Q. What are the technical and system requirements needed for Cambridge Elevate?
A. The Cambridge Elevate web application is supported on the following browsers and versions:
Chrome 52.0.2743.82 or latest stable release
Internet Explorer 11.0.28 or latest stable release
Safari 9.1.2 or latest stable release
Firefox (also known as Mozilla Firefox) 47.0.1 or above latest release
Cambridge Elevate is available from the Apple store and the Google Play store, and is compatible with 7" screen tablet devices on the following operating systems: 
Android 4.4.2 or above stable release
iOS 8.3 or latest stable release
Q. How do I change my account profile?
A. Click on your account profile picture at the top right and select 'settings' to review your profile data. Click the edit link to make any changes and save them.
---
Presently, we are working to ensure that Cambridge Elevate supports Section 508 accessibility, moving toward WCAG2 AA accessibility conformance where possible. Whilst this work is ongoing, Cambridge Elevate also provides a font switch and resize function to toggle between serif and sans serif typefaces.
Cambridge Elevate web-reader can be accessed through different browsers, some of which can be more readily configured to support users with dyslexia.
Maxthon (http://www.maxthon.com – an external link)
This web browser can be configured with a custom 'night mode', giving extensive control over the colour of page backgrounds and most text components.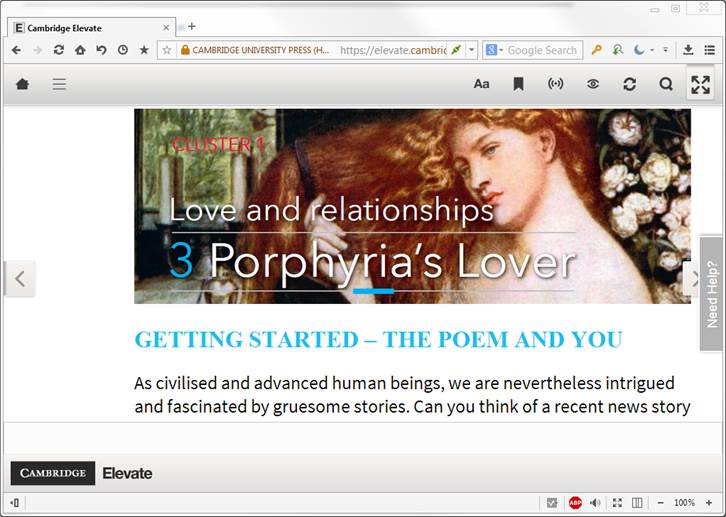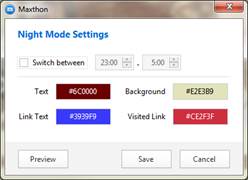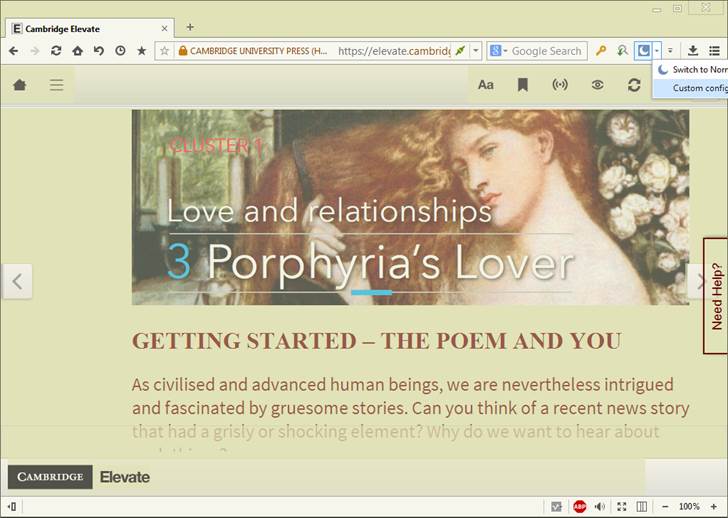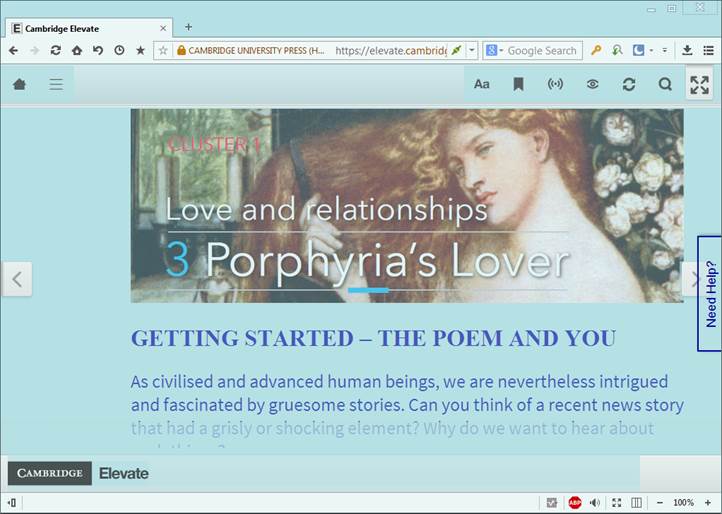 ---
OpenDyslexic (http://opendyslexic.org/download/ - external link)
OpenDyslexic is an opensource typeface that is free to use, and is specifically designed to facilitate ease of reading for users with dyslexia. It can be installed as an extension to be used across a range of browsers.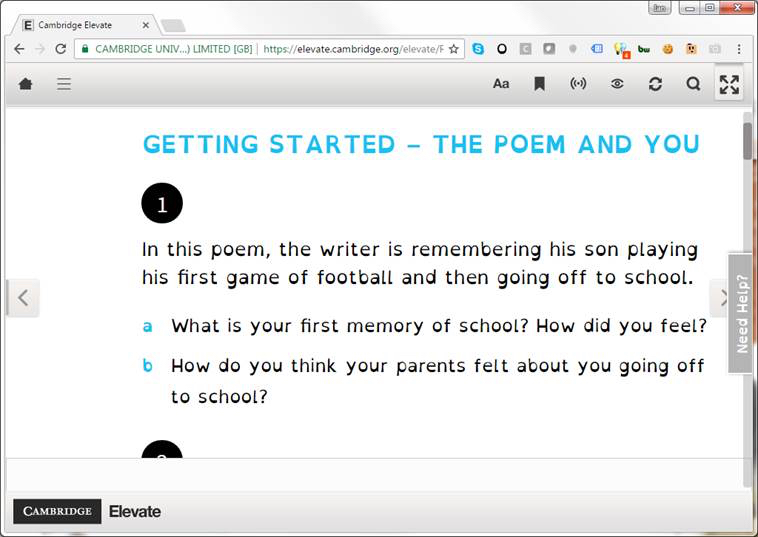 Thank you for your feedback which will help us improve our service.
If you requested a response, we will make sure to get back to you shortly.
×
Please fill in the required fields in your feedback submission.
×