Find guidance on how to register on Cambridge Elevate, how to use the site and how best to blend Cambridge Elevate in your classroom.
How to register
Home
Inside the book
---
Cambridge Elevate requires a Book code to register.* To register please follow these instructions, or watch our how to video.
1. Visit elevate.cambridge.org.
2. Select the I'm a student button. 
3. Fill in your registration details. 
4. You have now registered as a student. If you wish to join a group with your teacher click the Join a group button. You will need to enter a code shared by your teacher.
*Some users (UK curriculum English and Coding Club titles) can register with a Group Access code.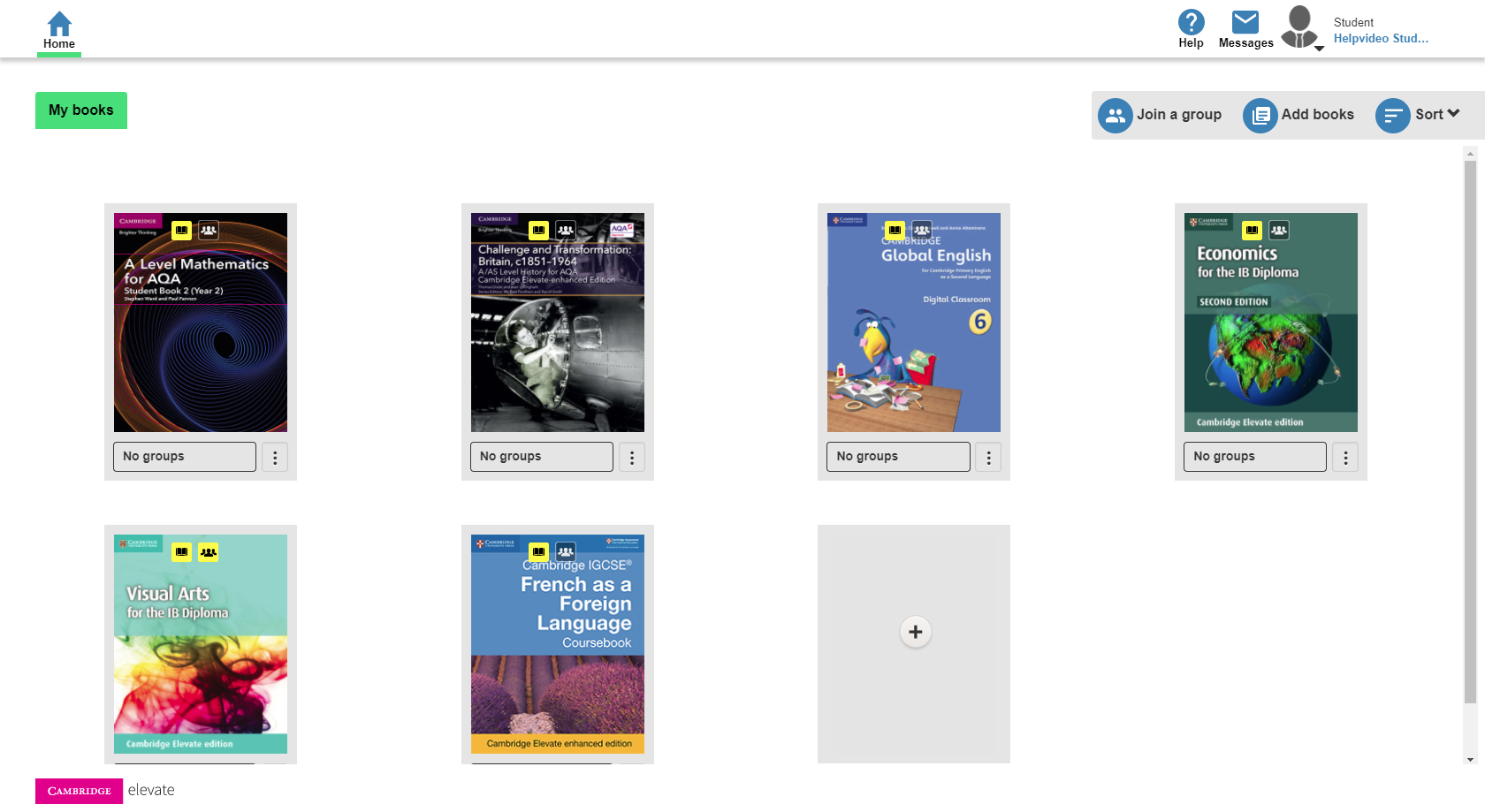 Books that you have purchased will appear on your Home page. Click on the cover to open a book.
Click on the ellipsis  underneath the book to see:
About this book – gives you information about your book and subscription.
Use the Add books button to add new books to your Home page. 
 Or you can use the plus icon.
Use the Sort button to sort your books. You can sort your books alphabetically, by date added or date used.
Click the Help button to search through a bank of help topics or to view the site tours.
Send/receive messages to/from your teacher
 
To send messages to your teachers click on the Messages button and select a recipient from the pre-populated list. Compose your message and send.
A notification will appear on your message button when you have a new message.
Change your settings
To access your settings and to log out, click on the dropdown menu beneath your profile. 
From here you can change your Account settings (when on the Home page), Reader settings and log out. 
To continue to access your title, you need to put in a new book code. This can be done using the add books button.
Or the plus icon.
- You can enter a new book when the Expiring badge has appeared on your book. This badge appears when your title is within 90 days of its expiry date.
Expired titles have an orange 'expired' badge.
To find out when your book will expire click on the 'About this book' in the ellipsis menu underneath your book.
For more information watch our how to video.
Annotations are saved and will not be lost when your title expires.
Sidebar
The sidebar allows you to easily navigate through your book by clicking on the contents.
Clicking on a section within the contents will take you to its location in the book.
You can open the sidebar and contents without navigating away from the page.
The sidebar will always feature the Contents and My Activity buttons, other items may vary per book.
Contents shows the contents list for the book.
Bookmarks shows any bookmarks you may have created.
My Activity lists your annotation activity.
Media lists available media content for your page, chapter and book.
Assessment lists all the assessments in the book.
Glossary lists all the keyword terms in your book. 
When you make an annotation Annotation badges will appear in the sidebar.
Bottom toolbar
The bottom toolbar contains the following depending on your book:
Reader settings
Create a Bookmark - watch the how to video
Save and Sync (saving your annotations across the group)
Page folio and navigation
Page navigation
You can also use the arrows at the side of the page to navigate between pages.
Search
Search can be found in the top bar when you are inside a book.
Creating annotations
To add an annotation to your book, select the text you'd like to annotate with the cursor. After selecting the text, you can choose to highlight the passage, add a note, weblink, hyperlink or voice note.
Annotations are saved and will not be lost when your title expires.
You can add multiple annotations to the same section of text. You can also navigate to 
 edit
 or delete your annotations.
Filtering annotations
To filter all of your annotations select My Activity.
Annotations are organised by Contents or by Time (most recent first).
 To filter the annotations that show select Filters and choose the Chapter/Topic, Annotation Type or Group.
The Annotation types that can be filtered are Note, Weblink, Hyperlink and Voice.
The Group filter allows you to selectively choose which shared or unshared annotations to show based on group.  
Showing annotations
To selectively show annotations on the text access the Reader settings located in the dropdown menu beneath your profile
or in the Bottom toolbar.
 Select or deselect Show My Annotations and/or Show Teacher Annotations and click save.
Thank you for your feedback which will help us improve our service.
If you requested a response, we will make sure to get back to you shortly.
×
Please fill in the required fields in your feedback submission.
×