Virtual punting, celebrations old and new, and a surprise proposal… The story of IATEFL 2015
News & events
20 MAY 2015
Virtual punting, celebrations old and new, and a surprise proposal… The story of IATEFL 2015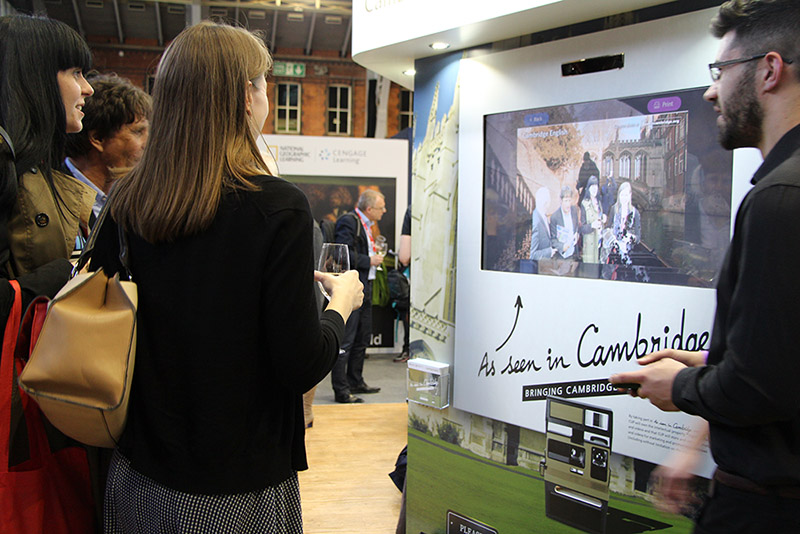 The recent IATEFL conference welcomed over 2500 delegates from over 100 countries to Manchester, for a 4-day programme of around 500 talks, workshops and symposiums. The conference is designed to help teachers improve their own skills, keep up-to-date with current educational developments, and discover the latest resources and technology to enable them to get the best out of their students. Cambridge University Press joined up with Cambridge English Language Assessment to exhibit under the shared Cambridge English brand, to demonstrate our latest innovations in cutting-edge materials, assessment, and professional development.
Cambridge English sponsored a total of 22 talks, with the 9 Cambridge University Press-sponsored talks covering everything from blended learning and emotional engagement to 'glocal' culture and multilingualism. Herbert Puchta's talk on emotional engagement for adult students, using examples from Cambridge English Empower, was particularly popular, attracting over 400 delegates. Talks were live-tweeted by the Social Media team too, enabling teachers to keep up to date even if they were unable to attend the conference.
After our popular Augmented Reality (AR) showcase in Harrogate for IATEFL 2014, which enabled delegates to get up close and personal with sharks, polar bears and monkeys, 'As Seen In Cambridge' was developed to give visitors a (virtually) authentic Cambridge experience. Through the power of AR, Kinect technology, and a 50" screen, we took delegates on a trip to Cambridge, complete with framed souvenir photograph! It proved very popular, with many teachers returning throughout the conference to take more photos in different Cambridge scenes. Over 500 photos were also posted to our Facebook page, where participants could tag, like, and share their photos with their friends, enabling those far beyond Manchester to join in with the fun.
We had plenty to celebrate this year, including the launch of our new adult course with integrated assessment, Cambridge English Empower. An on-stand celebration took place in the Saturday afternoon coffee break, including an author Q&A so visitors could find out more about this unique course. A VIP launch event at the Museum of Science and Industry (MOSI) was held later that evening, with all guests receiving complimentary copies of Cambridge English Empower and other goodies.
Sunday was 'Teacher Development Day', where delegates could take advantage of a 50% discount on Cambridge English Teacher subscriptions, along with a ceremony to present Cambridge English Language Assessment IATEFL Scholarship winners with their certificates. One winner had an extra special surprise; her partner proposing on the Cambridge English stand, certainly making it an IATEFL to remember!
Over 100 teachers took part in the '30 Second Grammar Quiz' on the final day of the conference, celebrating 30 years of the Grammar in Use series. All received a commemorative brochure and the chance to win prizes including an iPhone, a camera and iTunes vouchers. An afternoon celebration including bubbly and cake drew a large crowd to the stand, where Noirin Burke gave a speech prior to a special screening of an interview with Ray Murphy himself.
Overall, the entire Cambridge English team had a fantastic 4 days, and would like to say thank you to all the ELT teachers who visited the stand, attended our talks and took a virtual trip to Cambridge! We're already looking forward to IATEFL 2016 in Birmingham, and hope to meet you there! 
Thank you for your feedback which will help us improve our service.
If you requested a response, we will make sure to get back to you shortly.
×
Please fill in the required fields in your feedback submission.
×