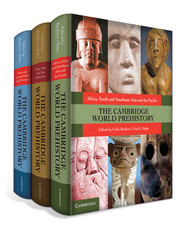 The Cambridge World Prehistory

3 Volume HB Set
£539.00
Award Winner
Colin Renfrew, Paul Bahn, Peter Forster, Paul Heggarty, Zeray Alemseged, David R. Braun, John Fleagle, Frederick Grine, Christopher Henshilwood, Marlize Lombard, John Parkington, Jean-Loïc Le Quellec, Peter Breunig, Manfred Eggert, Shadreck Chirikure, François-Xavier Fauvelle-Aymar, François Bon, Stan Hendrickx, Dirk Huyge, Salima Ikram, Jacke Phillips, Katragadda V. Paddayya, Russell Ciochon, Roy Larick, Timothy Reynolds, Ryan Rabett, Dorian Fuller, Jonathan Kenoyer, Dilip Chakrabarti, Rasmi Shoocongdej, Dougald O'Reilly, Daud Tanudirjo, Victor Paz, Peter White, Tim Denham, Caroline Bird, Geoffrey Clark, Stuart Bedford, Patrick V. Kirch, Pamela Chester, Michael Shunkov, Ludmila Lbova, Junko Habu, Mayke Wagner, Pavel Tarasov, David Cohen, Robert Murowchick, Francis Allard, Margarete Pruech, Gina Barnes, Andrei Tabarev, Michael Collins, David Anderson, Hugo Yacobaccio, Michael Love, Tom Dillehay, Dolores Piperno, Linda Manzanilla, Ann Cyphers, Andrew Balkansky, David Freidel, Daniel Sandweiss, Richard Burger, William Isbell, Terry D'Altroy, Roberto Lleras, Anna Roosevelt, Lidia Garcia, Arie Boomert, Charles Riggs, Terry Jones, Linea Sundstrom, Timothy Pauketat, Elizabeth Chilton, Meredith Hardy, Ronald Williamson, Gonen Sharon, Anna Belfer-Cohen, Nigel Goring-Morris, Ofer Bar-Yosef, Yossi Garfinkel, Peter Akkermans, Joan Oates, Mehmet Özdogan, Asli Özyar, Philip Kohl, Viktor Trifonov, Lloyd Weeks, Hermann Parzinger, Vyacheslav Molodin, Natalya Polos'mak, Georgina Herrmann, Olaf Jöris, João Zilhão, John Chapman, Peter Bogucki, Oliver Dickinson, Alison Sheridan, Anthony Harding, Bryan Hanks, Anthony Snodgrass
View all contributors
Date Published:

June 2014

availability:

In stock

format:

Multiple copy pack

isbn:

9780521119931
£
539.00
Multiple copy pack
Add to cart
Add to wishlist
Other available formats:

---
Looking for an inspection copy?
This title is not currently available on inspection
Description
Product filter button
The Cambridge World Prehistory provides a systematic and authoritative examination of the prehistory of every region around the world from the early days of human origins in Africa two million years ago to the beginnings of written history, which in some areas started only two centuries ago. Written by a team of leading international scholars, the volumes include both traditional topics and cutting-edge approaches, such as archaeolinguistics and molecular genetics, and examine the essential questions of human development around the world. The volumes are organised geographically, exploring the evolution of hominins and their expansion from Africa, as well as the formation of states and development in each region of different technologies such as seafaring, metallurgy and food production. The Cambridge World Prehistory reveals a rich and complex history of the world. It will be an invaluable resource for any student or scholar of archaeology and related disciplines looking to research a particular topic, tradition, region or period within prehistory.

Uses latest findings, including radiocarbon dating and DNA
Provides world coverage by leading international scholars
Considers linguistic and genetic diversity as well as diversity of human culture

Read more

Awards

A Choice Outstanding Academic Title 2015

Reviews & endorsements

'This detailed, lavishly illustrated three-volume set provides a unique, very readable synthesis of available contemporary data from the combined disciplines of archaeology, genetics, and linguistics to delineate the prehistoric record for each geographic section of the planet in 104 essays by contributors from 20 nations … This is a valuable resource for college, university, and museum libraries.' R. B. Ridinger, Choice

Customer reviews

Not yet reviewed

Be the first to review

Review was not posted due to profanity

×

Product details

Date Published:

June 2014

format:

Multiple copy pack

isbn:

9780521119931

length:

2049

pages

dimensions:

292 x 238 x 130 mm

weight:

6.95kg

contains:

659 b/w illus. 190 maps 14 tables

availability:

In stock

Table of Contents

Volume 1. Africa, South and Southeast Asia, and the Pacific: Part I. Introduction:
1. History of world prehistory
2. Chronology
3. Climatic change
4. Traditional themes
5. DNA
6. Language
Part II. Africa:
7. Early hominins
8. Earliest industries
9. The human revolution
10. Homo fossils
11. Middle Stone Age of Subsaharan Africa
12. Late Stone Age of Southern Africa
13. North Africa
14. West Africa
15. Central Africa
16. Southern Africa
17. East Africa and Madagascar and the Emergence of Northeast African states
18. Neolithic and Predynastic Egypt
19. Emergence of the Egyptian state
20. Summary of dynastic Egypt
21. Summary of Classical and post-Classical Africa
22. Languages
Part III. South and Southeast Asia:
23. Palaeolithic of South Asia
24. Pre-Upper Palaeolithic Southeast Asia, including Flores
25. DNA
26. Upper Palaeolithic of Southeast Asia
27. Food production in India and Sri Lanka
28. Harappan
29. Post-Harappan
30. Summary of historic India and Sri Lanka
31. Food production in Southeast Asia
32. Complex society of Southeast Asia
33. Summary of Khmer
34i. Indonesia
34ii. The Philippines
35. Languages
Part IV. The Pacific:
36. DNA
37. Palaeolithic of Australia, New Guinea, and Bismarcks
38. Later prehistory of New Guinea
39. Later prehistory of Australia
40i. Micronesia
40ii. Melanesia
41. Polynesia, including Hawaii and Easter Island
42. New Zealand
43. Languages. Volume 2. East Asia and the Americas: Part V. East Asia:
1. DNA
2. Pre-Upper Palaeolithic
3. Upper Palaeolithic
4. Early sedentism of the Pacific coast and early Jomon
5. Neolithic of Northern and Central China
6. Neolithic of Southern China, including Tibet
7. Early complex societies in the Yellow River and Northern China
8. Early complex societies in Southern China, including Tibet
9. Summary of ancient China
10. Complex society in Japan and Korea
11. Later prehistory of Eastern Siberia
12. Languages
Part VI. The Americas:
13. DNA
14. The first Americans
15. Paleoindian and Archaic of North America
16. Paleoindian and Archaic of Central and South America
17. Domestication and Formative of Mesoamerica
18. Domestication and Formative of South America
19. Valley of Mexico
20. Olmecs and Gulf Coast
21. Oaxaca
22. Maya
23. Early coastal South America
24. Early Horizon
25. Early Intermediate and Middle Horizon
26. Late Horizon
27. Colombia, Ecuador, and Venezuela
28. Amazonia
29. Paraguay, Uruguay, Argentina, Chile and Patagonia
30. Caribbean islands and neighbouring South American coast
31. The South-West
32. The North Pacific coast
33 Plains and Mississippian
34. The Atlantic coast from Florida to New England
35. Northern North America
36. Languages. Volume 3. Part VII. Western and Central Asia:
1. Pre-Upper Palaeolithic
2. DNA
3. Upper Palaeolithic
4. Origins of sedentism and agriculture
5. The Levant and Cyprus
6. Western Syria
7. Mesopotamia and Iran, the first cities
8. Summary of Akkad onwards
9. Anatolia up to 2000 BC
10. Anatolia after 2000 BC
11. The Caucasus, including Georgia and Armenia
12. Arabia
13. Central Asia before the Silk Road
14. Southern Siberia
15. Summary of the post-Classical and Islam
16 Languages
Part VIII. Europe and the Mediterranean:
17. The Pre-Upper Palaeolithic
18. DNA
19. Upper Palaeolithic
20. Upper Palaeolithic imagery
21i. Post-Pleistocene and early food production in Southern Europe
21ii. Post-Pleistocene and early food production in Southern Europe
22. Post-Pleistocene and early food production in Northern Europe
23. The Aegean
24. Post-Neolithic of Western Europe
25. Post-Neolithic of Central and Northern Europe, including the Scandinavian Bronze Age
26. Post-Neolithic of Eastern Europe
27. Summary of the Classical World
28. Languages.

Editors

Colin Renfrew, University of Cambridge
Colin Renfrew (Lord Renfrew of Kaimsthorn) is Emeritus Disney Professor of Archaeology at the University of Cambridge, where he is a Senior Fellow of the McDonald Institute for Archaeological Research. He is author of many influential books on archaeology and prehistory, including, most recently with Iain Morley, The Archaeology of Measurement and with Paul G. Bahn, Archaeology: Theories, Methods, and Practice, which is one of the standard textbooks on the subject.

Paul Bahn
Paul Bahn is one of the world's leading scholars and popularizers of archaeology. He is the author or co-author of more than thirty books, including The Cambridge Illustrated History of Prehistoric Art and, most recently, Prehistoric Rock Art: Polemics and Progress. His articles have appeared in many newspapers and magazines, including Nature, and he is an editorial consultant to Archaeology Magazine, DIG, and the Rapa Nui Journal.

Contributors

Colin Renfrew, Paul Bahn, Peter Forster, Paul Heggarty, Zeray Alemseged, David R. Braun, John Fleagle, Frederick Grine, Christopher Henshilwood, Marlize Lombard, John Parkington, Jean-Loïc Le Quellec, Peter Breunig, Manfred Eggert, Shadreck Chirikure, François-Xavier Fauvelle-Aymar, François Bon, Stan Hendrickx, Dirk Huyge, Salima Ikram, Jacke Phillips, Katragadda V. Paddayya, Russell Ciochon, Roy Larick, Timothy Reynolds, Ryan Rabett, Dorian Fuller, Jonathan Kenoyer, Dilip Chakrabarti, Rasmi Shoocongdej, Dougald O'Reilly, Daud Tanudirjo, Victor Paz, Peter White, Tim Denham, Caroline Bird, Geoffrey Clark, Stuart Bedford, Patrick V. Kirch, Pamela Chester, Michael Shunkov, Ludmila Lbova, Junko Habu, Mayke Wagner, Pavel Tarasov, David Cohen, Robert Murowchick, Francis Allard, Margarete Pruech, Gina Barnes, Andrei Tabarev, Michael Collins, David Anderson, Hugo Yacobaccio, Michael Love, Tom Dillehay, Dolores Piperno, Linda Manzanilla, Ann Cyphers, Andrew Balkansky, David Freidel, Daniel Sandweiss, Richard Burger, William Isbell, Terry D'Altroy, Roberto Lleras, Anna Roosevelt, Lidia Garcia, Arie Boomert, Charles Riggs, Terry Jones, Linea Sundstrom, Timothy Pauketat, Elizabeth Chilton, Meredith Hardy, Ronald Williamson, Gonen Sharon, Anna Belfer-Cohen, Nigel Goring-Morris, Ofer Bar-Yosef, Yossi Garfinkel, Peter Akkermans, Joan Oates, Mehmet Özdogan, Asli Özyar, Philip Kohl, Viktor Trifonov, Lloyd Weeks, Hermann Parzinger, Vyacheslav Molodin, Natalya Polos'mak, Georgina Herrmann, Olaf Jöris, João Zilhão, John Chapman, Peter Bogucki, Oliver Dickinson, Alison Sheridan, Anthony Harding, Bryan Hanks, Anthony Snodgrass

Awards

A Choice Outstanding Academic Title 2015
Please note that this file is password protected. You will be asked to input your password on the next screen.
»
Proceed
You are now leaving the Cambridge University Press website. Your eBook purchase and download will be completed by our partner www.ebooks.com. Please see the permission section of the www.ebooks.com catalogue page for details of the print & copy limits on our eBooks.
Continue
×