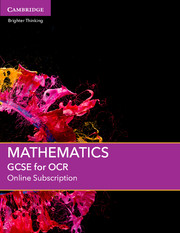 Sorry, the product you are trying to view is not available in your country.
ISBN:

9781107449909

Format:

Dynamic online product

Subject(s):

Mathematics

Qualification:

OCR

Author(s):

Available from:

April 2015

Notes:

Not available for credit card purchase. Please contact Customer Services.
A new series of bespoke, full-coverage resources developed for the 2015 GCSE Mathematics qualifications.
Sorry, the product you are trying to view is not available in your country.
Developed specifically for the new OCR GCSE Mathematics specification, GCSE Mathematics Online is a tablet-friendly enhanced digital learning, teaching and assessment resource for teachers and students for both Foundation and Higher tiers. This flexible suite of resources for all types of classroom setup includes material for interactive whiteboards and projectors. Content includes explanatory notes and worksheets, plus a range of interactive walkthroughs, animations and questions. Comprehensive provision for both summative and formative assessment includes differentiated pre-set quizzes and a test generator that allows teachers to compile their own assessments, both with inbuilt reporting to track students' work and progression.

A flexible suite of resources for all types of classroom set-up, including material for interactive whiteboards and projectors.

The ability to set tasks, create tests, auto-mark and compile reports to review student performance.

Includes a digital version of both the Foundation and Higher Student Books.

Resources organised into chapters corresponding to the Student Books, with explanatory notes for all topics.

Interactive widgets to visually demonstrate concepts.

Worksheets offering practical activities, discussion points, investigations, games and further practice.

Walkthroughs that take students through a question step-by-step, with feedback.

Quick-fire quizzes with leader boards providing an opportunity for question practice.

Includes levelled questions that assess understanding of each topic.

Can be used on tablets, including iPads and is suitable for whole-class teaching and learning, independent learning and home study.

Introduction
Acknowledgements
1. Basic calculation skills
2. Whole number theory
3. Algebraic expressions
4. Functions and sequences
5. Properties of shapes and solids
6. Construction and loci
7. Further algebraic expressions
8. Equations
9. Angles
10. Fractions
11. Decimals
12. Units and measurement
13. Percentages
14. Algebraic formulae
15. Perimeter
16. Area
17. Approximation and estimation
18. Straight-line graphs
19. Graphs of equations and functions
20. Three-dimensional shapes
21. Volume and surface area
22. Calculations with ratio
23. Basic probability and experiments
24. Combined events and probability diagrams
25. Powers and roots
26. Standard form
27H. Surds
27F / 28H. Plane vector geometry
28F / 29H. Plane isometric transformations
29F / 30H. Congruent triangles
30F / 31H. Similarity
31F / 32H. Pythagoras' theorem
32F / 33H. Trigonometry
34H. Circle theorems
33F / 35H. Discrete growth and decay
34F / 36H. Direct and inverse proportion
35F / 37H. Collecting and displaying data
36F / 38H. Analysing data
37F / 39H. Interpreting graphs
38F / 40H. Algebraic inequalities
41H. Transformations of curves and their equations
Glossary
Index.
Thank you for your feedback which will help us improve our service.
If you requested a response, we will make sure to get back to you shortly.
×
Please fill in the required fields in your feedback submission.
×