Cambridge school students win Cambridge University Press story competition
News & events
05 JULY 2017
Cambridge school students win Cambridge University Press story competition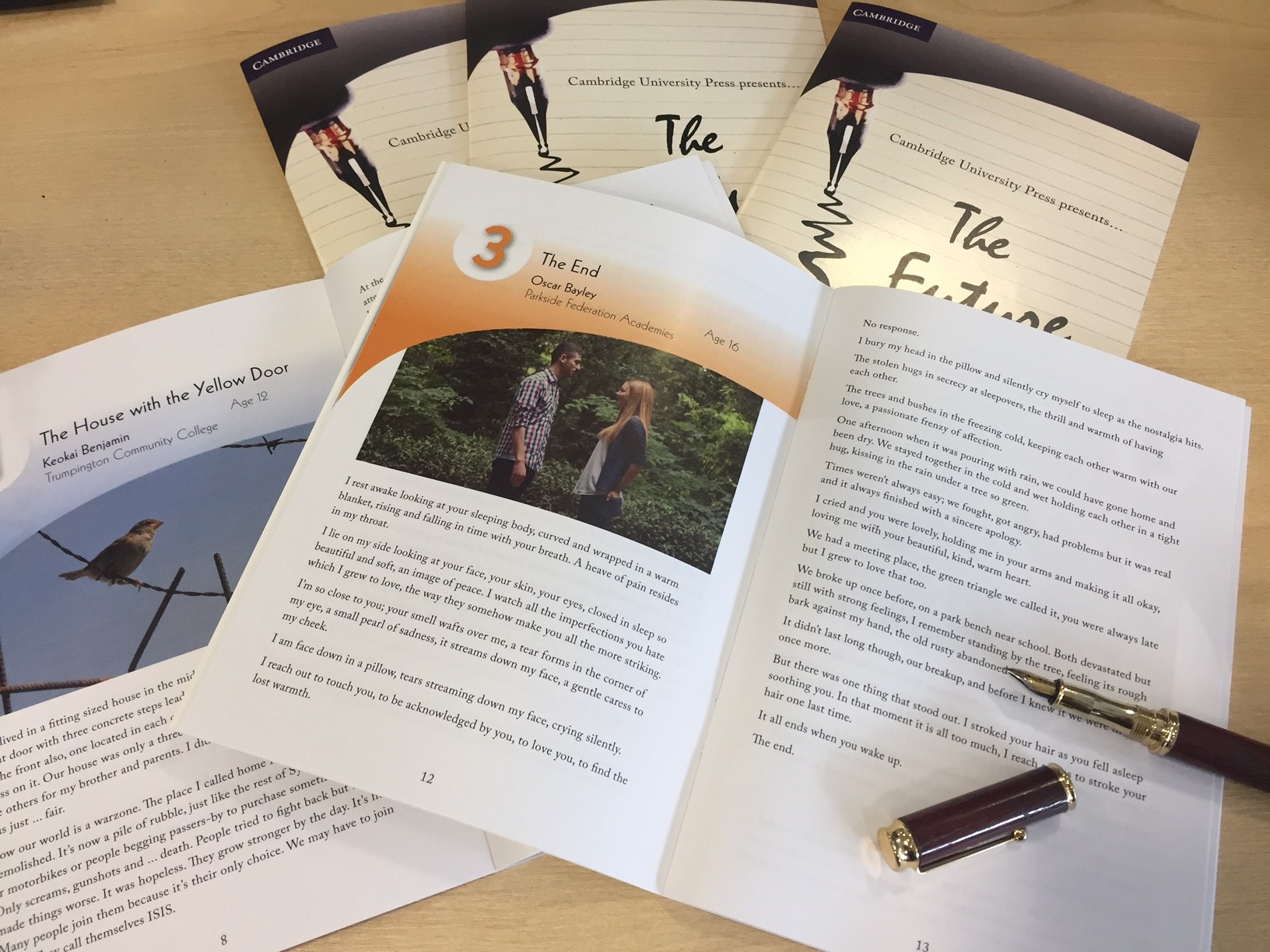 The winning authors' short stories will help Cambridge University Press build the Cambridge English Corpus.
Ten teenagers from secondary schools in Cambridge have been announced as the winners of Cambridge University Press's 'The Future Writes' story competition.
The winning authors will attend a celebratory gathering at the Press's Head Quarters in Cambridge on Tuesday, 11 July where they will be presented with a booklet containing the short stories as well as a winner's certificate. These stories will also be shared with learners around the world via the Press's English Language Teaching website.
The competition asked teenagers from local schools in Cambridge to write a short story inspired by the Cambridge Experience Readers series; a series of short stories designed for teen English Language Learners. Over 60 entries were received from students aged 10-16 with first languages from English to Swahili and Kabyle and topics ranging from meerkats and unicorns to war and haunted houses. Stories were judged by a panel of staff members from the Press.
Laura Sigsworth, Product Marketing Manager, at Cambridge University Press said: 'We had a really difficult job choosing our ten winners. I think we were all overwhelmed by the quality and depth of the stories, and we laughed and cried in equal measure while reading them.'
The Press's Language and Pedagogy Research team will use the stories to add to the Cambridge English Corpus; a multi-billion-word database of written and spoken English that helps linguists study the English Language. These insights will be used to inform the writing syllabus of future teen courses in terms of the topics secondary students are interested in, as well as common language used.
An initial analysis has revealed some interesting insights into the creative minds of the next generation. It appears that the secondary school students are slightly more intrigued by destruction, horror and the unexpected than they are by all things sweet. The semantic categories that came out on top include body parts (eyes, mouth, blood), sound (thud, rumbling, rustle), fear and shock (terror, panic, petrified) and damage (ripped, mangled, shrivelled). However, not all of the stories were laden with suspense, other stories explored the life of a meerkat, teenage love and unicorns.
Olivia Goodman, Language Research Project Manager, at Cambridge University Press said: 'Reading through the stories, we were taken on a journey of fear, laughter and tears. Their imagination and talent for writing was inspiring and it was an honour to get to read them all.
In order to create course books for teenage learners, we need to know how teenagers typically use language and what interests them, so analysis of these stories will contribute greatly to the study of how English is changing and being used by the next generation.'
To read the stories from our winning authors, click here!
Thank you for your feedback which will help us improve our service.
If you requested a response, we will make sure to get back to you shortly.
×
Please fill in the required fields in your feedback submission.
×