Twelfth Night on Twelfth Night
05 JANUARY 2014
Twelfth Night on Twelfth Night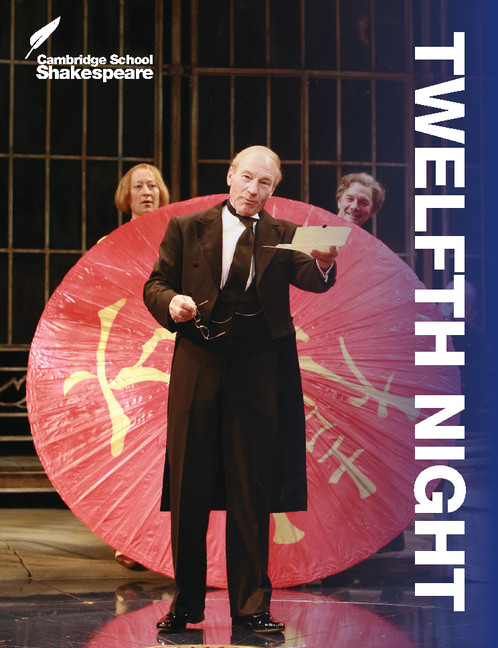 "There is a melancholy at this time of year – we are sad that such a joyous time is ending and perhaps a little regretful of our excesses"
Winter must have been good writing time for Shakespeare. So many of his plays are punctuated by storms, gales and hurricanes that it seems very likely he gained inspiration from rattling windows or shutters as he laboured over his latest masterpiece. Looking out of mine now, it seems possible Feste was in fact prophesying the end of 2013 when he sang that the rain raineth 'every day'!
The twelve days from Christmas through to 6 January were traditionally a time of excess and feasting; normal routines replaced by wild partying and 'mis-rule'. The grind and hierarchies of daily life were suspended for a time and drunkenness and frivolity would be allowed to reign. Servants would occasionally be served by their masters and in some traditions, a 'Lord of Misrule' would be appointed to become the temporary master of the house. Not all that much has changed: at my school the senior management team traditionally serve the staff a Christmas meal at the end of term and if you scan any tabloid newspaper at this time of year they are full of Christmas revelers in our town and city centres. We let our hair down and behave in a way that has us rushing for the gym or the juice bar for the rest of January! There is a melancholy at this time of year – we are sad that such a joyous time is ending and perhaps a little regretful of our excesses, a mood which runs throughout Twelfth Night.
Twelfth Night seems to have been stalking me this year. This January the latest Cambridge School Shakespeare edition of the play I edited with Anthony Partington will be released; the final version was delivered to us just before Christmas and we are delighted with how it looks. A few weeks ago I started teaching the play to an eager group of A Level students. We had a great discussion about studying Shakespeare in which we reflected that grasping the details of the plot can be a bit like worrying about getting lost on a walk; once you have faith that you understand the general direction you're travelling in, you can start to spot the little details around you and really enjoy taking in the views. They are beginning to feel more confident with the language and so they are picking up on more of the jokes and delicious wordplay that Twelfth Night is so full of. They've been greatly helped this term by the fact that my school put on a fabulous production of the play for the Shakespeare Schools Festival in November and that many of them were lucky enough to see a live broadcast of the sensational Shakespeare's Globe production starring Stephen Fry as Malvolio and Mark Rylance as Olivia. This book we've edited is really a blueprint (a shiny, lovely brilliant one!); a map if you like, with the activities and glossary acting like a key or reference points. The play is the thing that really counts – the enjoyment and thrill of seeing and doing Shakespeare.
So how else has this play been looming over my shoulder all year? Well, I've certainly felt a little Sir Toby Belch-ish at times this Christmas, having enjoyed plenty of 'cakes and ale'! But my inner Malvolio has at times been too prominent; having become Vice Principal at my school this year, I am often the one having to assert authority while trying to avoid tipping over into self-importance. It seems so much of being a grown up is about finding a good balance between fun and excess, enjoyment and responsibility. Shakespeare knew – he always seems to know.
But I've also been reflecting a lot on gender and identity in 2013; with two very young daughters (Shakespeare also had two daughters – just saying!), I've often thought of Viola and Olivia and how they struggle to be taken seriously in a man's world. As my daughter's personalities are developing and shaping I hope for them a more just and equal world than Illyria or Shakespeare's London was. I hope that they can feel love and be loved one day as deeply as Orsino does, but I also hope that they will be as witty and sharp as a Feste or Olivia. I hope that they will never have to feel that their gender is a constraint and that they will turn out to be as bright, funny and brilliant as so many of the students I teach are. My wife is a twin, separated from her other half by an ocean, and the joy they have in spending time together over Skype or during their occasional visits to each other often reminds me of that beautiful moment in Act Five when Sebastian and Viola are reunited as 'an apple cleft in two'. That they both, like Olivia, understand the pain of losing a brother and a father adds another layer of poignancy when I watch the play and reflect on my own love for my wife.
Change and identity, two central ideas in Twelfth Night,are in so many of our minds as we make New Year resolutions and take stock of the year past – who we've been and who we'd like to be. Just like this time of year, the play can be immense fun but it can also be melancholy and wistful. It has so much to offer, so much joy and intelligence, but Shakespeare teaches us that good things emerge through hard work and often from struggle. So that's what I hope and wish for from 2014 – hard work, struggle at times, but lots of joy, fun and love.
And, of course, lots of students using our book to discover Twelfth Night!
Happy New Year.
---
Richard Spencer is editor of 'Cambridge School Shakespeare Twelfth Night (latest edition)', Edited by Rex Gibson, Anthony Partington, Richard Spencer, Vicki Wienand and Richard Andrews, Cambridge University Press. Richard is Vice Principal of Impington Village College in Cambridge. From 2005-10 he was Eastern Region coordinator for NATE (National Association for Teachers of English). Most recently he has co-edited the forthcoming new editions of Much Ado About Nothing and Twelfth Night for Cambridge School Shakespeare. Richard blogs on teaching and education matters at richardspencer1979.blogspot.com
Thank you for your feedback which will help us improve our service.
If you requested a response, we will make sure to get back to you shortly.
×
Please fill in the required fields in your feedback submission.
×