On 28th February, India celebrates National Science Day. Kavita Sanghvi, a Cambridge IGCSE™  Physics teacher and Head of a school in Mumbai, India describes the importance of the day, how it inspires a project-work based STEM festival at her school each year and how this work builds her students' 21st century skills for life. Kavita is a member of the Cambridge Panel, our online teacher community. Watch Kavita's video below!

National Science Day

In 1928, an Indian Scientist Sir Chandrasekhara Venkata Raman discovered a phenomenon known as the Raman Effect. For his remarkable discovery in 1930 he received the Nobel Prize, which was the first Nobel Prize in India in the field of science. To mark this discovery every year National Science Day is celebrated on 28th February.
To instill a love and passion within students for science each year our school celebrates 'STEMAGIC', a STEM festival wherein students put up projects on real world problems and challenges on National Science Day. The core principle of the festival is to have the students investigate complex questions over an extended period of time and correlate the class learning to daily life.
Project Based learning

Project Based Learning also forms part of the year-round formative assessment in the school. With a 60%:40% thrust on summative and formative from Grade 3 to 7, the projects have been woven within curriculum to assess a student's performance over the academic year.
Moreover, it allows students to develop inquiry-based thinking, ignites burning questions within students when they research on interesting topics like 'How do roller coasters work? Why are older people going for Botox treatment? How is a drone capable of clicking photos? In olden days, there were no speakers, how were people at the Colosseum able to hear the commentators?'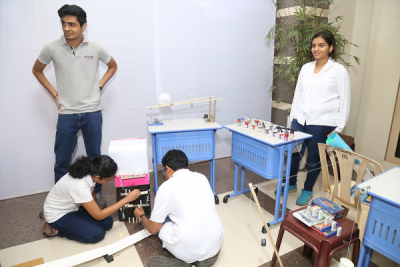 Approach

Once the student's pressing question has been approved by the teacher, students collaborate and communicate within the groups to frame a hypothesis and conduct relevant research to look for ways of experimenting. They create prototypes and test them to see if the models are functioning, for example: creating a working model of a drone and then testing to see if it works.
Once the working model is accomplished, they move on to presenting the models. Within the groups, they identify students who are either good at technology, have aesthetic sense to make backdrops or charts, can assemble parts to make it whole, or are confident to answer challenging queries.
Consequently, team work plays a very important role during project work as the students discover their own and their teammate's potential and help harness it. It promotes 21st century skills like the 6C's – communication, collaboration, critical thinking, creativity, character education and citizenship within students.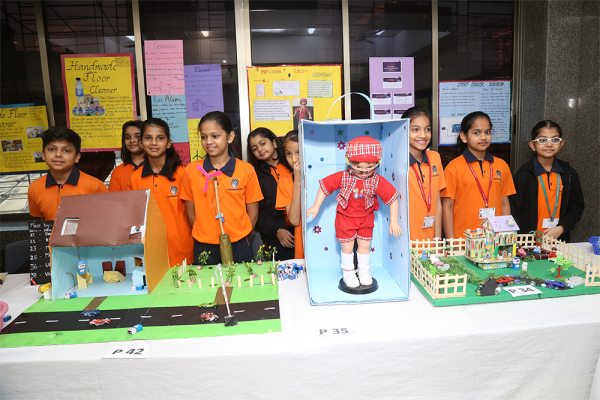 How learners benefit

If one was asked how? Well, the aim of each project is that students should communicate information in a clear, concise and meaningful manner so that the varied perspectives proposed, broaden knowledge and thinking. The students collaborate amongst themselves to create the best outcome using the strength of each individual. Critically, they will filter information, analyse content and evaluate resources to arrive at conclusions. Once the project idea is clear, the project is executed, ensuring that the culture of their community or country is never compromised. Immense creativity pours in to develop projects that are operational, unique and attractive. Throughout the process, the student develops becoming responsible, accountable and caring.
Every school desires that learning should be lifelong and self-motivated and what better way to express this than by celebrating students' research projects.