Thinking conceptually about non-literary texts and literary works can be hard. Here are some ideas from author Brad Philpot to get your learners thinking about the seven key concepts: communication, creativity, perspective, representation, identity, culture and transformation.
English A: Language and Literature for the IB Diploma Poster
Bring these seven key concepts to life on your classroom wall!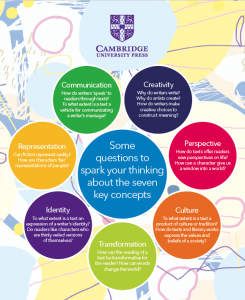 Communication
How do writers 'speak' to readers through texts? To what extent is a text a vehicle for communicating a writer's message? Can we ever really be certain of an artist's intent? Is it fair to say that the study of language and literature is really a study of communication arts? By studying the art of communication, we are exploring relationships between readers, writers and texts.


Creativity
Why do writers write? Why do artists create? How do writers make creative choices to construct meaning? Where does creativity come from? And what's the reader's role in creating meaning? Creativity is a defining characteristic of human beings. By analysing works of creativity, we are studying what it means to be human.
Perspective
How do texts offer readers new perspectives on life? How can a character give us a window into a world? How do narrative techniques shape the reader's understanding of a story? How is it possible for readers to have contradicting interpretations of a text? By exploring 'perspective', we are exploring diversity and developing our ability to show empathy.
Representation
Can fiction represent reality? How are characters 'fair' representations of people? By studying texts and literary works, we engage in a dialogue about how the world works and how the world could be.
Identity
To what extent is a text an expression of a writer's identity? Do readers like characters who are thinly veiled versions of themselves? Do strong characters challenge readers to be someone different? By analysing texts, we are really analysing who we are and what we want to become.
Culture
To what extent is a text a product of culture or tradition? How do texts and literary works express the values and beliefs of a society? To what extent can texts shape cultural values? To understand a text is to understand the time and place in which it was written and read.
Transformation
How can the reading of a text be transformative for the reader? How can words change the world? How do readers write about texts? How do readers rewrite texts? By studying the transformation of texts, we are studying the evolution of humanity.
Concepts, language and literature
As author, Lynn Erickson has said: "concepts are universal, timeless, abstract and move students towards higher levels of thinking." As you analyse non-literary texts and literary works, try to make abstractions, find connections and think conceptually.
For more great advice from author Brad Philpot, take a look at our English A: Language and Literature for the IB Diploma Coursebook.