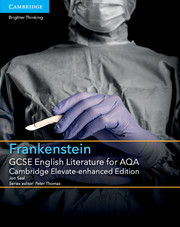 Sorry, the product you are trying to view is not available in your country.
ISBN:

9781316501054

Format:

Cambridge Elevate

Subject(s):

English Literature

Qualification:

AQA

Author(s):

Jon Seal, Peter Thomas

Available from:

No date available

Notes:

Not available for credit card purchase. Please contact Customer Services.
A new series of bespoke, full-coverage resources developed for the 2015 GCSE English qualifications.
Sorry, the product you are trying to view is not available in your country.
Written for the AQA GCSE English Literature specification for first teaching from 2015, this enhanced digital resource provides specific set text coverage for the 19th-century aspect of the specification. With progress at its heart, students will build their skills through a range of active learning approaches. Incorporating differentiated support, activities will help students develop whole-text knowledge. Cambridge Elevate-enhanced Editions include bespoke video content, extensive annotation tools and 'Assess to Progress', which provides expert marking support, progress tracking and reporting. You can use Cambridge Elevate-enhanced Editions online and on tablet devices.

A single one-year site licence for an unlimited number of teachers and students.

Cambridge Elevate-enhanced Editions are fully customisable and interactive, with extensive annotation and bookmarking tools making texts more accessible for students.

'Assess to Progress' on Cambridge Elevate provides expert marking support, progress tracking and reporting to save teachers time.

Cambridge Elevate-enhanced Editions include rich digital content created by English teachers with students' needs in mind.

Cambridge Elevate-enhanced Editions allow teacher–student messaging, helping you connect with your class in a timely and practical way.

Cambridge Elevate-enhanced Editions work online via browsers and offline through the Elevate app (iOS 7.1 and higher and Android 4.1 and higher), so students can access the book content any time and anywhere.

Encourages skills development and progression based on GCSE English Literature assessment objectives and study focus areas, including structure, contexts, characterisation and language.

Part 1 units explore each chapter of the novel in detail; Part 2 units consider the novel as a whole. An exam preparation section with guidance and practice includes example answers.

Free Cambridge Elevate Teacher's Resources with each Cambridge Elevate-enhanced Edition allow for easy linking and cross reference, and provide comprehensive planning support with additional opportunities for differentiation and extension.

Introduction
Introducing Frankenstein
Part 1. Exploring the novel: Unit 1. A 'strange and harrowing story'
Unit 2. Frankenstein starts work
Unit 3. The birth of a creation
Unit 4. Remorse, horror and despair
Unit 5. A story of innocence and experience
Unit 6. Rejection and revenge
Unit 7. A journey through Europe
Unit 8. Female companions
Unit 9. The legacy
Unit 10. The monstrous and the human
Part 2. The novel as a whole: Unit 11. Plot and structure
Unit 12. Context and setting
Unit 13. Character and characterisation
Unit 14. Themes and ideas
Unit 15. Language
Preparing for your exam
Glossary
Acknowledgements

Jon Seal

Jon has been a Teacher for over 25 years with experience as a Head of English, Head of Drama and Media Studies. He has written teacher guides with accompanying DVDs on Of Mice and Men, To Kill A Mockingbird and DVD film making in the classroom –all published by NATE and he has written and directed a large number of plays and is a film maker winning a Jerwood Film Shorts Prize for Back To Earth.

Peter Thomas

Peter has previously been a Lecturer in Education, an English Teacher and an Advisory Teacher and is involved in English curriculum development and assessment. He has been an Associate Fellow of the National Academy for Gifted and Talented Youth, researching good practice in teaching the more able and is currently working with The Globe Education department as well as the Shakespeare Birthplace Trust. 

Peter has written for the national press, educational journals and NATE Classroom on various aspects of the English curriculum and its assessment. Publications include editions of Dickens novels as well as various GCSE support materials
Thank you for your feedback which will help us improve our service.
If you requested a response, we will make sure to get back to you shortly.
×
Please fill in the required fields in your feedback submission.
×