A/AS Level English Language and Literature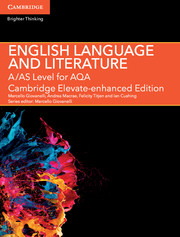 Sorry, the product you are trying to view is not available in your country.
ISBN:

9781107465695

Format:

Cambridge Elevate

Subject(s):

English Language and Literature

Qualification:

AQA

Author(s):

Marcello Giovanelli, Andrea Macrae, Felicity Titjen, Ian Cushing, Marcello Giovanelli

Available from:

No date available

Notes:

Not available for credit card purchase. Please contact Customer Services.
A new series of bespoke, full-coverage resources developed for the 2015 A Level English qualifications.
Sorry, the product you are trying to view is not available in your country.
Written for the AQA A/AS Level English Language and Literature specifications for first teaching from 2015, this enhanced digital resource is suitable for all abilities. Helping bridge the gap between GCSE and A Level, the unique three-part structure provides essential knowledge and allows students to develop their skills through a deeper study of key topics whilst encouraging independent learning. Cambridge Elevate-enhanced Editions include rich digital content such as video tutorials and extensive annotation tools. Available online and on tablet devices through the Cambridge Elevate app.

A single one-year site licence for an unlimited number of teachers and students.

Cambridge Elevate enhanced editions are fully customisable and interactive, with extensive annotation and bookmarking tools making texts more accessible for students.

Cambridge Elevate enhanced editions feature rich digital content, including video tutorials covering key specification topics and interviews with writers and academics.

Cambridge Elevate enhanced editions allow teacher–student messaging, helping you connect with your class in a timely and practical way.

Available online and on tablet devices through the Cambridge Elevate app.

Suitable for all abilities, incorporating differentiated support and providing opportunities to stretch the more able and support those who need it.

Unique three-part structure will help bridge the gap between GCSE and A Level, support students in developing their knowledge and skills, and prepare them for assessment, studies and life beyond A Level.

Addresses key changes in the new qualifications, including a strong focus on integrated literary-linguistic study and the revised coursework component.

Supports both AS and A Level teaching of the new linear specification with AS content signposted throughout.

Free Cambridge Elevate Teacher's Resources with each Cambridge Elevate-enhanced Edition allow for easy linking and cross reference, and provide comprehensive planning support with additional opportunities for differentiation and extension.

Introduction
BEGINNING: 1. What does the study of language and literature mean at A Level? 2. Text producers and receivers
3. Mode and genre
4. Variation, register and representation
5. Narrative
6. Language level 1: Lexis and semantics
7. Language level 2: Grammar
8. Language level 3: Phonetics, phonology and prosodics
9. Language level 4: Graphology
10. Language level 5: Pragmatics
11. Language level 6: Discourse
12. Analysing texts
13. Literature and literariness
14. Becoming an investigator
DEVELOPING: Introduction to Telling stories
15. Remembered places
15.1 Introduction to the anthology
15.2 Why Paris?
15.3 Remembering places
15.4 Re-creative writing and Remembered places
15.5 Places, people and events
15.6 Metaphor
15.7 Genre
15.8 Bringing it all together: AS Level
15.9 Bringing it all together: A Level
16. Imagined worlds
16.1 The fantasy genre
16.2 Setting up fictional worlds
16.3 Characterisation
16.4 Point of view
16.5 Interpretations of fantasy
16.6 Bringing it all together: AS Level
16.7 Bringing it all together: A Level
17. Poetic voices
17.1 Introduction
17.2 The set texts and approaching the poetry anthology
17.3 Analysing poetry from a language perspective
17.4 Voice
17.5 Voice in poetry through time
17.6 Language and poetic voice
17.7 Bringing it all together: AS Level
17.8 Bringing it all together: A Level
Introduction to Exploring conflict
18. Writing about society
18.1 Literature, society and re-creative writing
18.2 Re-creative writing, from the exploratory and experimental to the targeted and strategic
18.3 Commentary: analytical explanations of re-creative writing
18.4 Bringing it all together
19. Dramatic encounters
19.1 Exploring conflict
19.2 Representing turn-taking
19.3 Representing speech and meaning
19.4 Exploring dramatic conventions
19.5 Psychological and social drama: Williams, Miller and Kinnear
19.6 Creating characters
19.7 Power and positioning
19.8 The importance of politeness
19.9 Exploring themes
19.10 Bringing it all together
20. Making connections
20.1 What is Making connections?
20.2 Choosing connections
20.3 Thinking about texts
20.4 Thinking about non-literary connections
20.5 Thinking about topics
20.6 Choosing methodologies
20.7 Data collection methods
20.8 Ethical considerations
20.9 Working with spoken data
20.10 How much literary and non-literary material?
20.11 Devising research questions
20.12 Selecting language levels
20.13 Analysis: structuring connections
20.14 Reading and writing critically
20.15 Academic conventions: References
20.16 Exploring connections
20.17 Keeping context in mind
20.18 Bringing it all together
ENRICHING: 21. Remembered places
22. Imagined worlds
23. Poetic voices
24. Writing about society
25. Dramatic encounters
26. Making connections
References
Index
Acknowledgements

Ian Cushing

Ian Cushing has taught at secondary schools and sixth forms in London for 5 years, and is a freelance author and course leader for English related teacher resources and teacher training days. He also sits on the Education Committee of the Linguistics Association of Great Britain, and the UK Linguistics Olympiad Committee.
Thank you for your feedback which will help us improve our service.
If you requested a response, we will make sure to get back to you shortly.
×
Please fill in the required fields in your feedback submission.
×