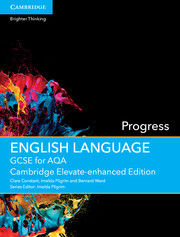 Sorry, the product you are trying to view is not available in your country.
ISBN:

9781107453203

Format:

Cambridge Elevate

Subject(s):

English Language

Qualification:

AQA

Author(s):

Imelda Pilgrim, Clare Constant, Imelda Pilgrim, Bernard Ward

Available from:

No date available

Notes:

Not available for credit card purchase. Please contact Customer Services.
A new series of bespoke, full-coverage resources developed for the 2015 GCSE English Language qualifications.
Sorry, the product you are trying to view is not available in your country.
Written for the AQA GCSE English Language specification for first teaching from 2015, this enhanced digital resource is designed for students targeting Grades 1 to 5, with extension activities to facilitate achievement beyond this. With progress at its heart, this differentiated resource covers a range of 19th-, 20th- and 21st-century texts and has SPaG support throughout. These GCSE English Language Digital Editions include bespoke video content. Available online and on tablet devices through the Cambridge Reader app.

A single one-year site licence for an unlimited number of teachers and students.

Digital Student Books are fully customisable and interactive, with extensive annotation and bookmarking tools making texts more accessible for students.

'Assess to Progress' on Cambridge Digital provides expert marking support, progress tracking and reporting to save teachers time.

Digital Student Books include rich digital content created by English teachers with students' needs in mind.

Digital Student Books allow teacher–student messaging, helping you connect with your class in a timely and practical way.

Available online and on tablet devices through the Cambridge Reader app.

Spelling, punctuation and grammar are fully integrated throughout the resource.

Features high-quality 19th-, 20th- and 21st-century texts across a range of genres, specifically selected to help students prepare for challenging unseen texts.

A spoken language section helps students develop their skills as speakers, presenters, listeners and responders.

Free Cambridge Digital Teacher's Resources with each Digital Student Book allow for easy linking and cross reference, and provide comprehensive planning support with additional opportunities for differentiation and extension.

Introduction
READING: Unit 1. Identify and explain information
Unit 2. Select, interpret and collate information
Unit 3. Interpret and comment on meaning
Unit 4. Examine how writers use language to influence readers
Unit 5. Examine how writers create and use tone
Unit 6. Explore how writers use language to describe
Unit 7. Explore how writers order and organise texts
Unit 8. Explore structure in fiction
Unit 9. Write about structure
Unit 10. Test your progress 1
Unit 11. Understand viewpoint
Unit 12. Examine similarities and differences in viewpoint
Unit 13. Compare writers' viewpoints
Unit 14. Judge for yourself
Unit 15. Evaluate texts and support the points you make
Unit 16. Test your progress 2
Unit 17. Wider reading 1: Investigate story openings
Unit 18. Wider reading 2: Reading sources from different genres
SPOKEN LANGUAGE: Unit 19. Prepare and give a presentation
WRITING: Unit 20. Write for purpose and audience
Unit 21. Write effective sentences
Unit 22. Use effective vocabulary
Unit 23. Control your writing
Unit 24. Create tone to influence your reader
Unit 25. Make choices to organise and write
Unit 26. Test your progress 3
Unit 27. Describe effectively
Unit 28. Tell a good story
Unit 29. Make your point
Unit 30. Craft your writing
Unit 31. Spell accurately
Unit 32. Test your progress 4
PREPARING FOR YOUR EXAM: Set 1 practice Paper 1
Practice Paper 1: Make progress
Set 1 practice Paper 2
Practice Paper 2: Make progress
Set 2 practice Paper 1
Set 2 practice Paper 2
Glossary
Acknowledgements

Clare Constant

Clare is an experienced English teacher who has run an Outstanding English Department. She is Director of Teaching and Learning in a small London school where she has successfully trained two Outstanding teachers new to the profession, as well as more experienced ones. Clare has written a number of bestselling secondary English books over the last 18 years.

Imelda Pilgrim

Imelda taught English for many years before leaving to allow more time for examining, writing and providing workshops for teachers and students. She is a principal examiner and has written many best selling textbooks.

Bernard Ward

Bernard has been teaching since 1989 and in 2000 became English Co-ordinator at a Pupil Referral Unit. He has been Literacy Co-ordinator in a special needs unit, a Behavioural Advisor, and Head of English. In 2011 he gave up teaching to concentrate on freelance work as a poet, philosopher and as an Educational Consultant. Bernard is Consultant PhD Supervisor for Napier University.
All our supporting resources, like audio files and answer sheets, have now moved to Cambridge GO – the new home for all your Cambridge digital content. Go to Cambridge GO to register and access files for any of your Cambridge titles. If you already have an account, just log in and go to 'add new resources'.
Access resources in Cambridge GO
Thank you for your feedback which will help us improve our service.
If you requested a response, we will make sure to get back to you shortly.
×
Please fill in the required fields in your feedback submission.
×