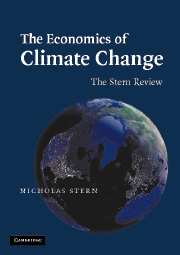 The Economics of Climate Change

The Stern Review
$105.00 (P)
Date Published:

January 2007

availability:

Available

format:

Paperback

isbn:

9780521700801
Add to cart
Add to wishlist
Other available formats:
eBook
---
Looking for an examination copy?
If you are interested in the title for your course we can consider offering an examination copy. To register your interest please contact collegesales@cambridge.org providing details of the course you are teaching.
Description
Product filter button
There is now clear scientific evidence that emissions from economic activity, particularly the burning of fossil fuels for energy, are causing changes to the Earth's climate. A sound understanding of the economics of climate change is needed in order to underpin an effective global response to this challenge. The Stern Review is an independent, rigourous and comprehensive analysis of the economic aspects of this crucial issue. It has been conducted by Sir Nicholas Stern, Head of the UK Government Economic Service, and a former Chief Economist of the World Bank. The Economics of Climate Change will be invaluable for all students of the economics and policy implications of climate change, and economists, scientists and policy makers involved in all aspects of climate change.

A state-of-the-art independent review of the economics of climate change
Written by an international respected and well-known author
Contains full colour illustrations throughout

Read more

Reviews & endorsements

"National wealth, it turns out, will begin to disappear along with the countless species that aren't adjusting fast enough to the changing environment. Stern's report warns in economic terms that humanity might be one of those species...Stern, a former chief economist of the World Bank, approached the scientific evidence with a fresh eye and rapidly became convinced that if we act now we can avoid the very worst...[His] message succeeds because he appeals not to sentiment, nor even to environmental responsibility, but to the naked self-interest of capitalism."
Vanity Fair, The Green Issue, May 2007


"[The report's] basic point seems unassailable: failure to act now will exact much greater penalties later on...If people and industries are made to pay heavily for the privilege, they will inevitably be driven to develop cleaner fuels, cars and factories… "
The New York Times
< "The [Stern] report argues that environmentalism and economic growth can go hand in hand in the battle against global warming...The report by Sir Nicholas Stern, a senior government economist, represents a huge contrast to the U.S. government's wait-and-see policies."
Chicago Tribune
"Pay now to fix global warming or risk a worldwide economic depression later...The [Stern] report moves economic discussion of how humanity should deal with global warming to center stage..."
USA Today

"The stark prospects of climate change and its mounting economic and human costs are clearly brought out in this searching investigation. What is particularly striking is the identification of ways and means of sharply minimizing these penalties through acting right now, rather than waiting for our lives to be overrun by rapidly advancing adversities. The world would be foolish to neglect this strong but strictly time-bound practical message."
Amartya Sen, Nobel Prize economist 1998
"The Stern report shows us, with utmost clarity, while allowing fully for all the uncertainties, what global warming is going to mean; and what can and should be done to reduce it. It provides numbers for the economic impact, and for the necessary economic policies. It deserves the widest circulation. I wish it the greatest possible impact. Governments have a clear and immediate duty to accept the challenge it represents."
James Mirrlees, Nobel Prize economist 1996

"The Stern Review of the Economics of Climate Change provides the most thorough and rigorous analysis to date of the costs and risks of climate change, and the costs and risks of reducing emissions. It makes clear that the question is not whether we can afford to act, but whether we can afford not to act. To be sure, there are uncertainties, but what it makes clear is that the downside uncertainties—aggravated by the complex dynamics of long delays, complex interactions, and strong non-linearities—make a compelling case for action. And it provides a comprehensive agenda—one which is economically and politically feasible—behind which the entire world can unite in addressing this most important threat to our future well being."
Joseph Stiglitz, Nobel Prize economist 2001

"The Bank is committed to addressing the dangers of climate change and has made substantial progress in developing an Investment Framework for Clean Energy And Development. I very much welcome the Stern Review which provides a much needed critical economic analysis of the issues associated with climate change, and complements the recent IEA technology assessment and the World Bank's Clean Energy Investment Framework paper. The Bank is today working closely with its clients and partners to turn our analysis into practice, and will seek to substantially increase its own investment flows and those of the private sector. A crucial next step is to involve the private sector in the EIF. I am therefore pleased to support a partnership between the World Bank and the World Economic Forum and the World Business Council on Sustainable Development to stimulate private sector investment through the Energy Investment Framework. Chancellor Gordon Brown and I will co-host a conference early next year to launch the partnership. "
Paul Wolfowitz, President of the World Bank

"The Stern Review of the Economics of Climate Change is a vital step forward in securing an effective global policy on climate change. Led by one of the world's top economists, the Stern Review shows convincingly that the benefits of early global action to mitigate climate change will be far lower than the costs. The report establishes realistic guidelines for action (based on long-term stabilization ceilings for greenhouse gases), core elements of an effective global policy (carbon pricing, technology policy, and removing barriers to change), and a framework for international cooperation that must include all regions of the world, both developed and developing. The Stern Review will play an important role in helping the world to agree on a sensible post-Kyoto policy."
Prof. Jeffrey D. Sachs, Director of the Earth Institute at Columbia University, Special Advisor to UN Secretary General Kofi Annan

"Future generations may come to regard the apocalyptic report by Sir Nicholas Stern...as the turning point in combating global warming, or as the missed opportunit...what Sir Nicholas Stern has done with his report on the economics of climate change is remarkable; he has ripped up the last excuse for inaction...one wouldn't want to exaggerate, but it does feel like one of those moments that are truly historic...the first really comprehensive review of the economics of climate change. For nearly 20 years it has been the science of climate change that has made all the headlines…We've heard a thousand calls to action, to stop global warming happening. But what would that cost the world? And what would doing nothing cost us?...now Sir Nicholas Stern and his team have come up with concrete numbers."
The Independent

"Climate change can impose enormous costs on mankind and particularly on the innocent poor people. The uncertainty that is used as an excuse not to act works both ways. If the impact is larger than expected it could be catastrophic. Sir Nick Sterns report is valuable as it shows the need to act now and that the costs of action are modest. One hopes it will spur to action those who are responsible for creating this threat."
Kirit Parikh Member, Planning Commission, Government of India

"The Economics of Climate Change sends a very important and timely message: that the benefits of strong, early action on climate change outweigh the costs. That conclusion is one that the International Energy Agency fully endorses - notably in its World Energy Outlook 2006 to be published next week. Congratulations to Sir Nick Stern and his team for producing a landmark review which I have no doubt will strengthen the political will to change of governments around the world."
Claude Mandil, Executive Director of the International Energy Agency

"The scientific evidence of global warming is overwhelming but some commentators and lobby groups have continued to oppose offsetting actions on economic and competitiveness grounds. This comprehensive and authoritative report demolishes their arguments, explaining clearly the complex economics of climate change. It makes plain that we can cut emissions radically at a cost to the economy far less than the economic and human welfare costs which climate change could impose "
Adair Turner, Former Director of UK Confederation of British Industry and Economic Advisor to Sustainable Development Commission

"I support the Stern Review's conclusion that there is a strong economic case for taking early, effective action to reduce greenhouse gas emissions. This clearly has important implications for transport policy, which my own study is taking into account - sustainable economic growth cannot be achieved in any sector without tackling the effects of our actions on the environment."
Sir Rod Eddington, Adviser to the UK Government on the long term links between transport and economic growth, and former Chief Executive of British Airways

"When the history of the world's response to climate change is written, the Stern Review will be recognized as a turning point. Sir Nicholas and his team have provided important intellectual leadership as humanity engages with its greatest challenge. While the details will be debated, the main thrust of the report is clear and compelling — the expected benefits of tackling climate change far outweigh the expected costs."
Cameron Hepburn, Oxford University

"The Stern Review shows us, with utmost clarity, while allowing fully for all the uncertainties, what global warming is going to mean; and what can and should be done to reduce it. It provides numbers for the economic impact, and for the necessary economic policies. It deserves the widest circulation. I wish it the greatest possible impact. Governments have a clear and immediate duty to accept the challenge it represents."
James Mirrlees, recipient of the Nobel Prize for Economics, 1996

"...a comprehensive overview of the threat posed by climate change - and how we should respond to it...Sir Nicholas Stern spells out a bleak vision of a future gripped by violent storms, rising sea-levels, crippling droughts and economic chaos unless urgent action is taken to tackle global warming...a heavyweight review...Sir Nicholas Stern's review of the economic impact of global warming is a watershed. The former World Bank chief economist has put a price-tag on saving the planet...Sir Nicholas is a sober and respected economist, which makes his findings all the more chilling."
The Daily Telegraph

"The overwhelming message of...[the] Stern review on the economics of climate change is that it is now time to move on from arguing about statistics to taking drastic action at an international level...Even if Stern is only half right then...the consequence of doing nothing is still so dreadful that it ought not to be contemplated."
The Guardian

See more reviews

Customer reviews

Not yet reviewed

Be the first to review

Review was not posted due to profanity

×

Product details

Date Published:

January 2007

format:

Paperback

isbn:

9780521700801

length:

712

pages

dimensions:

247 x 174 x 34 mm

weight:

1.407kg

contains:

30 b/w illus. 100 colour illus. 25 tables

availability:

Available

Table of Contents

1. Climate change: our approach
2. Impacts of climate change on growth and development
3. The economics of stabilisation
4. Policy responses for mitigation
5. Policy responses for adaptation
6. International collective action.

Author

Nicholas Stern, Cabinet Office - HM Treasury
Sir Nicholas Stern is Adviser to the UK Government on the Economics of Climate Change and Development, reporting to the Prime Minister. As well as being Head of the Stern Review on the Economics of Climate Change, he is Head of the Government Economic Service, and previously Second Permanent Secretary to Her Majesty's Treasury and Director of Policy and Research for the Prime Minister's Commission for Africa. He is also a former Chief Economist for the World Bank and Special Counsellor to the President of the European Bank for Reconstruction and Development. His research and publications have focused on economic development and growth, economic theory, tax reform, public policy and the role of the state and economies in transition. He is a Fellow of the British Academy and a Foreign Honorary Member of the American Academy of Arts and Sciences. His most recent book is Growth and Empowerment: Making Development Happen (MIT Press, 2005).
Please note that this file is password protected. You will be asked to input your password on the next screen.
»
Proceed
You are now leaving the Cambridge University Press website. Your eBook purchase and download will be completed by our partner www.ebooks.com. Please see the permission section of the www.ebooks.com catalogue page for details of the print & copy limits on our eBooks.
Continue
×