Look Inside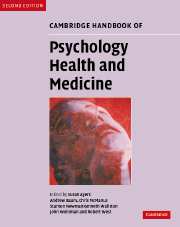 Cambridge Handbook of Psychology, Health and Medicine
2nd Edition
$185.00 (G)
Leif Edvard Aaro, Gail Williamson, David Shaffer, Elaine Leventhal, Angela Liegey Dougall, Stacie Spencer, Andrew Baum, Yael Benyamini, Howard Leventhal, Elaine Leventhal, Julie Turner-Cobb, Richard Boles, Michael Roberts, Margaret Stroebe, Henk Schut, Wolfgang Stroebe, Keith Petrie, Lisa Reynolds, Naomi Lester, Francis Keefe, Meredith Rumble, Jeffrey Labban, Colin Murray Parkes, Yael Benyamini, John Berry, David Sam, Suzanne Scott, Jane Ogden, Timothy Elliott, Laura Dreer, Richard Slatcher, James Pennebaker, Jim Maddux, Jane Ussher, Charles Abraham, Tim Carmody, Rachael Powell, Marie Johnston, Thomas Whelan, Willem Kop, David Krantz, Howard Leventhal, Yael Benyamini, Christina Shafer, Tirrill Harris, Christina Lee, R. Glynn Owens, Staffan Hygge, Dennis Turk,Tasha Burwinkle, Kenneth Wallston, Stephanie Stone, Robert McCrae, Neville Owen, Kym Spathonis, Eva Leslie, Irving Kirsch, Elizabeth Bachen, Sheldon Cohen, Anna Marsland, Christopher Bass, Lena Ring, Karen Kim, Harold Koenig, Baruch Fischhoff, Albert Bandura, Lorraine Sherr, Jason Ellis, Thomas Ashby Wills, Michael Ainette, Lion Shahab, Robert West, Ainsley Hardy, Susan Ayers, Andrew Steptoe, Elizabeth Broadbent, Keith Petrie, Stephen Sutton, Stanislav Kasl, Beth Jones, Erin Bigler, Linda Worrall, Ellen Skinner, Richard Rogers, Peggilee Wupperman, Ray Fitzpatrick, Mark Conner, Brian McMillan, Ann Bowling, Ad Kaptein, Elizabeth Broadbent, Robert Sternberg, Michele Tugade, Tamlin Conner, Lisa Feldman Barrett, Jane Powell, Melissa Lamar, Amir Raz, Nancy Chiaravalloti, Amanda O'Brian, John DeLuca, Sandra Waters, Kim Dixon, Lisa Caitlin Perri, Francis Keefe, Susan Eisen, Angela Liegey Dougall, Felicity Bishop, Lucy Yardley, Ann Bowling, Brian Lakey, Jay Cohen, Gerald Davison, Raymond Gaeta, Carl Noe, Robert Gatchel, Andrew Eagle, Michael Worrell, Deborah Polk, Christie King, Kenneth Heller, Robert Bor, John Allen, Peter Hajek, Gerjo Kok, Michael Heap, Janet Tresure, Esther Maissie, Barbara Wilson, Stephen Morley, Michael Ussher, Jo-anne Carlyle, Jennifer Morse, Charles Reynolds, Michael Bruch, Kathleen Mulligan, Stan Newman, Benjamin Gottlieb, Dianne Kenny, Paul Estabrooks, Russell Glasgow, Rob Horne, Hannah McGee, Katherine Joekes, Christina Maslach, David French, Theresa Marteau, Rudolph Moos, Jeanne Schaefer, Bernice Moos, John Weinman, Robin Fiore, Hugh Barr, Clare Harries, Peter Ayton, Jonathon Silverman, Peter Bower, Nicki Mead, Maria Woloshynowych, Charles Vincent, Ray Fitzpatrick, Valerie Sutherland, Patricia Loft, Geraldine Meechan, Keith Petrie, Anne Miles, Katharine Parkes, Chris McManus, Claus Vogele, Angela Hall, Jane Kidd, Lorraine Noble, Pauline Slade, Robert Frank, Andrea, Lee Stephen Kellett, Michael Sayette, Mary Gregerson, Barbara Wilson, Narinder Kapur, Ronald Melzack, Joel Katz, Kirstie McKenzie-McHarg, Rachel Rowe, Ad Kaptein K. F. Rabe, Amanda C de C Williams, Linda Pring, Sarah Amponsah, Anthony Manstead, Claire Phillips, Alice Simon, Katie Robb, Sharon Manne, Barbara Andersen, Laura Simonelli, Kristen Carpenter, Gerry Humphris, Jennifer Devlen, Janelle Wagner, Ronald Brown, Angela Dougall, Stephen Lepore, Katherine Roberts, Ron Borland, Suzanne Dobbinson, Jan Stygall, Stan Newman, Kevin Browne, Catherine Hamilton-giachritsis, Jeremy Turk, Ruth Cairns, Trudie Chalder, Matthew Speltz, Anna Marsland, Sheldon Cohen, Elizabeth Bachen, Felicity Bishop, George Lewith, Paul Bennett, Beth Alder, Robert Allan, Stephen Scheidt, Christopher Smith, Kathleen Mulligan, Stan Newman, Bob Lewin, Jan Stygall, Stan Newman, Claire Glasscoe, Laurence McKenna, David Scott, Jenny Rusted, Alison Woodcock, Clare Bradley, Irene Frieze, Maureen McHugh, Heather Ashton, Sari Schwartz, David Krantz, Andrew Scholey, Andy Parrott, David Kennedy, Christine Temple, Eric Stice, Heather Shaw, David Horne, Elizabeth Ann Coombes, Eric Storch, Gary Geffken, Martin Herbert, Graham Scambler, Rona Moss-Morris, Meag
View all contributors
Date Published:

September 2007

availability:

Available

format:

Paperback

isbn:

9780521605106
Add to cart
Add to wishlist
Other available formats:
eBook
---
Looking for an examination copy?
If you are interested in the title for your course we can consider offering an examination copy. To register your interest please contact collegesales@cambridge.org providing details of the course you are teaching.
Description
Product filter button
Health psychology is a rapidly expanding discipline at the interface of psychology and clinical medicine. This new edition is fully reworked and revised, offering an entirely up-to-date, comprehensive, accessible, one-stop resource for clinical psychologists, mental health professionals and specialists in health-related matters. There are two new editors: Susan Ayers from the University of Sussex and Kenneth Wallston from Vanderbilt University Medical Center. The prestigious editorial team and their international, interdisciplinary cast of authors have reconceptualised their much-acclaimed handbook. The book is now in two parts: part I covers psychological aspects of health and illness, assessments, interventions and healthcare practice. Part II covers medical matters listed in alphabetical order. Among the many new topics added are: diet and health, ethnicity and health, clinical inrterviewing, mood assessment, communicating risk, medical interviewing, diagnostic procedures, organ donation, IVF, MMR, HRT, sleep disorders, skin disorders, depression and anxiety disorders.

Completely revised, reworked and updated new edition of a very successful book
Two new editors, Susan Ayers from the UK and Kenneth Wallston from the US
New contributors added and many new areas of coverage included

Read more

Reviews & endorsements

'The new Cambridge Handbook is simply indispensable … The book will find a wide market. No clinical psychologist is going to want to be without it. Perhaps more importantly, many doctors will continue to dip into it from time to time, since one of the book's virtues is to be written in a generally jargon free manner, accessible to all health professionals. Journalists from the better papers will use it frequently, since it gives a quick synopsis of the current state of play on a vast range of topics which are rarely absent from the health pages. Finally, journal editors will find it a valuable address book when they need referees for the ever increasing flow of research papers in this fascinating field.' Psychological Medicine

'This book is a rich mine of information for the general practitioner … The day I received it a student came to ask me for advice about essays. Putting the 'encylopaedic handbook' to its first test, we looked up a few keywords. There was a chapter on each one. Bite-size morsels of information, easily digestible, comprehensive. I shall certainly keep this book within easy reach for future reference.' Journal of the Royal Society of Medicine

'Easy to read; a practical book.' Journal of Pediatric Endocrinology and Metabolism

'Health psychology has been an established field of study for some time. The Cambridge Handbook of Psychology, Health and Medicine has been an important tool for its practitioners. The new edition … appears, on examination, to be more wide-ranging than its predecessor, and likely to be even more useful.' Journal of Mental Health

'The array of topics is bountiful. The articles are tightly written and edifying. If this book were a culinary experience, it would be described as a feast of gourmet samples. … The Cambridge Handbook of Psychology, Health and Medicine fosters a much-needed appreciation for the treatment of the entire patient, both mind and body.' Journal of the American Medical Association

See more reviews

Customer reviews

Not yet reviewed

Be the first to review

Review was not posted due to profanity

×

Product details

Edition:

2nd Edition

Date Published:

September 2007

format:

Paperback

isbn:

9780521605106

length:

970

pages

dimensions:

276 x 219 x 40 mm

weight:

2.704kg

contains:

31 b/w illus. 49 tables

availability:

Available

Table of Contents

Part I. Psychology and Health and Illness
Part II. Medical Topics.

Editors

Susan Ayers, University of Sussex
Susan Ayers is Senior Lecturer in Health Psychology at the University of Sussex.

Andrew Baum, University of Pittsburgh
Andrew Baum, is Professor of Psychiatry and Psychology at the University of Pittsburgh School of Medicine and deputy director for cancer control and supportive care sciences at the University of Pittsburgh Cancer Institute (UPCI).

Chris McManus, St Mary's Hospital Medical School
Chris McManus is Professor of Psychology and Medical Education in the Department of Psychology at University College London.

Stanton Newman, University College and Middlesex School of Medicine
Stanton Newman is Professor of Health Psychology at the Centre for Behavioural and Social Sciences in Medicine, University College London.

Kenneth Wallston, Vanderbilt University School of Nursing
Kenneth Wallston is Professor of Psychology in Nursing at the Vanderbile University Medical Center.

John Weinman, United Medical and Dental Schools of Guy's and St Thomas's
John Weinman is Professor of Psychology as applied to Medicine at the Institute of Psychiatry, Kings College London.

Robert West, St George's Hospital Medical School, University of London

Contributors

Leif Edvard Aaro, Gail Williamson, David Shaffer, Elaine Leventhal, Angela Liegey Dougall, Stacie Spencer, Andrew Baum, Yael Benyamini, Howard Leventhal, Elaine Leventhal, Julie Turner-Cobb, Richard Boles, Michael Roberts, Margaret Stroebe, Henk Schut, Wolfgang Stroebe, Keith Petrie, Lisa Reynolds, Naomi Lester, Francis Keefe, Meredith Rumble, Jeffrey Labban, Colin Murray Parkes, Yael Benyamini, John Berry, David Sam, Suzanne Scott, Jane Ogden, Timothy Elliott, Laura Dreer, Richard Slatcher, James Pennebaker, Jim Maddux, Jane Ussher, Charles Abraham, Tim Carmody, Rachael Powell, Marie Johnston, Thomas Whelan, Willem Kop, David Krantz, Howard Leventhal, Yael Benyamini, Christina Shafer, Tirrill Harris, Christina Lee, R. Glynn Owens, Staffan Hygge, Dennis Turk,Tasha Burwinkle, Kenneth Wallston, Stephanie Stone, Robert McCrae, Neville Owen, Kym Spathonis, Eva Leslie, Irving Kirsch, Elizabeth Bachen, Sheldon Cohen, Anna Marsland, Christopher Bass, Lena Ring, Karen Kim, Harold Koenig, Baruch Fischhoff, Albert Bandura, Lorraine Sherr, Jason Ellis, Thomas Ashby Wills, Michael Ainette, Lion Shahab, Robert West, Ainsley Hardy, Susan Ayers, Andrew Steptoe, Elizabeth Broadbent, Keith Petrie, Stephen Sutton, Stanislav Kasl, Beth Jones, Erin Bigler, Linda Worrall, Ellen Skinner, Richard Rogers, Peggilee Wupperman, Ray Fitzpatrick, Mark Conner, Brian McMillan, Ann Bowling, Ad Kaptein, Elizabeth Broadbent, Robert Sternberg, Michele Tugade, Tamlin Conner, Lisa Feldman Barrett, Jane Powell, Melissa Lamar, Amir Raz, Nancy Chiaravalloti, Amanda O'Brian, John DeLuca, Sandra Waters, Kim Dixon, Lisa Caitlin Perri, Francis Keefe, Susan Eisen, Angela Liegey Dougall, Felicity Bishop, Lucy Yardley, Ann Bowling, Brian Lakey, Jay Cohen, Gerald Davison, Raymond Gaeta, Carl Noe, Robert Gatchel, Andrew Eagle, Michael Worrell, Deborah Polk, Christie King, Kenneth Heller, Robert Bor, John Allen, Peter Hajek, Gerjo Kok, Michael Heap, Janet Tresure, Esther Maissie, Barbara Wilson, Stephen Morley, Michael Ussher, Jo-anne Carlyle, Jennifer Morse, Charles Reynolds, Michael Bruch, Kathleen Mulligan, Stan Newman, Benjamin Gottlieb, Dianne Kenny, Paul Estabrooks, Russell Glasgow, Rob Horne, Hannah McGee, Katherine Joekes, Christina Maslach, David French, Theresa Marteau, Rudolph Moos, Jeanne Schaefer, Bernice Moos, John Weinman, Robin Fiore, Hugh Barr, Clare Harries, Peter Ayton, Jonathon Silverman, Peter Bower, Nicki Mead, Maria Woloshynowych, Charles Vincent, Ray Fitzpatrick, Valerie Sutherland, Patricia Loft, Geraldine Meechan, Keith Petrie, Anne Miles, Katharine Parkes, Chris McManus, Claus Vogele, Angela Hall, Jane Kidd, Lorraine Noble, Pauline Slade, Robert Frank, Andrea, Lee Stephen Kellett, Michael Sayette, Mary Gregerson, Barbara Wilson, Narinder Kapur, Ronald Melzack, Joel Katz, Kirstie McKenzie-McHarg, Rachel Rowe, Ad Kaptein K. F. Rabe, Amanda C de C Williams, Linda Pring, Sarah Amponsah, Anthony Manstead, Claire Phillips, Alice Simon, Katie Robb, Sharon Manne, Barbara Andersen, Laura Simonelli, Kristen Carpenter, Gerry Humphris, Jennifer Devlen, Janelle Wagner, Ronald Brown, Angela Dougall, Stephen Lepore, Katherine Roberts, Ron Borland, Suzanne Dobbinson, Jan Stygall, Stan Newman, Kevin Browne, Catherine Hamilton-giachritsis, Jeremy Turk, Ruth Cairns, Trudie Chalder, Matthew Speltz, Anna Marsland, Sheldon Cohen, Elizabeth Bachen, Felicity Bishop, George Lewith, Paul Bennett, Beth Alder, Robert Allan, Stephen Scheidt, Christopher Smith, Kathleen Mulligan, Stan Newman, Bob Lewin, Jan Stygall, Stan Newman, Claire Glasscoe, Laurence McKenna, David Scott, Jenny Rusted, Alison Woodcock, Clare Bradley, Irene Frieze, Maureen McHugh, Heather Ashton, Sari Schwartz, David Krantz, Andrew Scholey, Andy Parrott, David Kennedy, Christine Temple, Eric Stice, Heather Shaw, David Horne, Elizabeth Ann Coombes, Eric Storch, Gary Geffken, Martin Herbert, Graham Scambler, Rona Moss-Morris, Meag
Please note that this file is password protected. You will be asked to input your password on the next screen.
»
Proceed
You are now leaving the Cambridge University Press website. Your eBook purchase and download will be completed by our partner www.ebooks.com. Please see the permission section of the www.ebooks.com catalogue page for details of the print & copy limits on our eBooks.
Continue
×