Look Inside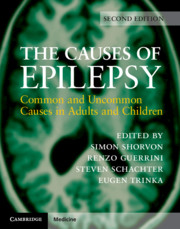 The Causes of Epilepsy

Common and Uncommon Causes in Adults and Children
2nd Edition
$255.00 (G)
Simon Shorvon, Snezana Maljevic, Holger Lerche, Arjune Sen, Michael R. Johnson, Andreas Schulze-Bonhage, Massimo Mantegazza, Elissa Yozawitz, Ronit Pressler, Renzo Guerrini, Davide Mei, Sarah Aylett, William Dobyns, Nataliya Di Donato, Richard E. Frye, Stephen G. Kahler, Aidan Neligan, Patrick Van Bogaert, Michael R. Sperling, Carla Marini, Roberto H. Carabello, Natalio Fejerman, Jelena Radic, J. Helen Cross, Paolo Tinuper, Francesca Bisulli, Iris Unterberger, Julia Höfler, Roberto Michelucci, Carlo Nobile, Chantal Depondt, Celina von Stülpnagel, Gerhard Kluger, Tiziana Pisano, Nicola Specchio, Nicola Pietrafusa, Mitsuhiro Kato, Andreea Nissenkorn, Bruria Ben Zeev, Cigdem I. Akman, Darryl C. De Vivo, Rima Nabbout, Shamima Rahman, Mirella Filocamo, Elena Procopio, Amelia Morrone, Hendrik Rosewich, Jutta Gärtner, Alberto Verrotti, Chiara Mazzocchetti, Anna C. Jansen, Ruth H. Walker, Alice Donati, Saba Harrach, Joshua Ewen, Sidney M. Gospe. Jr, Andrea L. Gropman, Phillip L. Pearl, K. Michael Gibson, Carmen Fons, Jaume Campistol, Rita Barone, Agata Fiumara, Nicholas Ah Mew, Debra S. Regier, Marshall L. Summar, Isabelle Gourfinkel-An, Vincent Navarro, Mario Mastrangelo, Vincenzo Leuzzi, Reetta Kälviäinen, Kiyoshi Egawa, Yukitoshi Takahashi, Berge A. Minassian, Pasquale Striano, Laurence A. Bindoff, Bernt A. Engelsen, Ruth E. Williams, Silvana Franceschetti, Laura Canafoglia, Helle Hjalgrim, Anna M. Larson, Catherine J. Chu, Elizabeth A. Thiele, Patrick Adjei, Alexis Arzimanoglou, Gerhard Kurlemann, Antonietta Coppola, Maria Paola Canevini, Aglaia Vignoli, Nadia Bahi-Buisson, Monika Eisermann, Ryan E. Gill, Carl E. Stafstrom, Agatino Battaglia, Geneviève Bernard, Laurence Gauquelin, Frederick Andermann, Federico Vigevano, Marina Trivisano, Karine Pelc, Bernard Dan, Alissa M. D'Gama, Annapurna Poduri, Carmen Barba, Michael Duchowny, Elena Parrini, Gerhard Bauer, Giorgi Kuchukhidze, Eugen Trinka, M. Elizabeth Ross, Gianpiero Tamburrini, F. Bianchi, Peter Crino, C. E. Polkey, Andre Palmini, Eliseu Paglioli, Taiane Pigozzo, Alessio De Ciantis, Markus Hutterer, Anette Leibetseder, Ingmar Blümcke, Charuta Joshi, Angus Wilfong, Bartosz T. Grobelny, Howard L. Weiner, Rolando F. Del Maestro, Abdulrahman Sabbagh, Ahmed Lary, Marie-Christine Guiot, Johann Sellner, Thom O'Neill, Richard F. M. Chin, Lina Nashef, Fahmida A. Chowdhury, Charles R. J. C. Newton, Hector H. Garcia, Manish Modi, Gagandeep Singh, Nadir E. Bharucha, Roberta H. Raven, Parthasarathy Satishchandra, Sanjib Sinha, H. T. Chong, C. T. Tan, Raimund Helbok, Alois J. Schiefecker, Ronny Beer, Uma Menon, Ruth E. Nemire, R. Eugene Ramsay, Abdulrahman Y. Alturki, Ajith Thomas, Christopher S. Ogilvy, Andrew C. Vivas, Fernando L. Vale, Erik Taubøll, Leif Gjerstad, Antonio Gambardella, Frederick Andermann, Anna Rosati, Andrea Taddio, Rolando Cimaz, Tiziana Granata, Annamaria Vezzani, Mark Manford, Sybil Stacpoole, Christian G. Bien, Fernando Cendes, Márcia Elisabete Morita, Marco Mula, Pierangelo Veggiotti, Federica Teutonico, Francesco Brigo, Raffaele Nardone, Page Pennell, Mary O'Neal, Sameer M. Zuberi, Andreas Brunklaus, Martin Holtkamp, Pawel Fidzinski, Andrew G. Herzog, Erik K. St. Louis, Bindu Menon, Francesco Brigo, Steven V. Pacia, Thomas Boes, Adam Strzelczyk, Felix Rosenow, Dorothée Kasteleijn- Nolst Trenité, Laura Cantonetti, Pasquale Parisi, Takashi Matsudaira, Yushi Inoue, Matthias J. Koepp, Carlo Di Bonaventure, Anuranjan Anand, Peter Wolf, Anna Rosati, Attila Rácz, Christian E. Elger
View all contributors
Date Published:

June 2019

availability:

In stock

format:

Hardback

isbn:

9781108420754
Add to cart
Add to wishlist
Other available formats:
eBook
---
Looking for an examination copy?
If you are interested in the title for your course we can consider offering an examination copy. To register your interest please contact collegesales@cambridge.org providing details of the course you are teaching.
Description
Product filter button
The identification of the cause of an epileptic seizure is a key element in the clinical management of all patients. In recent decades, advances in theory, neuroimaging, molecular genetics and molecular chemistry have revolutionized our ability to investigate and identify the underlying cause. The definitive and unrivalled textbook on the causes of epilepsy, this second edition is extensively revised and expanded. It provides concise descriptions of all the major genetic and acquired conditions that cause epilepsy in adults and children, and the provoking factors for epileptic seizures and of the causes of status epilepticus. A new section considers clinical approaches to diagnosing causes, to guide and assist clinicians in investigations. With 128 chapters written by leading figures from around the world, this comprehensive and authoritative resource is indispensable to senior and junior clinicians and trainees working in the field of epilepsy, including specialists in neurology, paediatrics, neurophysiology, psychiatry and neurosurgery.

Extensively reviewed and expanded, the book features 128 chapters, with greater focus on the genetic causes of epilepsy and an entirely new section entitled 'Approaches to the Clinical Investigation and Diagnosis of Cause' to help guide clinical practice
This definitive and unrivalled textbook provides comprehensive clinical data on the many causes of epilepsy in one place, written by leading figures in the field from around the world
This book is wesigned for use in clinical practice, with clear, relevant and easy to find information

Read more

Reviews & endorsements

'The Editors with this monumental book have proved themselves to be great teachers of the history of neurology and its development that sets a new standard and is unlikely to be surpassed, on this scale, for some time.' Jurg Kesselring, Clinical & Translational Neuroscience

Customer reviews

Not yet reviewed

Be the first to review

Review was not posted due to profanity

×

Product details

Edition:

2nd Edition

Date Published:

June 2019

format:

Hardback

isbn:

9781108420754

length:

1010

pages

dimensions:

283 x 230 x 42 mm

weight:

2.98kg

availability:

In stock

Table of Contents

Part I. Introduction
Part II. Approaches to the Clinical Investigation and Diagnosis of Cause
Part III. Idiopathic Epilepsies
Part IV. Symptomatic Epilepsies of Genetic or Developmental Origin
Part V. Symptomatic Epilepsies of Acquired Origin
Part VI. Provoking Factors and Provoked Epilepsies
Part VII. Status Epilepticus.

Editors

Simon Shorvon, Institute of Neurology, University College London
Simon Shorvon is Consultant Neurologist at the National Hospital for Neurology and Neurosurgery, London, and Professor Emeritus in Clinical Neurology at University College London.

Renzo Guerrini, Università degli Studi, Florence
Renzo Guerrini is Professor of Child Neurology and Psychiatry and Director of the Department of Neuroscience at Children's Hospital Anna Meyer, Università degli Studi, Florence.

Steven Schachter, Harvard Medical School, Boston
Steven Schachter is Professor of Neurology at Harvard Medical School, Boston, and Chief Academic Officer at the Consortia for Improving Medicine with Innovation and Technology.

Eugen Trinka, Paracelsus Medical University, Salzburg
Eugen Trinka is Chair of the Department of Neurology and Medical Director of the Christian Doppler University Hospital and Centre for Cognitive Neuroscience and Vice Dean for Clinical Affairs of the Paracelsus Medical University, Salzburg.

Contributors

Simon Shorvon, Snezana Maljevic, Holger Lerche, Arjune Sen, Michael R. Johnson, Andreas Schulze-Bonhage, Massimo Mantegazza, Elissa Yozawitz, Ronit Pressler, Renzo Guerrini, Davide Mei, Sarah Aylett, William Dobyns, Nataliya Di Donato, Richard E. Frye, Stephen G. Kahler, Aidan Neligan, Patrick Van Bogaert, Michael R. Sperling, Carla Marini, Roberto H. Carabello, Natalio Fejerman, Jelena Radic, J. Helen Cross, Paolo Tinuper, Francesca Bisulli, Iris Unterberger, Julia Höfler, Roberto Michelucci, Carlo Nobile, Chantal Depondt, Celina von Stülpnagel, Gerhard Kluger, Tiziana Pisano, Nicola Specchio, Nicola Pietrafusa, Mitsuhiro Kato, Andreea Nissenkorn, Bruria Ben Zeev, Cigdem I. Akman, Darryl C. De Vivo, Rima Nabbout, Shamima Rahman, Mirella Filocamo, Elena Procopio, Amelia Morrone, Hendrik Rosewich, Jutta Gärtner, Alberto Verrotti, Chiara Mazzocchetti, Anna C. Jansen, Ruth H. Walker, Alice Donati, Saba Harrach, Joshua Ewen, Sidney M. Gospe. Jr, Andrea L. Gropman, Phillip L. Pearl, K. Michael Gibson, Carmen Fons, Jaume Campistol, Rita Barone, Agata Fiumara, Nicholas Ah Mew, Debra S. Regier, Marshall L. Summar, Isabelle Gourfinkel-An, Vincent Navarro, Mario Mastrangelo, Vincenzo Leuzzi, Reetta Kälviäinen, Kiyoshi Egawa, Yukitoshi Takahashi, Berge A. Minassian, Pasquale Striano, Laurence A. Bindoff, Bernt A. Engelsen, Ruth E. Williams, Silvana Franceschetti, Laura Canafoglia, Helle Hjalgrim, Anna M. Larson, Catherine J. Chu, Elizabeth A. Thiele, Patrick Adjei, Alexis Arzimanoglou, Gerhard Kurlemann, Antonietta Coppola, Maria Paola Canevini, Aglaia Vignoli, Nadia Bahi-Buisson, Monika Eisermann, Ryan E. Gill, Carl E. Stafstrom, Agatino Battaglia, Geneviève Bernard, Laurence Gauquelin, Frederick Andermann, Federico Vigevano, Marina Trivisano, Karine Pelc, Bernard Dan, Alissa M. D'Gama, Annapurna Poduri, Carmen Barba, Michael Duchowny, Elena Parrini, Gerhard Bauer, Giorgi Kuchukhidze, Eugen Trinka, M. Elizabeth Ross, Gianpiero Tamburrini, F. Bianchi, Peter Crino, C. E. Polkey, Andre Palmini, Eliseu Paglioli, Taiane Pigozzo, Alessio De Ciantis, Markus Hutterer, Anette Leibetseder, Ingmar Blümcke, Charuta Joshi, Angus Wilfong, Bartosz T. Grobelny, Howard L. Weiner, Rolando F. Del Maestro, Abdulrahman Sabbagh, Ahmed Lary, Marie-Christine Guiot, Johann Sellner, Thom O'Neill, Richard F. M. Chin, Lina Nashef, Fahmida A. Chowdhury, Charles R. J. C. Newton, Hector H. Garcia, Manish Modi, Gagandeep Singh, Nadir E. Bharucha, Roberta H. Raven, Parthasarathy Satishchandra, Sanjib Sinha, H. T. Chong, C. T. Tan, Raimund Helbok, Alois J. Schiefecker, Ronny Beer, Uma Menon, Ruth E. Nemire, R. Eugene Ramsay, Abdulrahman Y. Alturki, Ajith Thomas, Christopher S. Ogilvy, Andrew C. Vivas, Fernando L. Vale, Erik Taubøll, Leif Gjerstad, Antonio Gambardella, Frederick Andermann, Anna Rosati, Andrea Taddio, Rolando Cimaz, Tiziana Granata, Annamaria Vezzani, Mark Manford, Sybil Stacpoole, Christian G. Bien, Fernando Cendes, Márcia Elisabete Morita, Marco Mula, Pierangelo Veggiotti, Federica Teutonico, Francesco Brigo, Raffaele Nardone, Page Pennell, Mary O'Neal, Sameer M. Zuberi, Andreas Brunklaus, Martin Holtkamp, Pawel Fidzinski, Andrew G. Herzog, Erik K. St. Louis, Bindu Menon, Francesco Brigo, Steven V. Pacia, Thomas Boes, Adam Strzelczyk, Felix Rosenow, Dorothée Kasteleijn- Nolst Trenité, Laura Cantonetti, Pasquale Parisi, Takashi Matsudaira, Yushi Inoue, Matthias J. Koepp, Carlo Di Bonaventure, Anuranjan Anand, Peter Wolf, Anna Rosati, Attila Rácz, Christian E. Elger
Please note that this file is password protected. You will be asked to input your password on the next screen.
»
Proceed
You are now leaving the Cambridge University Press website. Your eBook purchase and download will be completed by our partner www.ebooks.com. Please see the permission section of the www.ebooks.com catalogue page for details of the print & copy limits on our eBooks.
Continue
×