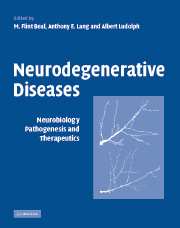 Neurodegenerative Diseases

Neurobiology, Pathogenesis and Therapeutics
Out of Print
Stefan Marklund, John Crow, James G. Greene, Timothy Greenamyre, C. Hrysanthy Ikonomidou, L. Turski, Davide Trotti, László Siklós, Stanley Appel, Jorg Schulz, Michael Sendtner, Michael Sherman, Fred Goldberg, Marcus Cooke, Holger Lerche, Frank Lehmann-Horn,Ted Dawson, V. L. Dawson, M. Shimoji, Avil L. Friedlich, Ashley Bush, Giulio Pasinetti, Donald Price, David Borchelt, Michael Lee, Philip Wong, Serge Przedborski, John Hardy, Antonio Currà, Rocco Agostino, Alfredo Berardelli, Michael Samuel, Alan Colchester, Maja Trost, Vijay Dhawan, Andrew Feigin, David Eidelberg, Bruce Jenkins, Ji-Kyung Choi, M. F. Beal, Chamsy Sarkis, Jacques Mallet, Steve Goldman, Ole Isacson, Kwang-Soo Kim, Ivar Mendez, Craig van Horne, Lars M. Bjorklund, Rosario Sanchez-Pernaute, Marilyn Albert, John Morrison, Patrick R. Hof, Peter R. Rapp, Keith A. Josephs, David F. Tang-Wai, Ronald C. Petersen, David F. Tang-Wai, Keith A Josephs, Ronald C Petersen, Colin Masters, Konrad Beyreuther, Rudolf Tanzi, Lars Bertram, Roger Nitsch, Mary Sano, Norman Relkin, Adam L. Boxer, John Q. Trojanowski, Virginia Y.M. Lee, Bruce Miller, John Trojanowski, Virginia Lee, Mark S. Forman, Katie Kompoliti, Christopher Goetz, Christopher Goetz, Katie Kompoliti, Dennis Dickson, Thomas Gasser, Daniela Berg, Olaf Riess, Peter Riederer, Clifford Shults, Atrophy F. Gesser, C. Colosimo, Gregor Wenning, Lawrence Golbe, Kailash Bhatia, Anthony Lang, Thomas Klockgether, Henry Paulson, Michel Koenig, Helene Puccio, Howard Mount, Thomas Crawford, Richard Gatti, Susan Perlman, Allen Mandir, Nigel Leigh, Matthew Parton, Ammar Al-Chalabi, Robert Brown, Wood-Allum, Pamela Shaw, John Fink, Patrick S.Thomas, Albert R La Spada, K. Zerres, Daniel Perl, Patrick R. Hof, Christoph M. Kosinski, Bernard Landwehrmeyer, Christopher Ross, Lisa M. Ellerby, Jon D. Wood, Frederick C. Nucifora, Alexander Storch, Satoshi Kono, Hiroaki Miyajima, Jonathan Gitlin, Peter LeWitt, George J. Brewer, Anthony Schapira
View all contributors
Date Published:

July 2005

availability:

Unavailable - out of print April 2012

format:

Hardback

isbn:

9780521811668
Unavailable - out of print April 2012
Unavailable
Add to wishlist
Other available formats:
eBook
---
Looking for an examination copy?
If you are interested in the title for your course we can consider offering an examination copy. To register your interest please contact collegesales@cambridge.org providing details of the course you are teaching.
Description
Product filter button
Neurodegenerative diseases are major contributors to disability and disease, with Alzheimer's and Parkinson's diseases the most prevalent. This major reference reviews the rapidly advancing knowledge of pathogenesis and treatment of neurodegenerative diseases in the context of a comprehensive survey of each disease and its clinical features. The editors and contributors are among the leading experts in the field internationally. Covering basic science, diagnostic tools and therapeutic approaches, the book focuses on all aspects of neurodegenerative disease, including the normal aging process. The dementias, prion diseases, Parkinson's disease and atypical parkinsonisms, neurodegenerative ataxias, motor neuron diseases, degenerative diseases with chorea, iron and copper disorders, and mitochondrial diseases, are all methodically presented and discussed, with extensive illustrations. In each case the underlying genetics, neuropathological and clinical issues are fully reviewed, making this the most complete as well as the most authoritative reference available to clinicians and neuroscientists.

Largest and most comprehensive reference text on neurodegenerative disease
Editors and contributors include the world's leading authorities internationally
Covers basic neuroscience and clinical features

Read more

Reviews & endorsements

"Research in this area is a moving target, difficult to capture in a book, but Beal and colleagues have made a worthy effort...a weighty and comprehensive overview with an all-star list of contributors."
Kenneth Fischbeck, New England Journal of Medicine

"Neurodegenerative Diseases is one of the most comprehensive books to appear on the subject in the past decade...discusses all the neurodegenerative illnesses, with special attention to biological, pathophysiological, clinical, and therapeutic aspects, rather than focusing on a single facet...a comprehensive, well-written textbook. It is an excellent reference to have and return to again and again as an authoritative source on neurodegeneration."
Journal of the American Medical Association

"...there is a large amount of information, which will repay careful reading, perhaps especially for those new to the field. The book has high production values. A highly desirable addition for the departmental library."
Advances in Clinical Neuroscience and Rehabilitation, AJ Larner

"This encyclopedic book is a presentation of the totality of neurodegenerative disorders in the form of 62 highly readable essays from more than 100 distinguished contributors. The editors have succeeded with their intent of making this the most authoritative reference source for both clinicians and neuroscientists interested in these important clinical problems. The essays are organized in a coherent and seamless fashion, with every aspect of neurodegeneration considered... every recognized degenerative process of the central nervous system is discussed. The organization of the book is systematic. This resource should be available to any clinician dealing with neurodegenerative disorders or any scientist investigating neurodegeneration. I recommend the book highly and believe it will prove an invaluable resource for individuals interested in this important and devastating group of human illnesses. The price is appropriate and the title is a precise reflection of the contents."
Journal of Neurosurgery

See more reviews

Customer reviews

Not yet reviewed

Be the first to review

Review was not posted due to profanity

×

Product details

Date Published:

July 2005

format:

Hardback

isbn:

9780521811668

length:

1008

pages

dimensions:

283 x 225 x 51 mm

weight:

3.2kg

contains:

102 b/w illus. 39 colour illus. 80 tables

availability:

Unavailable - out of print April 2012

Table of Contents

Part I. Basic Aspects of Neurodegeneration:
1. Endogenous free radicals and antioxidants in the brain
2. Biological oxidants and therapeutic antioxidants
3. Mitochondria, metabolic inhibitors and neurodegeneration
4. Excitotoxicity and excitatory amino acid antagonists in chronic neurodegenerative diseases
5. Glutamate transporters
6. Calcium binding proteins in selective vulnerability of motor neurons
7. Apoptosis in neurodegenerative diseases
8. Neurotrophic factors
9. Protein misfolding and cellular defence mechanisms in neurodegenerative diseases
10. Neurodegenerative disease and the repair of oxidatively damaged DNA
11. Compounds acting on ion channels
12. The role of nitric oxide and PARP in neuronal cell death
13. Copper and zinc in Alzheimer's disease and amyotrophic lateral sclerosis
14. The role of inflammation in Alzheimer's disease neuropathology and clinical dementia: from epidemiology to treatment
15. 15. Selected genetically engineered models relevant to human neurodegenerative disease
16. Toxic animal models
17. A genetic outline of the pathways to cell death in Alzheimer's disease, Parkinson's disease, frontal dementias and related disorders
18. Neurophysiology of Parkinson's disease, levodopa-induced dyskinesias, dystonia, Huntington's disease and Myoclonus
Part II. Neuroimaging in Neurodegeneration:
19. Structural and functional magnetic resonance imaging in neurodegenerative diseases
20. PET/SPECT
21. Magnetic resonance spectroscopy of neurodegenerative illness
Part III. Therapeutic Approaches in Neurodegeneration:
22. Gene therapy
23. Stem cells and cell-based therapy in neurodegenerative disease
24. Necessary methodological and stem cell advances for restoration of the dopaminergic system in Parkinson's disease patients
Part IV. Normal Aging:
25. Clinical aspects of normal aging
26. Neuropathology of normal aging in cerebral cortex
Part V. Alzheimer's Disease:
27. Mild cognitive impairment
28. Alzheimer's disease - overview
29. The neuropathology of Alzheimer's disease in the year 2005
30. Genetics of Alzheimer's disease
31. The role of Beta-amyloid in Alzheimer's disease
32. Treatment of Alzheimer's disease
Part VI. Other Dementias:
33. Dementia with Lewy bodies
34. Frontotemporal lobar degeneration
35. Frontotemporal dementia with Parkinsonism linked to Chromosome 17
36. Prion diseases
Part VII. Parkinson's and Related Movement Disorders:
37. Approach to the patient presenting with Parkinsonism
38. Parkinson's disease
39. Neuropathology of Parkinson's disease
40. Genetics of Parkinsonism
41. Pathophysiology - biochemistry of Parkinson's disease
42. Current and potential treatments of Parkinson's disease
43. Multiple system atrophy
44. Progressive supranuclear palsy
45. Corticobasal degeneration
Part VIII. Cerebellar Degenerations:
46. Approach to the patient with ataxia
47. Autosomal dominant cerebellar ataxia
48. Friedreich's ataxia and other autosomal recessive ataxias
49. Ataxia telangiectasia
Part IX. Motor Neuron Diseases:
50. An approach to the patient with motor neuron dysfunction
51. The genetics of amyotrophic lateral sclerosis
52. Current and potential therapeutics in motor neuron diseases
53. The hereditary spastic paraplegias
54. Spinal and Bulbar muscular atrophy (Kennedy's disease)
55. Spinal muscular atrophies
56. Western Pacific ALS/Parkinsonism-Dementia complex
Part X. Other Neurodegenerative Diseases:
57. Huntington's disease
58. Dentatorubral-pallidoluysian atrophy (DRPLA): model for Huntington's disease and other polyglutamine diseases
59. Neuroacanthocytosis
60. Brain iron disorders
61. Neurological aspects of Wilson's disease
62. Disorders of the mitochondrial respiratory chain
Index.

Authors

M. Flint Beal, Cornell University, New York
Flint Beal is Anne Parrish Titzell Professor and Chairman of the Department of Neurology and Neuroscience at the Weill Medical College of Cornell University, and Director of Neurology at the New York Presbyterian Cornell Campus. An internationally recognized authority on neurodegenerative disorders, his research has focused on the mechanism of neuronal degeneration in Alzheimer's disease, Huntington's disease, Parkinson's disease and amyotrophic lateral sclerosis.

Anthony E. Lang, University of Toronto
Anthony Lang is Professor in the Department of Medicine, Division of Neurology, University of Toronto. A founding member of the Parkinson Study Group and the Movement Disorders Society, his research has included clinical trials of poorly recognized neurological disorders, clinical trials of new therapeutic modalities, and studies in molecular biology, neurophysiology, neuropsychology and imaging.

Albert C. Ludolph, Universität Ulm, Germany
Albert Ludolph is Professor of Neurology, Chair of Neurology, and Chairman of the Neuroscience Center of the University of Ulm, Germany. A neurologist and psychiatrist, his major interest is in toxicological models of vulnerability and genetic models for the pathogenesis of neurodegenerative diseases.

Contributors

Stefan Marklund, John Crow, James G. Greene, Timothy Greenamyre, C. Hrysanthy Ikonomidou, L. Turski, Davide Trotti, László Siklós, Stanley Appel, Jorg Schulz, Michael Sendtner, Michael Sherman, Fred Goldberg, Marcus Cooke, Holger Lerche, Frank Lehmann-Horn,Ted Dawson, V. L. Dawson, M. Shimoji, Avil L. Friedlich, Ashley Bush, Giulio Pasinetti, Donald Price, David Borchelt, Michael Lee, Philip Wong, Serge Przedborski, John Hardy, Antonio Currà, Rocco Agostino, Alfredo Berardelli, Michael Samuel, Alan Colchester, Maja Trost, Vijay Dhawan, Andrew Feigin, David Eidelberg, Bruce Jenkins, Ji-Kyung Choi, M. F. Beal, Chamsy Sarkis, Jacques Mallet, Steve Goldman, Ole Isacson, Kwang-Soo Kim, Ivar Mendez, Craig van Horne, Lars M. Bjorklund, Rosario Sanchez-Pernaute, Marilyn Albert, John Morrison, Patrick R. Hof, Peter R. Rapp, Keith A. Josephs, David F. Tang-Wai, Ronald C. Petersen, David F. Tang-Wai, Keith A Josephs, Ronald C Petersen, Colin Masters, Konrad Beyreuther, Rudolf Tanzi, Lars Bertram, Roger Nitsch, Mary Sano, Norman Relkin, Adam L. Boxer, John Q. Trojanowski, Virginia Y.M. Lee, Bruce Miller, John Trojanowski, Virginia Lee, Mark S. Forman, Katie Kompoliti, Christopher Goetz, Christopher Goetz, Katie Kompoliti, Dennis Dickson, Thomas Gasser, Daniela Berg, Olaf Riess, Peter Riederer, Clifford Shults, Atrophy F. Gesser, C. Colosimo, Gregor Wenning, Lawrence Golbe, Kailash Bhatia, Anthony Lang, Thomas Klockgether, Henry Paulson, Michel Koenig, Helene Puccio, Howard Mount, Thomas Crawford, Richard Gatti, Susan Perlman, Allen Mandir, Nigel Leigh, Matthew Parton, Ammar Al-Chalabi, Robert Brown, Wood-Allum, Pamela Shaw, John Fink, Patrick S.Thomas, Albert R La Spada, K. Zerres, Daniel Perl, Patrick R. Hof, Christoph M. Kosinski, Bernard Landwehrmeyer, Christopher Ross, Lisa M. Ellerby, Jon D. Wood, Frederick C. Nucifora, Alexander Storch, Satoshi Kono, Hiroaki Miyajima, Jonathan Gitlin, Peter LeWitt, George J. Brewer, Anthony Schapira
Please note that this file is password protected. You will be asked to input your password on the next screen.
»
Proceed
You are now leaving the Cambridge University Press website. Your eBook purchase and download will be completed by our partner www.ebooks.com. Please see the permission section of the www.ebooks.com catalogue page for details of the print & copy limits on our eBooks.
Continue
×