Look Inside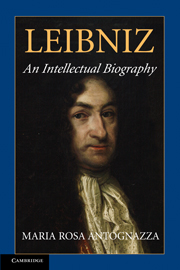 Leibniz

An Intellectual Biography
$29.99 (G)
Date Published:

September 2011

availability:

Available

format:

Paperback

isbn:

9781107627611
Description
Product filter button
Of all the thinkers of the century of genius that inaugurated modern philosophy, none lived an intellectual life more rich and varied than Gottfried Wilhelm Leibniz (1646–1716). Trained as a jurist and employed as a counsellor, librarian, and historian, he made famous contributions to logic, mathematics, physics, and metaphysics, yet viewed his own aspirations as ultimately ethical and theological, and married these theoretical concerns with politics, diplomacy, and an equally broad range of practical reforms: juridical, economic, administrative, technological, medical, and ecclesiastical. Maria Rosa Antognazza's pioneering biography not only surveys the full breadth and depth of these theoretical interests and practical activities, it also weaves them together for the first time into a unified portrait of this unique thinker and the world from which he came. At the centre of the huge range of Leibniz's apparently miscellaneous endeavours, Antognazza reveals a single master project lending unity to his extraordinarily multifaceted life's work. Throughout the vicissitudes of his long life, Leibniz tenaciously pursued the dream of a systematic reform and advancement of all the sciences, to be undertaken as a collaborative enterprise supported by an enlightened ruler; these theoretical pursuits were in turn ultimately grounded in a practical goal: the improvement of the human condition and thereby the celebration of the glory of God in His creation. As well as tracing the threads of continuity that bound these theoretical and practical activities to this all-embracing plan, this illuminating study also traces these threads back into the intellectual traditions of the Holy Roman Empire in which Leibniz lived and throughout the broader intellectual networks that linked him to patrons in countries as distant as Russia and to correspondents as far afield as China.

The first, full-scale intellectual biography of Leibniz in any language
Offers for the first time a unified, comprehensive portrait of Leibniz taking fully into account the entire range of his intellectual and practical activities
Captures the key facets of the seventeenth-century and early eighteenth-century western European intellectual world

Read more

Reviews & endorsements

"This is a magnificent portrait of Leibniz in all his depth and complexity. Antognazza's Leibniz is a philosopher and a mathematician, a diplomat, a theologian, a courtier, an historian and an engineer, but most of all a human being, struggling to realize his grand ambitions. Antognazza has written the biography that we have been awaiting for many years, and it will be the standard account for many years to come."
Daniel Garber, Princeton University


"In my opinion, this is the best intellectual biography of Leibniz ever written. Maria Rosa Antognazza's vivid picture of Leibniz's protean personality and her reliable account of Leibniz's main achievements in the various fields to which he devoted his genius will be easily accessible even to the general reader."
Massimo Mugnai, Scuola Normale Superiore


"The first modern biography, properly wary of anachronism, was published by Gottschalk Guhrauer in 1842, and, dull as it is, it has remained authoritative ever since. Maria Rosa Antognazza's heroic labours mean that Guhrauer can at last be sent back to the stacks: she has re-evaluated all the sources and constructed a lively and thoroughly documented story that is unlikely to be seriously challenged, even on matters of detail."
Jonathan Rée, London Review of Books


"This unsurpassed, sensitive, and accurate picture of Leibniz the universal genius based on a thorough study of the sources and the criticism as well as of the historical contexts deserves to be extolled as a masterpiece. It is an intellectual adventure to read it and get unexpected rich information."
-- Professor Dr. Heinrich Schepers, University of Muenster


"This is a superbly crafted and exhaustively researched account of the development of Leibniz's thought, his ambitious plans and undertakings, his myriad intellectual engagements, and his ceaseless comings and goings across Europe. It captures, accurately and in great detail, the remarkably expansive mind of a singularly creative thinker. It is an extraordinary achievement, for the task of writing an intellectual biography of Leibniz is huge. To read even a portion of what he wrote and read, in the languages in which he wrote and read it, to come to grips with the nuances of religion, politics, and intellectual practice that define his world, and to identify the hundreds of individuals, illustrious and forgotten, with whom he interacted would challenge even the most skilled and dedicated scholar. There is no doubt that Antognazza has met this challenge with a biography that surpasses any available account of Leibniz's life. … This is a work of unparalleled scholarship that is certain to remain the standard source on its subject for many years to come. It can be read with profit by anyone with an interest in comprehending the breadth and brilliance of Leibniz's philosophical vision."
Donald Rutherford, Journal of the History of Philosophy


" Maria Rosa Antognazza's biography fills, splendidly, one of the major gaps in the literature on Leibniz. It is a magisterial scholarly biography, richly documented with copious citations of the original texts now available. But more than that, it is a narrative that makes psycho-social as well as intellectual sense of Leibniz's life and work as a unified, and largely consistent, whole, despite the great diversity of his projects and intellectual interests, and the frustrating absence of any adequate grand synthesis of Leibniz's thought from his own pen. … Antognazza's Leibniz biography will long remain an indispensable work for students of "the last universal genius." We will turn, and return, to it for its illuminating placement of so many of his works in their historic contexts, for its diachronic perspectives on many strands in his thought, but most of all for its unequaled portrait of the multifaceted yet very coherent human being who produced the works."
Robert Merrihew Adams, The Leibniz Review


"Maria Rosa Antognazza's book is a meticulously researched and eloquently written biography that will be both an indispensable reference for scholars of Leibniz's thought and the definitive account of his intellectual development for many years to come. Antognazza's considerable achievement is in marshaling a vast range of sources, both published and unpublished, to compose a comprehensive intellectual biography which surveys the incredible scope of Leibniz's intellectual and practical endeavors."
Simon Kow, University of King's College, Canadian Journal of History


"...His contributions to many fields were significant, and in some cases groundbreaking. Thus, a fundamental difficulty faces any Leibnizian biographer, and especially someone seeking to give a reasonably broad account of Leibniz's intellectual interests and contributions: how to convey some sense of the scope and significance of Leibniz's intellectual interests and achievements while maintaining some measure of biographical and chronological coherence. Maria Rosa Antognazza has succeeded admirably in this task and her biography will be a standard reference in Leibnizian studies for years to come. … Leibniz scholarship stands very much in her debt, and there can be little doubt that this is now the definitive intellectual biography of the seventeenth century's most versatile genius."
Douglas Jesseph, University of South Florida, Intellectual History


""Maria Rosa Antognazza has set herself a truly herculean task: to provide a unifying narrative of Leibniz's life and works. The task is daunting because Leibniz's theoretical and practical projects were unprecedented in scope, covering vast areas of human endeavor … [I]t is a tribute to Antognazza that she succeeds so well in telling the complex and fascinating story of the life and work of this frenetic genius. A glance at Antognazza's bibliography reveals the astonishing list of primary and secondary sources – in Latin, French, German, and Italian – that she has managed to pull together in constructing her narrative; the result is a scholarly tour de force… I regard her work as a monumental and lasting contribution to Leibniz scholarship, one that will be read by every serious student of Leibniz."
Gregory Brown, University of Houston, Notre Dame Philosophical Reviews


"Competently and judiciously, an intellectual panorama is unfolded which makes this book profitable and interesting reading not only for Leibniz specialists. … Especially welcome is the fundamental thesis not merely postulated but painstakingly documented in this study: namely, that throughout all his projects, Leibniz pursued a comprehensive and complex plan that united in an unique fashion all of his heterogeneous interests and activities. In this way the author succeeds in demonstrating that Leibniz's proposals and memos -- from the Harz mines to financial and military reforms; his studies in mathematics, physics, and optics, and, finally, all the way through to his reflections in jurisprudence and ethics, -- all converge and are subsumed in his theological and metaphysical system of thought. In Maria Rosa Antognazza's pregnant phrase, 'this deeper dimension consisted of his all-embracing encyclopaedic plan of reform and advancement of the sciences for the promotion of the common good – a plan which he considered a celebration of the glory of God as expressed in the universal harmony governing His creation' (p. 233). In this important study, the last, great Universalgelehrte, as Leibniz is indeed often called, comes into focus and the access to his complex work is greatly facilitated."
Peter Schröder (UCL), H-Soz-u-Kult


"This comprehensive biography has been long desired in the Leibniz community and beyond. … Antognazza's work admirably takes up this challenge and successfully fills this gap. …Antognazza's book provides a very rich and wide access to the intellectual development of Leibniz and she is convincing in her thoroughgoing striving to make the unity of his many different activities and ideas visible to us. … this biography is a must for every Leibniz scholar and every serious library."
Ursula Goldenbaum, The Review of Metaphysics


"Antognazza richly fulfils the reader's hope of having received the definitive intellectual biography of Leibniz for our time. She does this by building gratefully upon her predecessors and having worked through the mountain of finished, half-finished, and only roughly sketched projects that this perpetual-motion machine left as his Nachlass in 1716. She has worked through it all, and has pieced together the embryology and probable date of each work she uncovers."
--Patrick Madigan, Heythrop College, The Heythrop Journal


"The difficulty for historians of philosophy with regard to Leibniz is where to start and how to define. His output both in printed volumes and surviving MSS is enormous. Indeed, it is his hitherto unpublished material which is so important and which the author has used to such good effect in this notable volume. There was hardly a branch of learning in which Leibniz was not interested, informed and involved, from chemistry to linguistics, from publishing to ethics. The sheer breadth of his interests led, after his death, to their being parcelled out to specialists thereby destroying his attempt at a unified understanding and analysis of life and mankind: one of this book's aims is to remind readers of that unified view--'intellectual reunification' is the term used--as well as to discuss its component parts. … The author is to be heartily congratulated on weaving together in one volume not just the strands of this extraordinary man's life but the myriad aspects of his intellectual world."
Contemporary Review


"In this comprehensive biography, "Antognazza (philosophy of religion, King's College London) delves into the myriad areas that engaged Leibniz, who was trained in law but practiced almost everything else. Rather than divide Leibniz's accomplishments by subject, Antognazza tells her literary history chronologically, thus giving a more rounded picture of the amazing breadth of Leibniz's work. … Antognazza chronicles this extraordinary life, outlining the contents of many of Leibniz's works and putting him in the context of the politics of his time and his relations with the rulers of the many principalities. This is an impressive work, written in a flowing narrative that even someone not versed in calculus, natural history, theology or philosophy will find enthralling."
Reference and Research Book News


"Maria Rosa Antognazza [is] the author of a monumental intellectual biography of the German Universalgelehrte… Leibniz: An Intellectual Biography fills a real gap in the existing literature on Leibniz. …The considerable progress in the Leibniz edition and in the critical literature has made a new biography not only desirable but absolutely necessary…. she has written an intellectual biography that is faultless from all points of view and places Leibniz's thought very precisely in the philosophical, scientific, political and theological context of his time. Never falling prey to the two mortal sins of the biographer –psychologistic speculations and romanticized embellishments – the author paints a sober but lively portrait of the German universal genius and of his activities both theoretical and practical. She has been able to integrate in her narrative the most recent research results on almost all the aspects of Leibniz's doctrine, whether these be the most up-to-date debates on the dynamics, the on-going research on sinology, the most technical studies on mathematics and logic, or the research on Leibniz's theology, on which Antognazza herself is one of the great contemporary specialists…. She treats each one of the aspects of Leibniz's doctrine with the same skillfulness and depth. She establishes a delicate and difficult balance between the very different intellectual activities of Leibniz…. Antognazza admirably succeeds where Fontenelle failed: with an unequalled mastery of Leibniz's oeuvre she presents us with a unified narrative of Leibniz's life and 'esprit' without ever cutting a single one of the heads of this hydra amongst the 'honnêtes hommes' of the classical age."
Mogens Laerke, University of Aberdeen, Dialogue: Canadian Philosophical Review


"… fulfils the task successfully, and proves the good that can come from combining a historically accurate account with a philosophically compelling analysis … Janiak masterfully steers his interpretive analysis through an extraordinarily rich historical material, while the philosophically rigorous narrative takes the reader from one chapter to the next in a compelling way. The final result is a brilliant book that has an important story to tell about Newton's "physical metaphysics" and it makes it an occasion for a thousand wider meditations … Janiak's Newton sheds new light on the vexed issue of the relationship between Newton's physics and his metaphysical and religious beliefs, and on how the latter informed and illuminated the former … Janiak's monograph offers an essential contribution to the ever-growing field of history and philosophy of science, and proves once more what can be achieved by masterfully integrating intellectual history of science with philosophy."
The Journal of Philosophy

See more reviews

Customer reviews

Not yet reviewed

Be the first to review

Review was not posted due to profanity

×

Product details

Date Published:

September 2011

format:

Paperback

isbn:

9781107627611

length:

652

pages

dimensions:

229 x 150 x 43 mm

weight:

0.95kg

contains:

8 b/w illus. 1 map

availability:

Available

Table of Contents

Part I. Youthful Vocations (1646–76):
1. The birth of a vision: background, childhood, and education (July 1646–March 1667)
2. The vision broadens: Nuremberg, Frankfurt, and Mainz (March 1667–March 1672)
3. Old wine in new bottles: Paris, London, and Holland (March 1672–December 1676)
Part II. Dreams and Reality (1676–1716):
4. A universal genius as librarian, historian, and mining engineer: Hanover and Lower Saxony (December 1676–October 1687)
5. In the footsteps of the Guelfs: southern Germany, Austria, and Italy (November 1687–June 1690)
6. Back under the Guelf Dukes: Hanover and Wolfenbüttel (June 1690–February 1698)
7. Between brother and sister: Hanover and Berlin (February 1698–February 1705)
8. Light and shadows: Hanover, Berlin, Wolfenbüttel, Vienna (February 1705–September 1714)
9. Epilogue: last years in Hanover (September 1714–November 1716).

Author

Maria Rosa Antognazza
Maria Rosa Antognazza is Professor of Philosophy at King's College London. She is the author of Leibniz on the Trinity and the Incarnation: Reason and Revelation in the Seventeenth Century and has contributed to The Cambridge History of Eighteenth-Century Philosophy.
An interview with Maria Rosa Antognazza, author of Leibniz: An Intellectual Biography
Please note that this file is password protected. You will be asked to input your password on the next screen.
»
Proceed
You are now leaving the Cambridge University Press website. Your eBook purchase and download will be completed by our partner www.ebooks.com. Please see the permission section of the www.ebooks.com catalogue page for details of the print & copy limits on our eBooks.
Continue
×