Cambridge Life Competencies Framework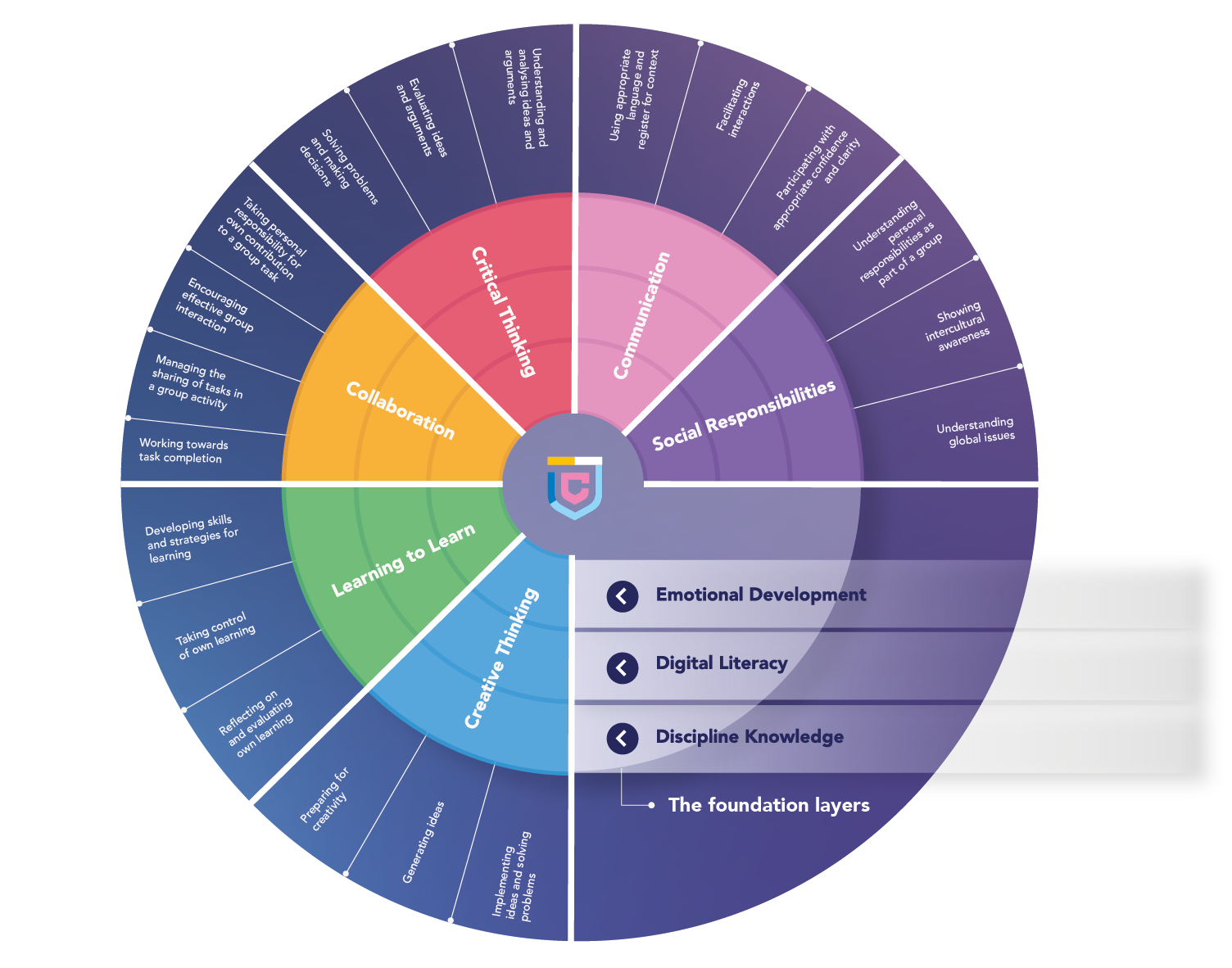 What does the Cambridge Life Competencies Framework look like?
The Framework outlines six key areas of competency that are important for development: Creative Thinking, Critical Thinking, Learning to Learn, Communication, Collaboration, Social Responsibilities.
These competency areas are linked to three foundation layers – emotional development, digital literacy and subject knowledge. The Framework gives a complete view of transferable skills, all detailed within one system, and shows how these skills develop across different stages of the learning journey.
By clearly defining these core areas of development we can ensure that our teaching and learning materials take a comprehensive approach to delivering and developing these skills in our learners as they progress. This means that teachers can be assured that our resources bring out the best in their students.
How do we use it in our products?
The Framework is used as a basis for our curriculum design. We write classroom activities that bring out key skills such as collaboration and critical thinking in our learners, alongside teaching them about language more generally. This means that our activities enable learners to develop these skills without teachers having to completely change their
approach or do anything extra.
  


How does it benefit learners and teachers?
The Framework describes how these integral life skills vary across different stages of education, as learners grow and change. This means we understand what learners need to do to progress and develop.
Each broad competency is broken down into 'Can Do' statements that describe the observable behaviours that learners are likely to be able to demonstrate by the end of each stage of learning. This enables us to support learners right through their learning journey and into their future careers.
  
The Competencies
What do you need to know?
The Cambridge Life Competencies Framework helps us to structure how we introduce these skills to our learners.
Find out more about each skill area by downloading the competency-specific guides below. Or, if you prefer to focus on a particular stage of learning, please choose the booklet that best reflects the age that you teach.
Download your free pack of activity cards
for use in the classroom, including adaptations for online learning
We've created a pack of cards for each stage of learning, and each individual card tackles a component from one of the core Cambridge Life Competencies. The activities are designed for you to use together with your coursebook or teaching materials. Use them to tweak or supplement tasks, and seamlessly integrate the development of learners' life competencies into your teaching practice.
Thank you for your feedback which will help us improve our service.
If you requested a response, we will make sure to get back to you shortly.
×
Please fill in the required fields in your feedback submission.
×