The research behind Interchange
A fifth edition based on insights from around the world
Focus Groups
We gathered teachers and coordinators together and asked big questions: You told us that your students need to learn how to speak. You said that you don't have a lot of time to prepare your lessons. You gave us some initial ideas for revising Interchange.
Survey

A massive survey allowed us to check our ideas with the wider world. You confirmed that a new edition needs to preserve the tried-and-true communicative methodology that makes Interchange special.
In-Depth Reviews

We knew that we needed to update the content, and we asked teachers specifically what had to change. Teachers from different countries went over Interchange carefully. You told us what should change and we listened.

In all, we heard from more than 1,500 teachers from a wide variety of backgrounds. This is what you had to say.
Interchange works. My students learn to speak right away.
Please update the content. I love the books, but I'd like to see some refreshed topics.
We love the flexible units.
Could you give us some new readings? My students enjoy them, but I've been teaching the same readings for a while now.
Interchange is great for teaching speaking. The only thing I would improve are the exercises that go with the readings.
Interchange is very easy to teach with.
The scope and sequence are great. Please don't change the order of the grammar or vocabulary.
---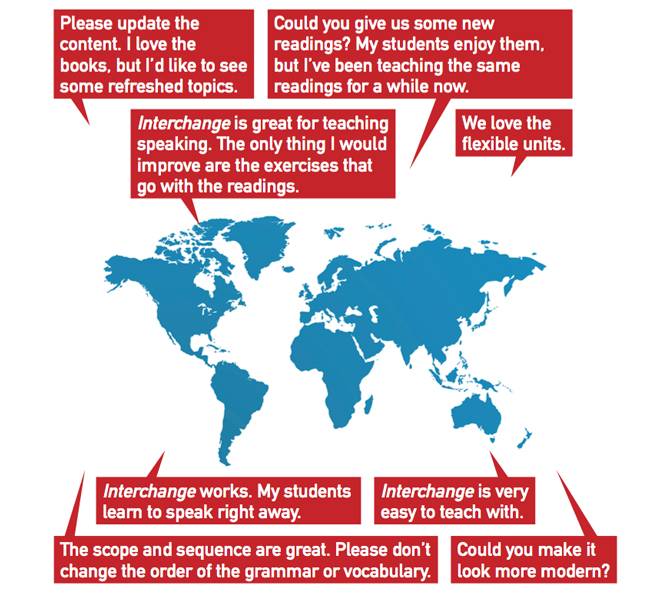 ---
Thank you for your feedback which will help us improve our service.
If you requested a response, we will make sure to get back to you shortly.
×
Please fill in the required fields in your feedback submission.
×