KABV Rekeningkunde (Afrikaans)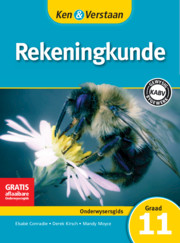 Sorry, the product you are trying to view is not available in your country.
ISBN:

9781107654013

Format:

Paperback

Subject(s):

Accounting

Qualification:

South Africa CAPS

Author(s):

Elsabe Conradie, Derek Kirsch, Mandy Moyce

Available from:

February 2013
The Teacher's File has a daily teaching plan, which is divided into the four terms.
Sorry, the product you are trying to view is not available in your country.
Ken & Verstaan Rekeningkunde Graad 11 is deur 'n ervare span onderwysers geskryf. Die Onderwysersgids bevat daaglikse lesplanne vir elke kwartaal wat die onderwyser help met die beplanning vir elke dag en elke week, voorbeelde vir moderering om onderwysers met assessering te help en oplossings vir al die aktiwiteite in die Leerdersboek. Die PowerPoint-aanbieding op die CD-ROM verskaf interaktiewe voorbeelde om nuwe begrippe te verduidelik, skakels met alle oplossings vir aktiwiteite en assessering in die Leerdersboek en 'n kleurvolle, opwindende en dinamiese koppelvlak met talle grafika en tabelle wat ontwerp is met die doel om die leerervaring te verryk.

Section 1. Introduction
Section 2. Planning: Annual Teaching Plan
Daily Teaching Plan
Section 3. Assessment tasks: 1. Presentations/reports
2. Tests
3. Projects
4. Examinations
5. Case studies
Section 4. Notes/tips for teachers: Section 5. PowerPoint® Presentations: Section 6. Solutions to activities: 1. Ethics
2. Internal controls and audit processes
3. Reconciliations – Bank reconciliations
4. Reconciliations – Creditors reconciliations
5. Fixed assets
6. Partnerships – Accounting concepts and final accounts
7. Partnerships – Financial statements
8. Partnerships – Interpretation of financial statements
9. Financial accounting of non-profit organisations – Clubs
10. Cost Accounting
11. Budgeting
12. Inventory systems
13. Value-added Tax (VAT)
14. Revision activities
Section 7. Moderation templates
Section 8. Answer sheet templates.
Latest news
All news
14 February 2020
Unlocking science for English language learners, part four
The fourth and final part of our ESL support in science series – free, downloadable...
Thank you for your feedback which will help us improve our service.
If you requested a response, we will make sure to get back to you shortly.
×
Please fill in the required fields in your feedback submission.
×