Cambridge Connection English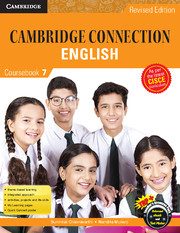 Sorry, the product you are trying to view is not available in your country.
ISBN:

9781108377799

Format:

Print/online bundle

Subject(s):

English Language and Literature

Qualification:

ICSE

Author(s):

Sunirmal Chakravarthi, Nandita Mukerji

Available from:

August 2020
Based on the latest CISCE curriculum, this is a language-rich series for the teaching and learning of English for classes 1 to 8.
Sorry, the product you are trying to view is not available in your country.
Cambridge Connection – English is a eight-level series for the teaching and learning of English for classes 1 to 8.Based on the latest CISCE curriculum, it is a holistic course that inculcates in learners an appreciation for literature; proficiency in the four skills of listening, speaking, reading and writing (LSRW); and a spirit of enquiry and lifelong learning. The course encourages active participation of learners in the process of knowledge construction through ample individual, pair and group work as well as self-assessment. The series comprises Coursebooks 1 to 8, Workbooks 1 to 8, comprehensive Teacher's Books and TRP+.

Warm-ups to bring out real-life connections with the themes; In-text questions and facts to aid comprehension and offer additional information; About the Author, Poet and Playwright to place the texts in perspective

Comprehension to inculcate literal, inferential and critical reading

Language in Use with graded grammar for a clear understanding of language structures; Word Power to make vocabulary acquisition dynamic and diverse; Special sections for emphasis on Dictionary Work, Spelling and Punctuation

Listening and Speaking with pronunciation practice, practice in listening for various functions as well as expression in a variety of situations

Writing to hone functional and creative expression

Guided and research-based Activity sections to bring a real-life connect to concepts; Projects to inculcate research and presentation skills, ethics of teamwork and the ability to synthesise information

Life Skills to promote critical thinking and responsible social participation

My Learning pages offer self-evaluation slips to help students reflect upon and track their progress. The slips can be cut out and submitted to teachers for record keeping

Quick Connect, a detachable poster, provides a quick grammar review. The images when scanned offer additional resources.

Digital solutions TRP+ and Explore App with audio-visual elements for a dynamic learning experience. TRP+ offers structured teaching tools and stimulating learning experiences in classrooms with the help of Rich audio-visual elements—animations, slide shows and interactive units; Lesson plans and delivery tools; Test Maker to prepare worksheets and tests.

Introduction
Sneak Peek
An Extraordinary Feat
Stopping by Woods on a Snowy Evening [Robert Frost]
Engine Trouble [R K Narayan]
If [Rudyard Kipling]
His First Flight [Liam O'Flaherty]
The Tables Turned [William Wordsworth]
The New Doll [Rabindranath Tagore]
Flames in the Forest [Ruskin Bond]
A Sound of Thunder [Ray Bradbury]
Throwing a Tree [Thomas Hardy]
Mr Sherlock Holmes [Arthur Conan Doyle]
Boyhood Days [Booker T Washington]
Refugee Blues [W H Auden]
The Luncheon [William Somerset Maugham]
A Midsummer Night's Dream (Part 1) [William Shakespeare]
A Midsummer Night's Dream (Part 2) [William Shakespeare]
Wandering Singers [Sarojini Naidu]
The Blue Carbuncle [Arthur Conan Doyle]
Latest news
All news
18 February 2019
How to offer inclusive support in science lessons
Advice on how to offer differentiated support to your students.
Thank you for your feedback which will help us improve our service.
If you requested a response, we will make sure to get back to you shortly.
×
Please fill in the required fields in your feedback submission.
×