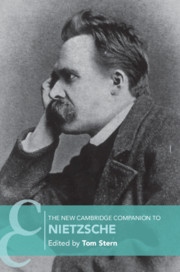 Coming soon

Expected online publication date:

March 2019

Print publication:

31 March 2019

Friedrich Nietzsche (1844–1900) remains one of the most challenging, influential and controversial figures in the history of philosophy. The New Cambridge Companion to Nietzsche provides a comprehensive and up-to-date guide to his most difficult ideas, including the will to power and the affirmation of life, as well as his treatment of truth, science, art and history. An accessible introduction sets out the nineteenth-century background of Nietzsche's life and work. Individual chapters are devoted to significant texts such as The Birth of Tragedy, Thus Spoke Zarathustra, Beyond Good and Evil and On the Genealogy of Morality. Other chapters explore major influences such as Wagner and Schopenhauer, as well as examining Nietzsche's reception and investigating his enduring and often divisive legacy. The volume will be valuable for readers seeking to enhance their understanding of Nietzsche's philosophy and of his role in the development of Western thought.
---
Journal: Journal of the American Philosophical Association / Volume 1 / Issue 1 / Spring 2015
Published online:

27 March 2015

, pp. 121-140

Print publication:

Spring 2015

Nietzsche, we are often told, had an account of 'self' or 'mind' or a 'philosophical psychology', in which what he calls our 'drives' play a highly significant role. This underpins not merely his understanding of mind—in particular, of consciousness and action—but also his positive ethics, be they understood as authenticity, freedom, (self-)knowledge, autonomy, self-creation, or power. But Nietzsche did not have anything like a coherent account of 'the drives' according to which the self, the relationship between thought and action, or consciousness could be explained; consequently, he did not have a stable account of drives on which his positive ethics could rest. By this, I do not mean that his account is incomplete or that it is philosophically indefensible: both would leave open, misleadingly, the possibility of a rational reconstruction of Nietzsche's views; both would already assume more unity and coherence than we find in his texts. Specifically, as I show through detailed analysis, Nietzsche provides varied and inconsistent accounts of (1) what a 'drive' is, (2) how much we can know about drives, and (3) the relationship between drives and conscious deliberations about action. I conclude by questioning the hunt for a Nietzschean theory: is this the best way to be reading him?
---
---