3

results

in Globalization and Human Rights
---
Published online:

04 April 2019

Print publication:

11 April 2019

The future of economic and social rights is unlikely to resemble its past. Neglected within the human rights movement, avoided by courts, and subsumed within a single-minded conception of development as economic growth, economic and social rights enjoyed an uncertain status in international human rights law and in the public laws of most countries. However, today, under conditions of immense poverty, insecurity, and political instability, the rights to education, health care, housing, social security, food, water, and sanitation are central components of the human rights agenda. The Future of Economic and Social Rights captures the significant transformations occurring in the theory and practice of economic and social rights, in constitutional and human rights law. Professor Katharine G. Young brings together a group of distinguished scholars from diverse disciplines to examine and advance the broad research field of economic and social rights that incorporates legal, political science, economic, philosophy and anthropology scholars.
---
Beyond the End of the Beginning
Published online:

21 September 2017

Print publication:

21 September 2017

The regulation of business in the global economy poses one of the main challenges for governance, as illustrated by the dynamic scholarly and policy debates about the UN Guiding Principles on Business and Human Rights and a possible international treaty on the matter. This book takes on the conceptual and legal underpinnings of global governance approaches to business and human rights, with an emphasis on the Guiding Principles (GPs) and attention to the current treaty process. Analyses of the GPs have tended to focus on their static dimension, such as the standards they include, rather than on their capacity to change, to push the development of new norms, and practices that might go beyond the initial content of the GPs and improve corporate compliance with human rights. This book engages both the static and dynamic dimensions of the GPs, and considers the issue through the eyes of scholars and practitioners from different parts of the world.
---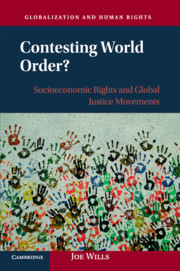 Socioeconomic Rights and Global Justice Movements
Published online:

27 April 2017

Print publication:

13 April 2017

What do equality, dignity and rights mean in a world where eight men own as much wealth as half the world's population? Contesting World Order? Socioeconomic Rights and Global Justice Movements examines how global justice movements have engaged the language of socioeconomic rights to contest global institutional structures and rules responsible for contributing to the persistence of severe poverty. Drawing upon perspectives from critical international relations studies and the activities of global justice movements, this book evaluates the 'counter-hegemonic' potential of socioeconomic rights discourse and its capacity to contribute towards an alternative to the prevailing neo-liberal 'common sense' of global governance.
---